Celebration of Holi Festival
Holi is the Festival of colors, the Festival of Spring, and the Festival of Love. It is one of the most celebrated festivals in India, celebrated in nearly every part of the country with the greatest happiness and enthusiasm. Holi is a national holiday in India that usually occurs in March and lasts for a day and night, starting in the evening of Purnima or the Full Moon Day in Phalgun. Holi symbolizes the victory of good over evil and also the triumph of devotion.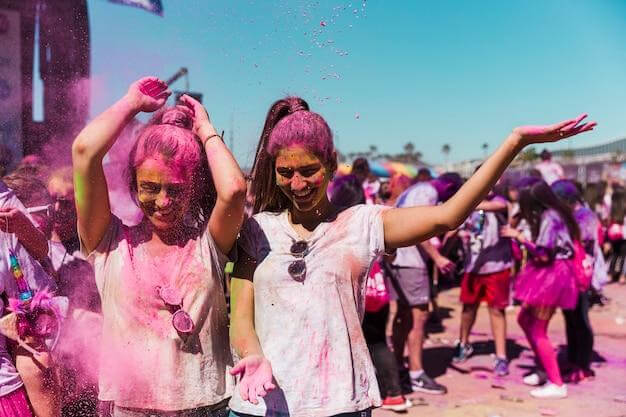 History of Holi
Holi, one of the oldest Hindu Festivals, existed centuries before Christ. It is in ancient books like Jaimini's Purvamimamsa-Sutras and Kathaka-Grhya-Sutra. The Ancient Indian Temple from the 16th Century in Hampi, the capital of Vijaynagar, has sculptures of Holi on walls depicting princes and princesses along with their maids holding pichkaris to splash water on them. Numerous medieval paintings, such as 16th Century Ahmednagar, Mewar, and Bundi miniature, depict Holi celebrations.
Mythology
1. Holika Dahan – Bon Fire
Hiranyakashipu, a brutal king, considered himself God and demanded worship from all. His son, Prahlada, a devotee of Lord Vishnu, refused to comply. Hiranyakashipu tried to kill Prahlada but failed. He then sought the help of his sister, Holika, who had a power to resist fire. She deceived Prahlada into sitting on her lap on a pyre, but her power failed, and she burned to ashes while Prahlada was saved. This event is celebrated as Holika Dahan, symbolizing the victory of good over evil. People gather around the pyre after sunset to perform puja and light it up.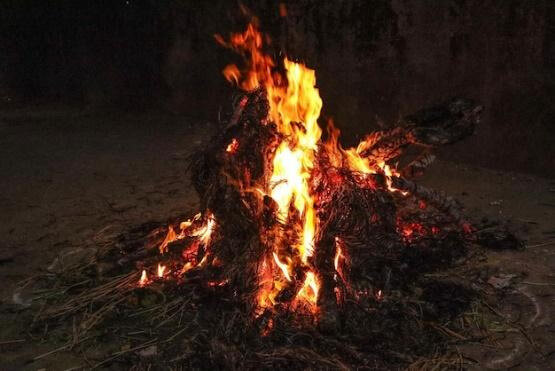 2. Radha & Krishna – Powdered Colours
In the province of Braj(where Lord Krishna grownup) in Uttar Pradesh, celebrated as a tremendous festival in remembrance of the divine love of Krishna and Radha. Krishna was envious of Radha's fair complexion since he was very dark. One day he complained the same to his mother, Yashoda. To appease his crying mother, Yashoda said to color Radha whichever color he wanted. Naughty Krishna took his mother's advice and applied color to Radha's face, making her one like himself.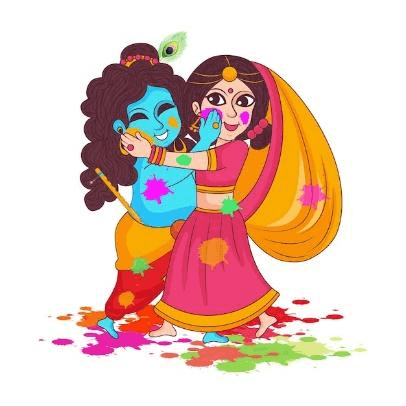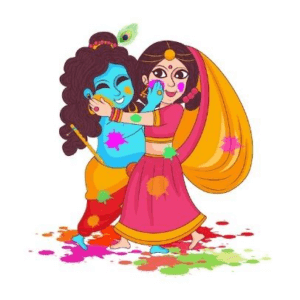 Regional Names of Holi
1. Dulandi Holi
Dulandi receives this name from the State of Haryana. Here, Bhabhi- The Brother's wife, get a chance to beat their devar- The husband's younger brother, to make them pay the price of all the pranks they played on them for the whole year. In the evening, devars are supposed to bring some sweets to their bhabhi out of joy and love.
2. Rangpanchami/Shimgo
People of Maharashtra know this festival of colors by the name Rangpanchami. The festival is particularly famous amongst the Fisher Folks. The Fun filled and joyful people of Goa know Holi by the name of Shimga in their local district of Konkani. Here, the people play with bright colors to welcome the arrival of spring. The Shimgmotav in Goa is a huge procession carried out in Panjim.
3. Basant Utsav
Basant Utsav got the name from the State of West Bengal. The tradition of Vasantotsav, meaning Spring Festival started by Poet Rabindranath Tagore at Shantiniketan, the university he founded. Boys and girls welcome the Spring festival with colors, songs, dance, and hymns with all joy and enthusiasm in the ambiance of Shantiniketan.
4. Lathmar Holi (Holi of Sticks)
Lord Krishna, a resident of Nandgaon, wanted to spray the colors on Radha and her Friends. But, as Krishna and his friends entered Barsana, they were welcomed with sticks by Radha and her friends to drive them out of Barana. Following the same trend, every year on the occasion of Holi, Men of Nandgaon visit Barsana and are greeted by women with colors and sticks (lathi).
Traditional Holi Dishes, Sweets, and Drinks
1. Papri Chaat
Papri chaat is a popular Indian food with chickpeas, potatoes, yogurt, and tamarind chutney. It has sweet, sour, tangy, and spicy flavors. Hold you off until dinner.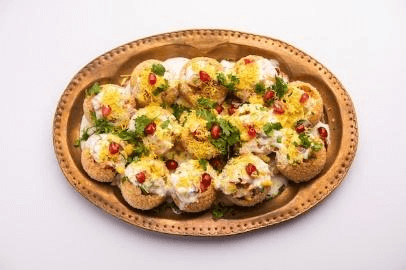 2. Puran Poli
Puran Poli stuffs lentils and jaggery and spices it with cardamom and nutmeg. People serve it with ghee. People mostly eat it during Holi or any auspicious religious occasion.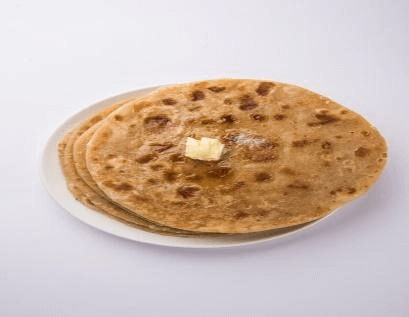 3. Gujiya
Gujiyas is a khoya filling that combines milk and dried fruits. Gujiyas have a crisp outer layer that crunches when you bite into it and a sweet stuffing that will please your taste buds.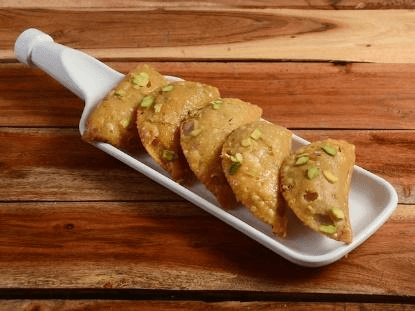 4. Malpua
Malpua originates from the state of Odisha. People prepare it by mixing ripe banana, milk, or coconut, and seasoning it with cardamom to give a rich flavor. It is India's oldest dessert, first made during the Vedic period and with written recipes dating back to 1500 BC.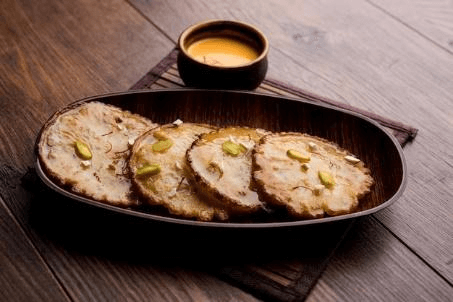 5. Thandai
Thandai is a mixture of almonds, fennel seeds, rose petals, pepper, cardamom, saffron, milk, and sugar, and people in the northern regions of the country consume it the most. Other states also enjoy it.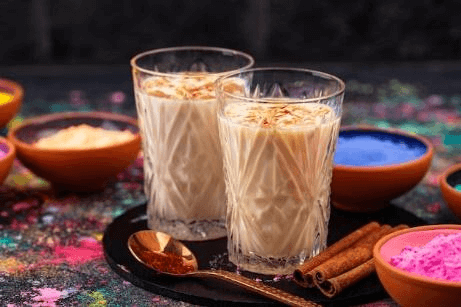 6. Lassi
Lassi is a popular drink made with yogurt, water, spices, and sometimes fruit. During Holi, the most famous variant of lassi is thandai lassi, mixed with thandai masala powder. Bhang lassi, a cannabis-infused drink, is also prominent during the festival.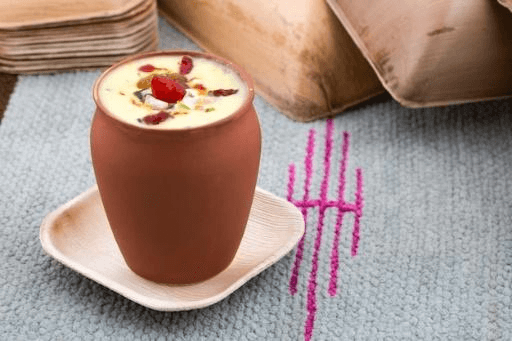 Conclusion
People celebrate Holi, a joyful festival, by forgetting all their stresses and worries. They should celebrate it decently without hurting the sentiments of others, while retaining its real spirit and happiness.
Recommended Articles
We hope that this EDUCBA information on "Holi" was beneficial to you. You can view EDUCBA's recommended articles for more information,