Updated October 7, 2023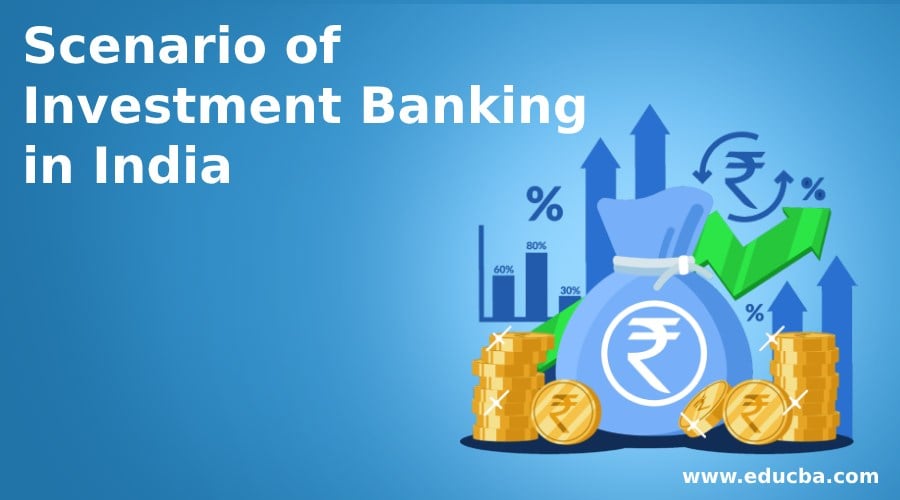 The Scenario of Investment Banking in India
The current scenario of Investment banking in India is itself very wide. Let's start with a simple question: what is investment banking? What are the various functions of an Investment Bank? So, generally, an investment bank is a financial institution that provides a bundle of services to its clients. In other words, an Investment bank is a financial intermediary that assists corporations, HNIs (High Net worth Individuals), and companies in raising capital. Also, an Investment bank provides advisory services like mergers & acquisitions. Mainly, companies require cash to expand their businesses. Investment Banks help these by issuing and selling securities (debt and equity) to the investors. These securities can be stocks, bonds, debt, etc.
Investment bank not only provides capital raising services but also offers advice on mergers and acquisitions advice, trading of securities, custodian services, AMC, and many other to the companies.
Services Offered by Investment Banks in India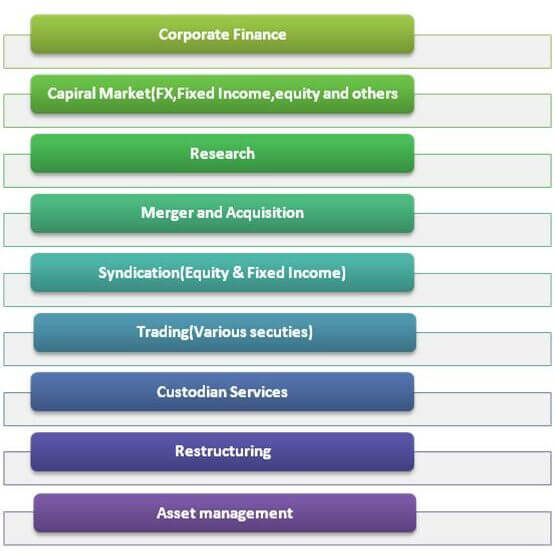 Investment Banking in India – The World's Emerging Talent Destination
There are various reasons for multinational investment banks to come to India. Investment banks invest in India primarily because of its Lower operating cost model.
Indians are reducing the operating costs of investment banks because a much cheaper workforce is available than in the US, UK, and other countries.
Also, in India, various Indian companies like WIPRO, SYNTEL, and TCS offer IT, ITES, and KPO services, i.e., back office services for an Investment bank.
Big Foreign Players in the Indian Investment Banking Sector
Many foreign investment banks are set up in India, so the investment banking sector in India has become more competitive. Following is a list of top investment banks in India.
ABN-AMRO Bank
Nomura
The Bank of New York Mellon
BNP Paribas Bank
Citi Bank
Deutsche Bank
HSBC
JPMorgan Chase Bank
Goldman Sachs
Morgan Stanley
Barclays
List of Best Indian Investment Banks
Bajaj Capital
Avendus
ICICI Securities Ltd
Kotak Mahindra Capital Company
SBI Capital Markets
Yes Bank
Investment Banking in India – Career Opportunities
Investment banks recruit highly motivated and talented people from various backgrounds. There are many opportunities for Undergraduates, MBAs, and Other Master Degree Holders. Many Investment banks offer summer internships for MBAs and undergraduates, and they have many programs. If you have talent and attitude and are looking for a high-salary job, consider making a career in an investment bank. Firstly, you need to understand their business.
In the current scenario in India, there are a variety of openings in investment banks. Mainly, European countries have extensive requirements for professional investment bankers. Large investment banks like Goldman Sachs, Morgan Stanley, Merrill Lynch, Lehman Brothers, Citigroup, and Credit Suisse outsource their work to India because of a talented workforce at a lower cost.
The following are the skills that an investment bank requires:
Analytical Ability
Fluent communication in English
Good academic Record
Problem-Solving
Robust analysis and forecasting skills
Should have in-depth knowledge of the subject
Tips for Investment Banking Interview
Research your own and be prepared
Practice makes you perfect
Do R & D about the firm
Always dress professionally.
Sample Question for Investment Banking Interview in India
Preparing to answer the following questions during an investment banking interview would be best.
Please walk me through your Resume/CV.
What do you understand by Investment Banking?
What is the work of an Investment Banker?
Why do you want to be an investment banker?
What do you know about us?
Tell me about your strengths and your weaknesses.
What is the biggest challenge that you have ever faced?
What is your most significant achievement?
Give us an example of a failure you've experienced and how you've handled it.
Tell me something about the current market scenario.
What motivates you at work?
Describe your leadership style.
What is your greatest accomplishment?
Tell me about something creative that you've done.
Why should I hire you?
Following are Some Investment Banking Technical Questions
What do you understand by the term Financial Model?
What are the two most significant ways companies can play with their earnings?
Describe valuation methods.
Explain to me the DCF valuation.
What do you understand by the term "deferred tax asset"?
Investment Banking in India – Salaries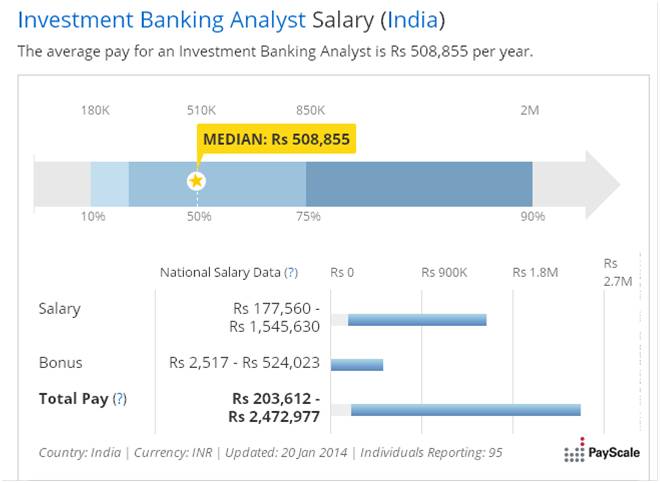 (Image Source: payscale)
Suitable Course in Investment Banking
If you are looking for a career in investment banking, you must improve yourself. Enhance your knowledge using various online study materials. There are many online courses in investment banking; choose the right course from them. Learning financial models is always beneficial because it will help you in the workplace. You may want to look at Investment Banking Training.