Introduction
Integrated Services Digital Network is a telecommunications standard that allows voice, video, data, and other network services to be transmitted digitally over traditional telephone networks. It was designed to provide a unified and efficient method of transmitting diverse types of communication signals using a single digital line. ISDN integrates various services into a single network, including telephone, fax, and internet, allowing for more reliable and faster communication than traditional analog systems.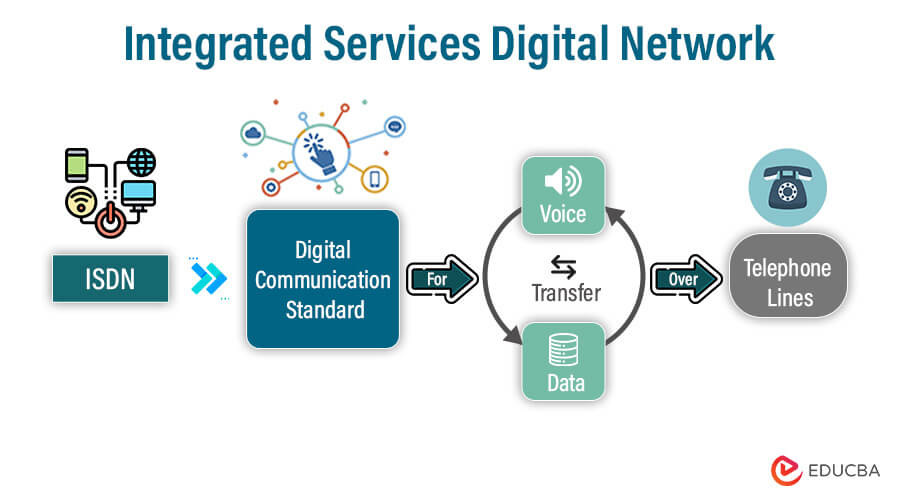 Table of Contents
Historical Context
The creation and growth of the Integrated Services Digital Network (ISDN) over several decades is reflected in its historical background. Here's an overview:
1970s – Conceptualization: The groundwork for ISDN was laid in the 1970s when the need for a more efficient and versatile telecommunications system became evident. Telecommunication experts recognized the limitations of traditional analog systems in handling emerging digital services.
1980s – Standardization Efforts: International standardization efforts for ISDN began in the early 1980s, with the International Telecommunication Union (ITU) playing a pivotal role. The goal was to create a standardized network to carry various services, including voice, data, and video, over a single digital connection.
1984 – First ISDN Standard (I.120): The ITU released the first ISDN standard, I.120, in 1984, outlining the framework for a digital network that integrated different services.
Late 1980s to Early 1990s – Initial Deployments: Several countries started deploying ISDN networks in the late 1980s and early 1990s. Initial implementations focused on providing faster and more reliable voice and data communication.
1990s – Broad Adoption and Evolution: Throughout the 1990s, ISDN gained widespread adoption, particularly in Europe and North America. The technology continued to evolve with standards, protocols, and equipment enhancements.
2000s – Rise of Broadband Technologies: The 2000s witnessed the rise of broadband technologies, such as DSL and cable, offering higher data transfer rates than traditional ISDN. ISDN began facing competition and challenges from these emerging broadband solutions.
2010s – Decline and Transition: The use of ISDN declined significantly in the 2010s as broadband internet became more accessible and cost-effective. Many telecommunications providers phased out ISDN services, and the focus shifted to next-generation networks.
2020s – Legacy Status and Migration: By the 2020s, ISDN had largely assumed a legacy status, with many countries announcing plans to phase out ISDN infrastructure. Organizations and users started migrating to more modern communication technologies, leaving behind traditional ISDN connections.
How Does ISDN Work?
Integrated Services Digital Network (ISDN) enables the simultaneous digital transmission of voice, video, data, and other services over a public telephone network. It utilizes standards and techniques for transmitting data, voice, and signaling across digital connections. ISDN offers high-frequency, ultra-high-bandwidth channels and supports a range of digital transmission capabilities over a single interface. Its primary goal was to replace analog landline technology with digital technology.
ISDN facilitates the transition from analog to digital transmissions, particularly for businesses, by providing end-to-end digital functionalities using standard interface devices. Despite its potential, ISDN saw relatively little uptake on the broader market and has largely been replaced by digital subscriber line (DSL) systems with much higher performance.
Integrated Services Digital Network Interface
1. Basic Rate Interface (BRI): BRI is the entry-level ISDN interface designed for residential and small business users. It comprises two bearer (B) channels for data and one delta (D) channel for control information.
BRI Channels: B and D Channels
B Channels: Carry user data, supporting voice, video, or data transmission.
D Channel: Manages signaling and control information.
2. Primary Rate Interface (PRI): PRI is a higher-capacity ISDN interface suitable for larger organizations with increased communication needs. It consists of 23 B channels and 1 D channel in North America, while it has 30 B channels and 1 D channel in Europe and other regions.
PRI Channels: B, D, and Signaling Channels
B Channels: Serve for user data transmission.
D Channel: Manages signaling and control.
Signaling Channel: Facilitates communication between the user and the network.
3. Broadband-ISDN (B-ISDN): B-ISDN represents an enhanced version of ISDN designed to handle higher data rates and a broader range of services. It Primarily focused on supporting broadband services like high-speed internet access and multimedia applications.
Characteristics of B-ISDN
Greater bandwidth capacity compared to traditional ISDN.
Asynchronous transfer mode (ATM) and other high-speed data transmission protocols are supported.
Allows for the seamless integration of voice, data, and multimedia services.
Integrated Services Digital Network Services
1. Bearer Services
Bearer services in the context of ISDN refer to the fundamental capability of the network to transmit user information between two points. These services primarily involve transmitting data, voice, and video signals over the ISDN interface's B channels (Bearer channels). The Bearer channels carry the payload, whether a phone conversation, digital data transfer, or multimedia content. Bearer services are a core component of ISDN, providing the essential functionality for transmitting diverse types of information.
2. Teleservices
Teleservices in ISDN encompass the various applications and functionalities that ISDN supports to meet the communication needs of users. These services go beyond the basic transmission of information and include features such as voice telephony, fax transmission, and data transfer. For example, ISDN can be used for making telephone calls, sending and receiving faxes, and establishing video conferences. Teleservices leverage the capabilities of ISDN to provide users with a range of communication options, making it a versatile platform for different modes of telecommunication.
3. Supplementary Services
Supplementary services in ISDN refer to additional features and functionalities that enhance the basic communication capabilities of the network. These services aim to enhance and customize the user experience by adding value. Supplementary services include call waiting, forwarding, caller ID, and three-way calling. They provide users with advanced control over their communication sessions, allowing for customizing call handling and management. Supplementary services contribute to the flexibility and adaptability of ISDN, offering users a range of options to tailor their communication experience according to their specific needs and preferences.
Integrated Services Digital Network Protocols
ISDN (Integrated Services Digital Network) uses a variety of protocols to facilitate communication and handle data transmission, voice, and signaling data. Here are several important ISDN protocols:
DSS1 (Digital Subscriber Signaling System No.1): DSS1 is a protocol used in the signaling process of the D channel in ISDN networks, particularly in Europe. It defines the procedures for call setup, teardown, and other signaling functions.
931 Signaling Protocol: Q.931 is an ITU-T standard that specifies the signaling protocol for call control and supplementary services in ISDN. It is widely used in ISDN networks globally and plays a crucial role in establishing, maintaining, and releasing connections.
LAPD (Link Access Procedure on the D channel): LAPD is a data-link layer protocol used on the D channel of ISDN. It ensures reliable and error-free communication between network devices by managing data flow and providing error detection and correction.
921 ISDN Data Link Layer Protocol: Q.921 is another ITU-T standard specifying the data link layer protocol for the B channel in ISDN. It specifies the structure and procedures for detecting and correcting transmission errors in user data.
922 LAPF (Link Access Procedure for Frame-mode Bearer Services): Q.922 is an ITU-T standard that extends LAPD for frame-mode bearer services in ISDN. It defines the framing and flow control procedures for B channel operation in frame mode.
BRI Protocols: For Basic Rate Interface (BRI), LAPD and Q.921/Q.931 protocols are commonly used to manage signaling on the D channel and data transmission on the B channels.
PRI Protocols: Primary Rate Interface (PRI) utilizes protocols similar to BRI but is adapted for higher capacity. Q.921 and Q.931 are commonly used for signaling on the D channel, ensuring compatibility and interoperability.
Alternatives to ISDN
Fiber Optic Broadband: Offers high-speed internet access for voice, data, and video transmission.
DSL (Digital Subscriber Line): Utilizes existing telephone lines to provide faster internet connectivity.
Cable Internet: Cable TV infrastructure is used for high-speed data transmission.
Mobile Broadband (4G/5G): Wireless connectivity for accessing on-the-go voice and data services.
VoIP: Voice over Internet Protocol (VoIP) enables voice calls over the Internet, obviating the need for traditional phone lines.
Satellite Internet: Delivers internet services via satellite communication.
Ethernet over Copper/Fiber: Utilizes Ethernet technology for high-speed data transfer.
Wireless Broadband (Wi-Fi): Provides wireless connectivity for local area networking.
Unified Communications (UC): Integrates various communication services into a single platform.
Cloud-Based Communication: Our communication solutions are designed for scalability and flexibility, utilizing cloud infrastructure to provide optimal performance.
Advantages of Integrated Services Digital Network
ISDN (Integrated Services Digital Network) has various benefits that make it a viable technology in certain situations:
Digital Transmission Quality: ISDN provides digital transmission, eliminating analog signal distortions and noise, resulting in higher call quality for voice and data communication.
Simultaneous Voice and Data Transmission: ISDN B channels enable simultaneous voice and data transmission, allowing users to make phone calls and send/receive digital data simultaneously over the same connection.
Faster Data Transfer Rates: ISDN offers higher data transfer rates than traditional analog systems, making it suitable for quick and efficient data exchange applications.
Efficient Use of Bandwidth: Bearer (B) channels in ISDN allow for flexible bandwidth allocation, optimizing usage according to the specific needs of voice, video, or data services.
Versatility in Services: ISDN supports various services, including voice telephony, video conferencing, fax transmission, and high-speed data transfer, providing a versatile platform for different communication needs.
Reliable Connection Setup: The signaling protocols (e.g., Q.931) used in ISDN ensure reliable and efficient call setup, teardown, and management, contributing to a stable and consistent user experience.
Global Standardization: International organizations like ITU-T have internationally recognized and standardized ISDN standards, ensuring compatibility and interoperability of ISDN equipment and services across different regions.
Improved Security: Digital transmission in ISDN enhances security, reducing the susceptibility to eavesdropping and unauthorized access compared to analog systems.
Integrated Network Services: ISDN integrates various services, including telephony, data transfer, and video conferencing, into a single network, simplifying network management and reducing infrastructure complexity.
Suitable for Remote Locations: ISDN can be advantageous in areas with limited broadband access, providing a more robust and reliable communication infrastructure than traditional analog lines.
Challenges and Limitations
ISDN (Integrated Services Digital Network) confronts several obstacles and restrictions, contributing to its declining popularity:
Technological Obsolescence: ISDN technology has become outdated compared to more modern and cost-effective alternatives, such as broadband technologies like DSL, cable, and fiber-optic networks.
Limited Data Transfer Rates: While ISDN offers faster data transfer rates than traditional analog systems, it still needs to be faster than contemporary broadband technologies, limiting its effectiveness for high-bandwidth applications.
Global Variations in Availability: The availability of ISDN services varies globally, with some regions having limited coverage or discontinuing ISDN support altogether. This can lead to challenges in maintaining a consistent and standardized communication infrastructure.
Competition with Broadband Technologies: The emergence of faster and more versatile broadband technologies has led to a decline in ISDN adoption. Broadband offers higher data speeds and a broader range of services at more cost-effective rates.
Cost Considerations: ISDN infrastructure installation and maintenance costs can be relatively high compared to newer technologies. This cost factor has contributed to businesses and individuals opting for more economical alternatives.
Limited Scalability: Meeting modern communication demands may pose scalability challenges for ISDN. Broadband technologies typically provide more scalable solutions for increasing data and service requirements.
Dependency on Legacy Systems: Some areas still need to rely on legacy ISDN systems, creating challenges for users who wish to adopt newer technologies that may not be compatible with existing infrastructure.
Complexity in Network Configuration: Setting up and configuring ISDN networks can be more complex than modern plug-and-play broadband solutions, requiring specialized knowledge and skills.
Incompatibility with IP-Based Services: As the industry shifts towards IP-based services and networks, ISDN may need help in seamless integration, leading to potential interoperability issues.
Limited Support for Advanced Multimedia: ISDN was not originally designed to support advanced multimedia applications at the sophistication demanded by modern users. This limitation becomes more pronounced in the high-definition video and multimedia content era.
Future Outlook of ISDN
Here are some probable aspects to consider regarding ISDN's future outlook:
Technological Evolution: Given the rapid advancements in telecommunications, the focus will likely shift toward more advanced and efficient technologies, such as fiber optics, 5G, and other high-speed broadband solutions. The development of these technologies may make ISDN less attractive due to its comparatively limited data transfer rates.
Phasing Out of ISDN Networks: Many countries and telecommunication providers have announced plans to phase out ISDN networks in favor of more modern and cost-effective alternatives. The shift toward all-IP (Internet Protocol) networks is a common trend, and ISDN may become obsolete in the long term.
Migration Strategies: Organizations and users relying on ISDN may need to implement migration strategies to transition to alternative technologies seamlessly. Telecommunication providers will likely offer support and guidance for this transition, ensuring a smooth shift to newer communication platforms.
Legacy Systems and Support: As ISDN becomes a legacy technology, ongoing support and maintenance for existing systems may become more challenging. Organizations may need to invest in upgrading their infrastructure to avoid potential disruptions and security vulnerabilities associated with outdated systems.
Emerging Communication Technologies: The future may see new communication technologies that offer enhanced features, scalability, and cost-effectiveness compared to ISDN. Cloud-based communication solutions and unified communications platforms are among the trends that might shape the future landscape.
Regulatory Changes: Regulatory decisions and policies may influence the phase-out process of ISDN in different regions.
Governments and regulatory bodies may play a role in encouraging the adoption of modern communication technologies and facilitating the transition away from ISDN.
Conclusion
The Integrated Services Digital Network (ISDN) has significantly contributed to the development of telecommunications by providing a unified platform for transmitting digital voice, data, and video. However, with the emergence of advanced broadband technologies and the global shift towards all-IP networks, the future of ISDN is becoming less specific. Organizations and users must plan and migrate to modern communication solutions. The current status of ISDN highlights the importance of keeping up with evolving technologies to ensure smooth transitions and continued efficiency in the ever-changing telecommunications landscape.
FAQ
Q1. What role do regulatory changes play in the phase-out of ISDN?
Answer: Regulatory decisions and policies can influence the transition from ISDN, promoting modern communication technologies.
Q2. Are there any emerging technologies as alternatives to ISDN?
Answer: Cloud-based communication solutions and unified communications platforms may replace ISDN.
Q3. How do organizations transition from ISDN to modern solutions?
Answer: Organizations can implement migration strategies, upgrade infrastructure, and adopt alternative technologies for a seamless transition.
Q4. What is the Network-Network Interface (NNI) in ISDN?
Answer: NNI is the interface between two ISDN networks, specifying how different ISDN networks interconnect.
Recommended Articles
We hope that this EDUCBA information on "Integrated Services Digital Network" was beneficial to you. You can view EDUCBA's recommended articles for more information,