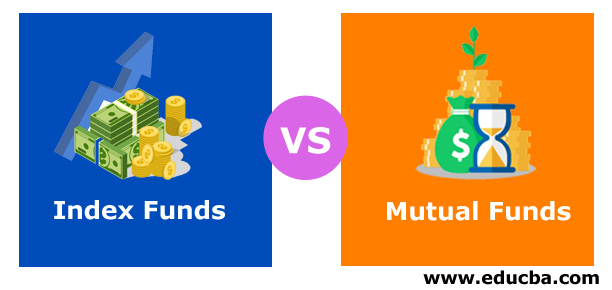 Difference Between Index Funds vs Mutual Funds
Have you ever thought of investing in funds like an index fund and ETF? As both are collective investment tools, most people get perplexed amidst the 2 investment vehicles. Funds are usually broken down into 2 types, Index Funds, and Mutual Funds. Both terms are used to refer to the underlying key objective of the fund. Nevertheless, they are not the same in the sense that an Exchange Traded Fund (i.e. ETF) is a type of Index fund which is a basket of securities or stocks that are traded on the exchange. But an index fund, on the other hand, is a kind of mutual fund, which will try to attempt to track the performance of any specific index.
Index funds can be ETFs (i.e. exchange-traded funds) or mutual funds that track an index, like the S&P 500 Index. The term mutual funds typically are referred to the funds that are actively managed which employ stock pickers with an objective of beating the stock market's performance.
The benefits of index funds over mutual funds are
They don't require you to hold cash,
They don't have any minimum purchase criteria as in mutual funds,
They are generally more liquid and of low cost than mutual funds
Some ETF funds have a tax advantage over open-ended funds.
While there are few disadvantages as well.
An index fund is traded through the day and hence subject to price manipulation.
They are subject to market volatility as well.
One can reinvest its capital gains and dividend in mutual funds while the same is less offered in an index fund.
Head To Head Comparison Between Index Funds vs Mutual Funds (Infographics)
Below is the top 9 difference between Index Funds vs Mutual Funds:

Key Differences Between Index Funds vs Mutual Funds
Both Index Funds vs Mutual Funds are popular choices in the market; let us discuss some of the major differences:
The Index funds are defined as a fund that will track a security market index, and it's traded like ordinary securities or stocks. An index fund is a type of investment vehicle that will track the performance of the benchmark market index.
Index funds are traded on a recognized exchange. On another hand, direct investment cannot be made in an index fund. But you can purchase an ETF and mutual fund that can either be bought at regular intervals through a Systematic Investment Plan (i.e. SIP) or in a lump sum.
Index funds are priced and traded throughout the day. On the flip side, mutual funds are priced at NAV which is determined at the close of the trading day.
The pricing of an Index fund is based on the supply and demand of the securities in the capital market. To the contrary, a mutual fund is priced as per the Net Asset Value (i.e. NAV) of that underlying asset.
In Index funds only, manual orders will be placed; that is, you need to sign in to place the buy order, while in the case of a mutual fund, one can automate its investment through a Systematic Investment Plan by giving standing instructions to the bank.
The liquidity and flexibility are comparatively higher in index funds than in a mutual fund.
The trading fees of index funds like ETF is high. As contrary to an index fund, in the case of mutual funds, there are no or low trading fees.
Index Funds vs Mutual Funds Comparison Table
Below is the 9 topmost comparison between Index Funds vs Mutual Funds
Basis Of comparison 

 Index Funds

 Mutual Funds

Basic Definition
An Index fund is a kind of investment fund that will try to replicate and will try to achieve the performance of a particular benchmark market index, which is called an index fund.
Mutual funds are the kind of investment funds that invest in securities or baskets of stocks that are traded on a stock exchange.
General Kind of investment

Strategy

Index funds generally follow a passive approach.
Mutual funds, on the other, follow an active investment approach where the investment manager will try to achieve alpha.
Objective
The main objective of index funds is to track index returns before fees.
The key objective of the mutual fund is to beat an index return after its fees.
Annual Expense ratio
The annual expense ratio of index funds is generally very low.
The annual expense ratio of mutual funds is generally high as there is an active manager who wants to beat market returns.
Examples
Vanguard 500 Index Fund ETF (NYSEMKT: VOO) is a kind of index fund.
DSP Blackrock Mid-cap fund is a type of mutual fund that tries to beat mid-cap index returns.
Trading hours
ETFs (index funds) can be traded throughout the day like the stock market
In the case of Mutual funds, the end of the day NAV can be calculated, and then they can be purchased at that NAV.
Purchase methodology
ETF must be purchased on exchanges.
Units can be purchased in regular intervals through SIP or lump sum.
Price Basis
The basis of the price will be through the demand and supply of security in the stock market.
The NAV is underlying for the price basis.
Trading Fees
ETF trading fees are generally high
One can trade in mutual funds with low trading fees.
Conclusion
Like the stocks and closed-end mutual funds, Index funds are traded on regular stock exchanges and are created with a specific purpose or say objectives. For example, an ETF's (type of index fund) components may replicate and try to mirror the performance of a broader stock index, like the S&P 500 (one of the biggest stock indexes in the world), or a commodity like lithium. Because ETFs or say the index funds, are traded on the regular stock exchanges, their valuations will change in the real-time entire period on the trading day, despite their underlying Net Asset Values.
A mutual fund is a kind of fund that combines the funds of hundreds or thousands of investors to buy the securities, which includes bonds, stocks, CDs, money market funds, and many alike. All mutual funds, as stated above, do have specific purposes or objectives; for example, they might focus on a particular industry or sector or will generate a predetermined income or rate of return.
Recommended Articles
This has been a guide to the top difference between Index Funds vs Mutual Funds. Here we also discuss the Index Funds vs Mutual Funds key differences with infographics and comparison table. You may also have a look at the following articles to learn more.