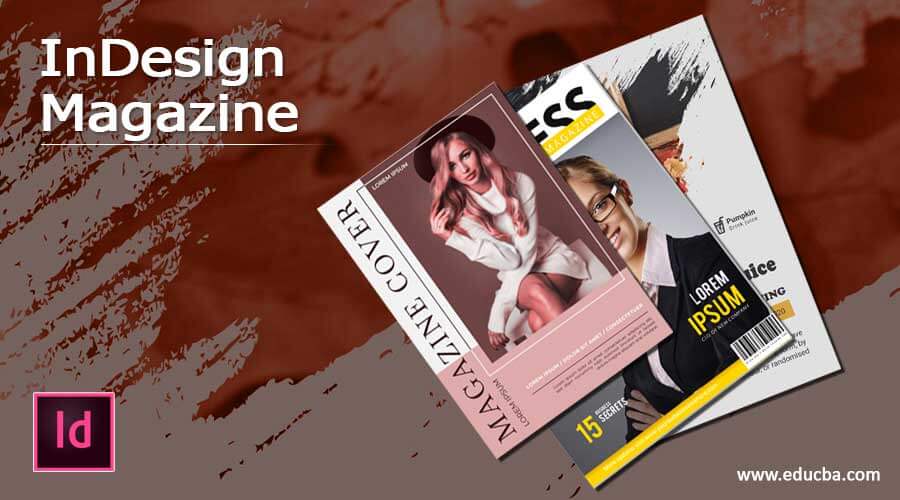 What is InDesign Magazine?
InDesign Magazine is a type of document which have text content, images, design elements, and some other important stuff. We have a number of features and tools in InDesign that help us in designing effective professional design of Magazine. You can not only design your magazine layout with your own idea but can also go through pre-designed magazine templates of adobe and use them for designing a magazine with your own contents and images. Today in this article I will tell you what are the basic points which you have to keep in mind during creating a magazine in this software?
How to Create InDesign Magazine?
You can design a Magazine with your own idea with your own concept but before you do this you must have knowledge about how to work with the design layout of the Magazine in InDesign. So I am going to tell you about some of the basic points.
Let's take a new document so create a new document by clicking on Create New button on the welcome screen of this software.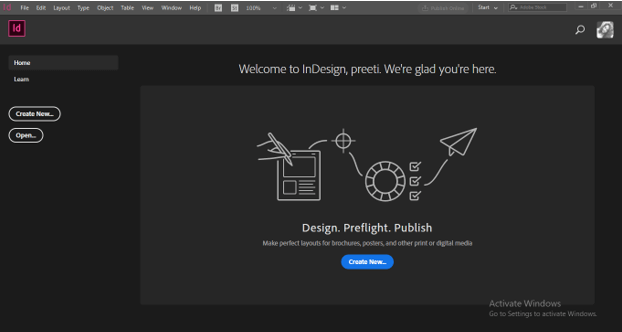 Once you click on it a New Document dialog box will be open. Here I will choose this A4 size preset of the document and choose change unit to the centimeter.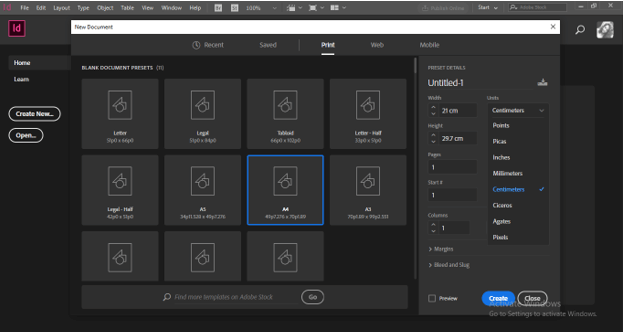 I will take 2 pages for telling you about the layout of the magazine design. You can set columns number from this dialog box also but I will leave it as it is.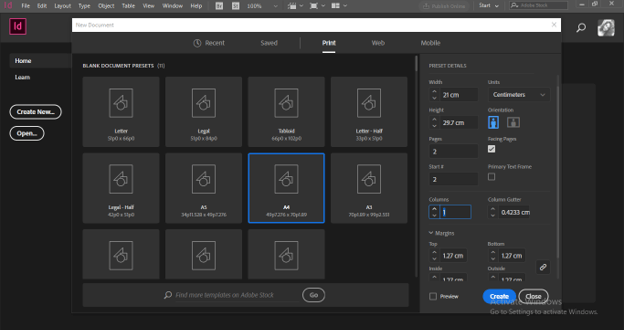 Now set margins for your layout out. I will take 3cm for top and bottom margins and 2cm for left and right. Now click on Create button of this dialog box.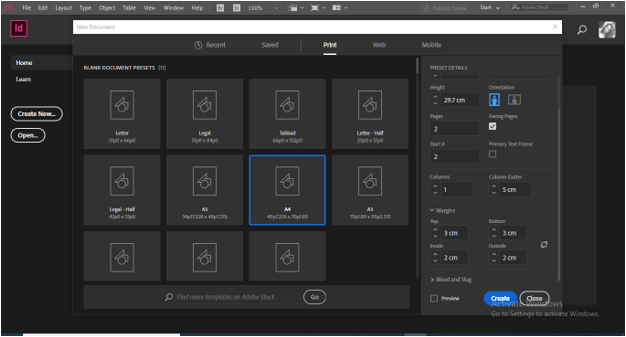 Now a basic layout page of the magazine is ready like this.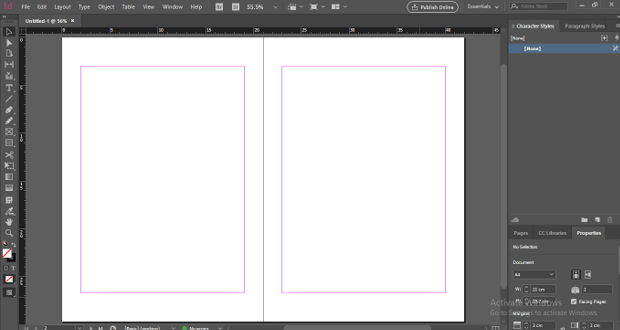 If you want to change the column number, then you can change it from the Margins and Columns dialog box.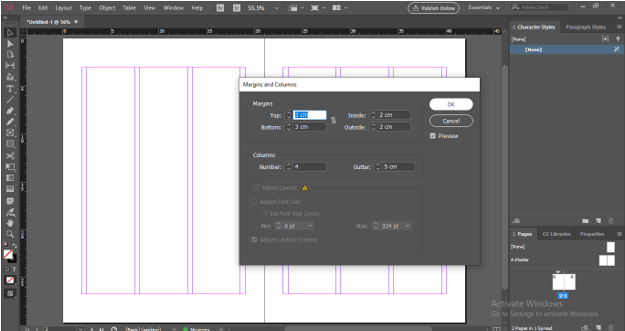 We insert columns in our document for having the proper typesetting of our text content. Now for inserting text in this document take Text Tool from the tool panel.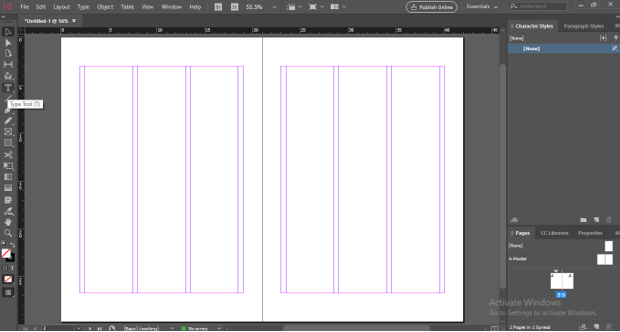 And drag the mouse cursor to draw a text frame box like this.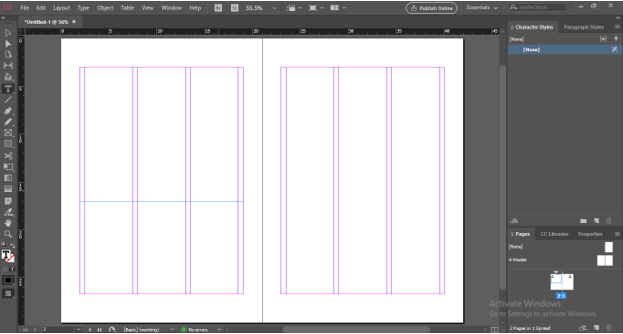 For placing your text content in your text frame go to the File menu of the menu bar and choose the Place option from the drop-down list or you can press Ctrl + D button as its shortcut key. Once you choose this option you will have a dialog box from which you can choose your text content.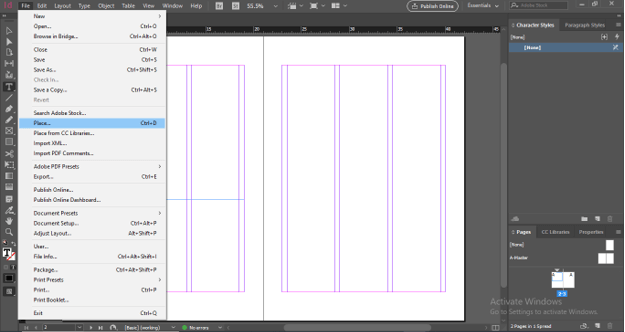 Now you need to place some images in your magazine layout design and for that, you have to create a frame. For creating a frame, you have to take the Rectangle Frame tool from the tool panel.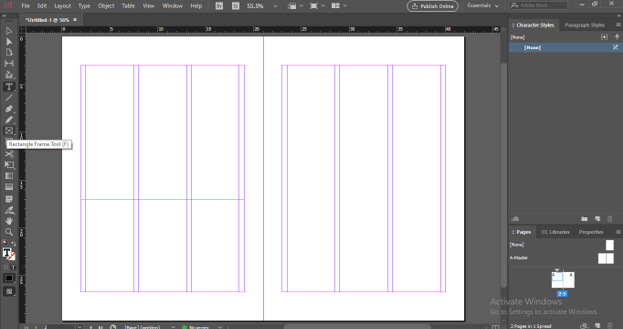 You can place any image here by using the place option of this software.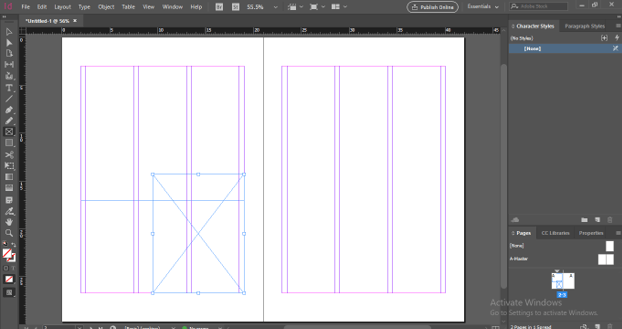 Create InDesign Magazine
Now let us create a magazine design here for having a better understanding of it. We will continue with this layout document. Now Go to the place option of the File menu because I want to place an image here.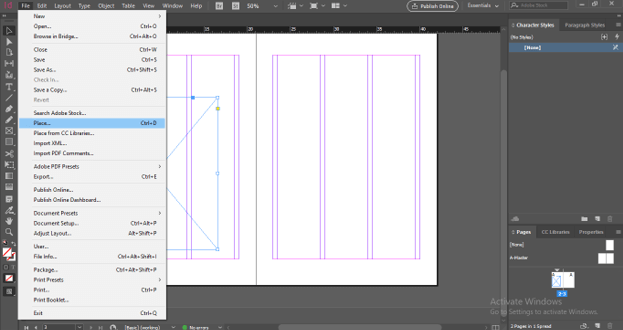 You can choose your desired image from this opened dialog box. I will choose this one and click on the Open button.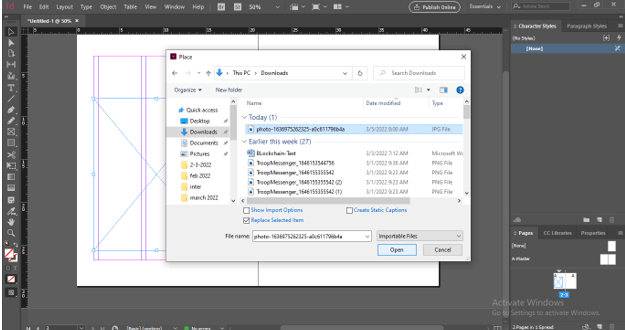 For placing an image, you can select the frame in which you want to place an image or drag it according to which size image you want. I will place it like this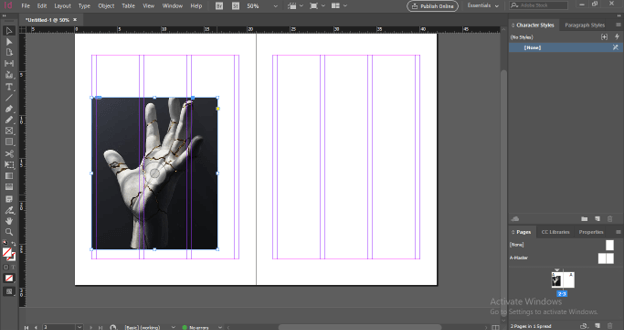 Now I will create a shape as a part of the design element and fill a Color into it from the color swatches panel of this software.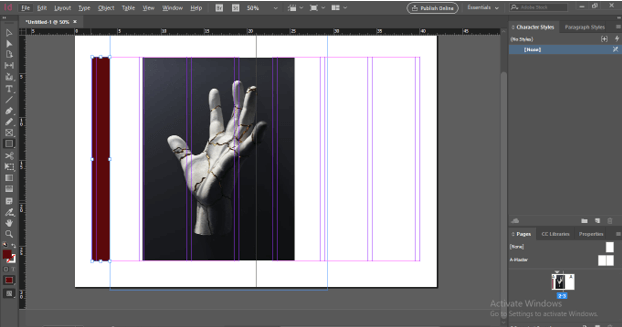 Now I will type a text sentence here and change its color to white. You can change text font as per your choice from the Character panel of this software.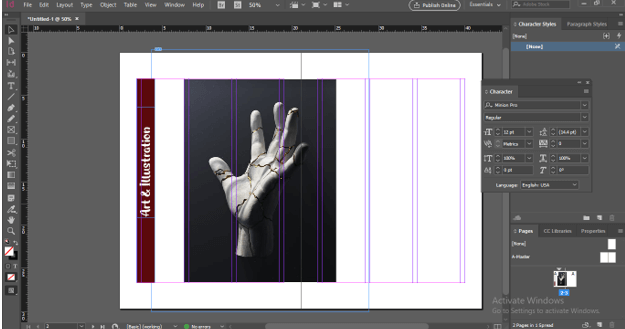 Same as this way you can add more design elements to your magazine layout design. Now I will add some text content here like this. You can copy text from the source file of content at paste it here or use the Place option to paste desired text content.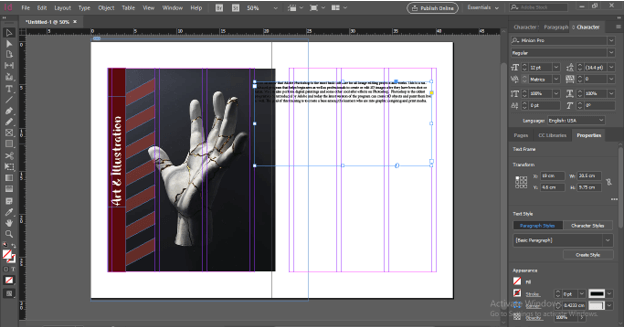 You can adjust your text content in columns with the help of a mouse cursor if you have already taken column guidelines.
Or if there are no columns then you can add columns to selected text content from the Text Frame option of the Properties panel. You can find the Properties panel on the right side of the working screen.
If you want you can add background to your design and for that, you can use an image. Here I have taken this textured background which I have downloaded from the internet.
Now send this image back like this
Here I have given you some ideas about the design of magazine design. You can try more things with your own ideas.
InDesign Magazine Template
If you want you can also use templates of magazines in place of working with your own design layout. Adobe offers you a number of design templates that you can use as per your requirement.
In the New Document dialog box, you can find templates under any document preset. Here navigate for the magazine template or you can search for it in the search box of this dialog box.
Choose your desired one and click on the See Preview button of the selected one. Here you can see the preview and once you are satisfied with it then click on the Download button of the details section of the chosen template.
After completion of the download, you have the Open button here in the same details section. Click on it
If there are some fonts missing, then it will show you a message about missing fonts. You can activate them by clicking on the Find Fonts button of the dialog box if the missing font is from the Adobe collection.
It will open like this and now you can do your desired changes here as per your choice and add contents as well.
Conclusion
Now I am sure you have good knowledge about magazine design and how you can do it in InDesign. So you can start designing your own magazine with lots of good design elements as well as type settings or you can go with the pre-designed template of this software for saving your designing time. I will suggest you to try to design your own one.
Recommended Articles
This is a guide to InDesign Magazine. Here we discuss the What is InDesign Magazine, How to design InDesign Magazine, examples with implementation. You may also have a look at the following articles to learn more –