What is Indemnity Insurance?
An indemnity insurance policy provides coverage for damages caused by an insured party to a third party within their professional duties. 
For example, Richard is a heart surgeon, and as his profession makes him liable for medical mistakes, he buys indemnity malpractice insurance. Once, during a critical operation, he makes a medical mistake that leads to the patient's family suing him. He then raises an insurance claim, and the insurance company pays the legal charges and compensation to the patient's family.
Indemnity insurance protects the insured from lawsuits filed against them. It covers the cost of litigation, settlement, and defense fees. It also pays any fines or punitive damages awarded by the court. It is common in the United States but can also be available in other countries.
Key Highlights
Indemnity insurance protects the insured against losses arising from legal liability incurred in connection with their professional activities
The insurer pays for damages, court costs, and legal expenses
The three of its types are malpractice, errors & omissions, and directors & officers insurance
While life insurance provides death benefits to the insured's beneficiaries, indemnity insurance helps the insured with legal financials in case of third-party damage.
How Does Indemnity Insurance Work?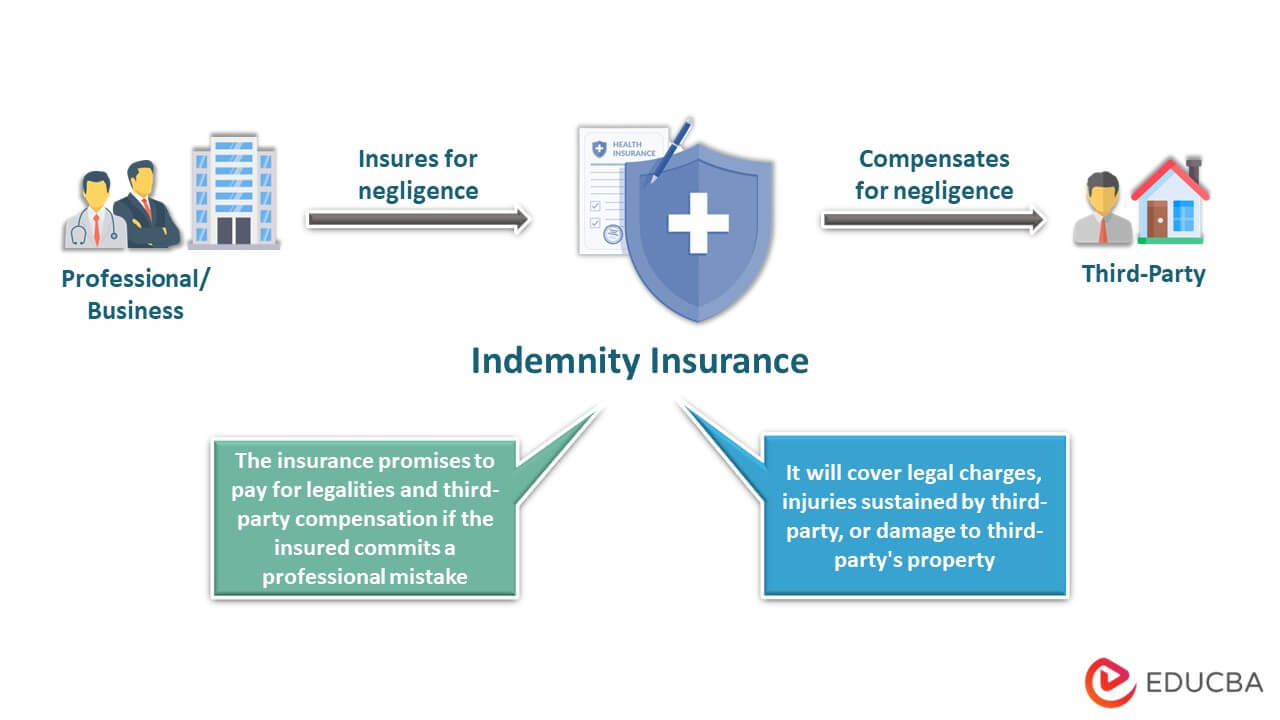 It is an agreement that the insurer will cover damages a business incurs or losses resulting from the insured's negligence
The insured pays regular insurance premiums, and in turn, the policy covers third-party injury or property damage
When the insured files a claim, the insurance company assesses and evaluates the scenario and the damages and then pays accordingly
Personal injury insurance compensates for bodily injuries, while property damage coverage insures objects from harm. It covers the insured if they are liable for someone else's property damage or personal injury
However, the coverage depends on the plan. Therefore, one can purchase an excess indemnity policy if they need extra coverage.
Real-World Example
Around December 2020, many businesses, like restaurants, automobile dealers, retail stores, etc., claimed money from Erie insurance. The appeal was regarding the loss to trade due to COVID-19. However, Erie insurance declined the claim as the policies explicitly mentioned the exclusion of law and virus. The businesses then raised a court case against Erie insurance, where the insurance company won.
More Examples
Example #1 – Business
A hacker gains access to confidential information by breaking into a hosting company that uses third-party servers for data storage. The affected companies then file a lawsuit against the hosting company for damages due to inadequate security. Therefore, when the company claims the insurance, they cover the legal fees for the court case against the conglomerates.
Example #2 – Services
Jack is a mortgage broker who helps connect mortgage lenders and buyers. He introduces Mary to XYZ mortgage company. Although, after finalizing the deal, Mary found Jack had better deals, which he did not offer her. When Mary filed a case against Jack, he claimed his errors & omissions insurance which covered all the legal costs.
Indemnity Insurance Features
The coverage includes reimbursement for service providers from the medical, finance, and legal field, along with self-employed business owners
It reimburses any court expenses, legal settlements, third-party compensation, etc
For access to the policy's benefits, the insured must make regular premium payments to keep the policy active
Although these are low-risk damages, any indemnity incident can be expensive.
Types of Indemnity Insurance
Directors and Officers Insurance:
It is when clients or employees sue their business heads for ineffective management-related issues
It is generally for company directors or officers, as the name states.
Malpractice Insurance:
It is an essential part of the medical profession. It protects doctors from liabilities in case of a medical mistake
It also protects the doctor from losing their license or legal charges.
Errors and omissions Insurance:
It protects a company or individual against claims of negligence in handling documents, such as errors in contracts, legal records, and other similar documents
It can also cover potential losses due to product defects or faulty advice by the company.
Indemnity Insurance vs. Life Insurance
| | |
| --- | --- |
| Indemnity Insurance | Life Insurance |
| It is a policy that reimburses the insured in case of damage or loss to a third party | Life insurance provides financial support to the beneficiaries after the insured's death |
| It is for the insured's benefit as it protects businesses by paying for specific losses they cause to another person or property | It is for the insured's family, close friends, and people under their care, as it is usually to protect a family from financial hardship if the breadwinner dies |
| The policyholder can claim this policy whenever required until they settle the total coverage. | The beneficiaries receive the death benefits after the insured's death or if the policy expires. |
Conclusion
Indemnity insurance compensates an insured party for certain unexpected damages or losses up to a specific limit. These commonly protect professionals and business owners who commit specific acts, such as a lapse in judgment or malpractice. They are typically in the form of a letter of compensation.
FAQs
Q1. Define professional indemnity insurance.
Answer: Professional Indemnity insurance protects the business/professional from an indemnification for damages the insured caused to another party. The insurance company pays for such losses, safeguarding the insured's financial health.
Q2. What does hospital indemnity insurance mean?
Answer: It is a health insurance plan that provides extra benefits than the usual indemnity insurance. It covers medical expenses for injuries or harm to another person due to your profession or business.
Q3. What is a fixed indemnity insurance plan?
Answer: A fixed indemnity insurance plan provides a predetermined amount of coverage. Instead of settling a requested claim, the insurer gives the insured the set amount of coverage. It is ideal for those with pre-existing conditions and others who want coverage without worrying about the costs.
Q4. How long does an indemnity policy last?                            
Answer: An indemnity policy can last either for years or indefinitely. The set amount of time for a basic policy is typically between six months to three years. In other cases, the plan can last longer, i.e., until the insurer reimburses the total coverage or the premiums are unpaid. However, for longer-lasting policies, the premiums can be expensive.
Q5. What are indemnity costs?
Answer: As with every other insurance, the costs depend on the type and coverage of the policy. Nevertheless, the average monthly premium for indemnity insurance is $10 to $20.
Recommended Articles
This is a guide to Indemnity Insurance. We discuss its definition, types, features, and examples. To learn more, visit the following articles,