What is Homeowners Insurance?
Homeowners insurance safeguards the insured property and compensates for any damage/loss to the home and its belongings. For example, Mr. Dawson inherits his family home and decides to buy insurance for the house. He, therefore, purchases $3,000,000 in home insurance. A sudden fire due to an electrical short circuit causes significant damage to the house and its possessions. Mr. Dawson claims the insurance and gets $2,000,000 (the home's current market value).
Homeowners insurance covers damages from lightning, fire, natural disasters, and more. It generally reimburses for the home and its contents, such as furniture and appliances, and provides liability coverage if someone gets injured on the property.
Key Highlights
Homeowners insurance protects the home against damages or loss and also provides coverage in case somebody gets injured during the incident
Although not legally required, most mortgage lenders make it a precondition before disbursing a loan
Personal property coverage protects the belongings inside the home, such as furniture and electronics. Whereas liability coverage protects the homeowner when another person suffers an injury on the property
The average policy covers fire damage, wind damage, hail damage, theft, and vandalism.
How Does Homeowners Insurance Work?
The homeowner purchases insurance as protection against losses that may occur as a result of owning and maintaining a home
They pay an insurance premium to the insurer, and in return, the insurer agrees to pay for specifically covered losses in case of unfortunate events
Some policies also cover temporary living expenses if the residence is uninhabitable. Suppose a home gets damaged in a fire, then the policy may cover the cost of staying in a hotel during repairs on the house
The insurance costs can vary on factors, including the value and location of the home, the required coverage, and more.
Homeowners Insurance Coverage Levels
Actual cash value:
Actual cash value accounts for property costs as well as the value of the possessions after depreciation
It determines the price of the property as per current market worth after considering the age and condition of the place.
Replacement expense:
The replacement value plans pay the actual cash value of your home and valuables without accounting for depreciation
It computes the total costs of goods according to their present value.
Guaranteed replacement cost or value:
It pays the entire cost of repairing or rebuilding the house up to the policy's maximum coverage
It gives more coverage than the total premiums, but there is a limit; typically, it is 20% to 25%.
Types of Homeowners Insurance
| | | |
| --- | --- | --- |
| Type | Perils | Coverage |
| HO-1: Basic | It is the most basic policy that covers limited perils, like fire, theft, vandalism, etc | It pays in actual cash value |
| HO-2: Broad | It is an advanced HO-1 policy that covers extra perils such as water overflow, freezing, sudden accidental cracking, and more | It compensates for dwelling in replacement costs and property in actual costs |
| HO-3: Special | It is the most commonly available insurance that provides coverage for most of the perils, excluding earthquakes, sinkholes, etc | It pays replacement costs for both dwelling and property but still can differ on the policy |
| HO-4: Contents Broad | It is for renters to secure their belongings under most kinds of perils; similar to HO-3 | It covers the renters' damaged possessions in replacement costs. In addition, it can provide living expenses |
| HO-5: Comprehensive | It covers single-family homes under all possible perils, from fire to snow blockage and more | It covers the damages in replacement costs for all possessions along with the house |
| HO-6: Unit-owners | It is for people living in condos, and the perils included vary on the plan. It can be limited, or all perils | The coverage is mainly for renovations, liability, asset losses, etc |
| HO-7: Mobile Home | It is generally for mobile houses like trailers, modular homes, and others. The perils depending on the plan | It covers the policyholder only for losses when the home is not in transit |
| HO-8: Modified Coverage | It is an HO-1 policy for houses that do not fall under any other category, such as high-risk location-based homes. | The coverage is for actual cost value, similar to HO-1. |
Homeowners Insurance Examples
Example #1
In August 2022, Mark Orminski experienced a fire at his house due to a faulty LED bulb. He claimed the homeowners insurance from State Farm Insurance, and the company had to pay $246,000. However, the company then sued Amazon, where Mark bought the bulb from, as they had warranted it.
Example #2
Harper owns a guest house in Florida which she rarely uses. While the place was empty, some burglars broke in and stole most of the valuables from the property.
Harper had homeowners insurance, so she raised an insurance claim with her agent. After the necessary investigation by the company, they approved the request, and Harper got reimbursed for her losses.
What Does Homeowners Insurance Cover?
A typical policy covers losses of fire, lightning, wind, hail, and water damage from burst pipes
It also covers the theft of personal belongings, such as electronics, furniture, etc. Nonetheless, most policies limit the amount to specific items, such as jewelry, art, and other valuables
It covers dwellings, like farmhouses, guest houses, etc., for events such as fire, explosion, water damage, and others
Under personal property coverage for residencies, it additionally covers events such as theft or vandalism
However, it does not cover damage by floods, earthquakes, termites, or insect damage control. As a result, homeowners living in areas prone to these events may require additional coverage.
Factors Affecting Homeowners Insurance Rates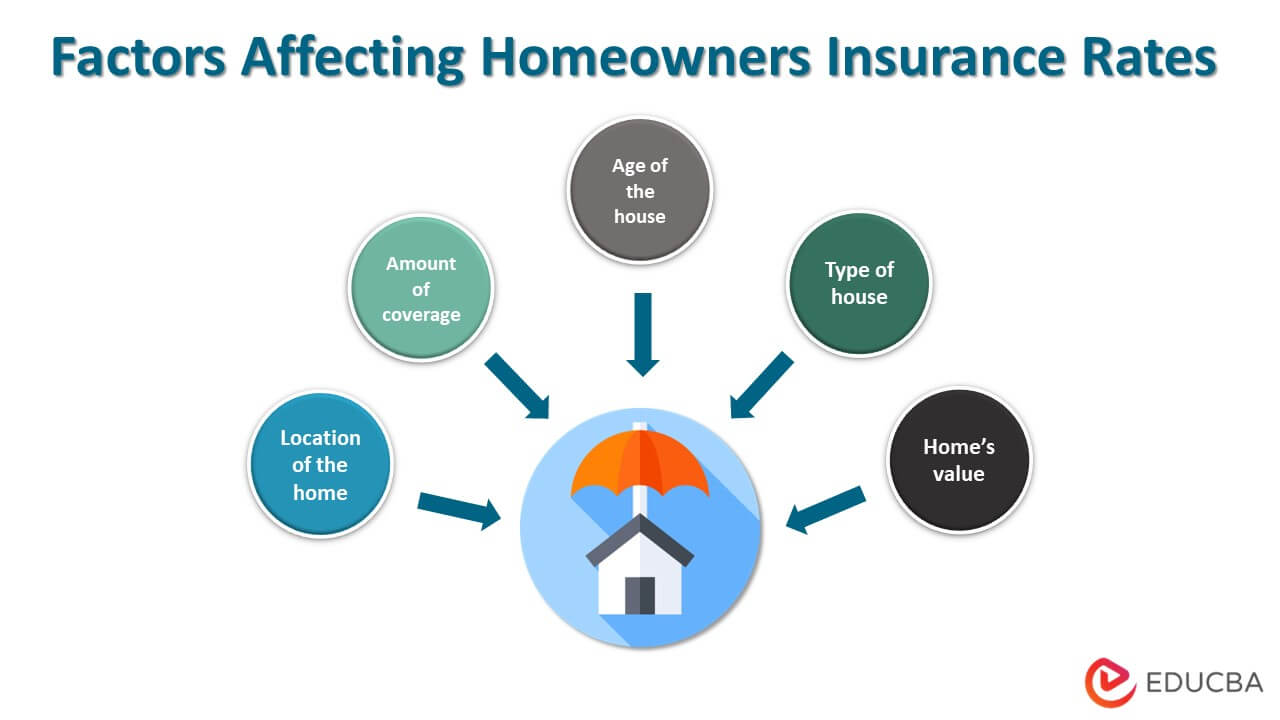 Home's value: If the home is worth more, the policy will cost more
Age of the house: As older homes are less valuable, they are less expensive to insure
Location of the home: If the property is in a natural disaster-prone area, insurance will be expensive
Type of house: Insurance for a brick house costs more than a wooden frame house
Amount of coverage: The greater the required coverage, the higher the insurance costs.
Homeowners Insurance vs. Home Warranty vs. Mortgage Insurance
Homeowners Insurance
Home Warranty
Mortgage Insurance
Purpose
It protects homeowner's property from fires, burglaries, other natural disasters, etc
It is a service contract for the protection of major systems and appliances in a home from wear and tear
It protects the lender from borrower default
Costs
The costs fall in the $1,250 and $1,900 annual range. The monthly premiums are $140 to $160
The prices are between $200 and $600 per annum, depending on the covered appliances
It costs between 0.5% to 5% of the total coverage value
Coverage
It reimburses for losses or damages to homes, belongings, and any injured person due to the event.
It only covers damage to systems and appliances such as a furnace, air conditioners, water heaters, ovens, etc.
It pays the lender if the borrower can't make payments on their mortgage.
Homeowners Insurance Benefits
It offers financial protection for homes and their belongings during disasters and helps with finances to rebuild your home or replace damaged belongings
It can also provide peace of mind in an emergency and vulnerable situation by protecting you and your family
As these insurance premiums are tax-deductible, one can save money on taxes.
FAQs
Q1. How much does homeowners insurance cost?
Answer: The homeowners' insurance policy cost can vary by many factors, including where you live and the coverage you require. However, the premium can typically cost around $1,800 per year.
Q2. When do you need homeowners insurance, and when is a home warranty more appropriate?
Answer: Homeowners insurance protects your home and belongings in a natural disaster or other unforeseen events. In contrast, a home warranty is a contractual service that covers significant home systems and appliances for repair or replacement.
Q3. What are some homeowners insurance companies?
Answer: Some well-established and professional insurance companies are Erie Insurance, State Farm Insurance, USAA, and Chubb. However, the premiums for these companies might be expensive as well.
Q4. Is homeowners insurance tax deductible?
Answer: Yes, the premiums the policyholder pays for the homeowners' insurance are tax deductible. Furthermore, compensation from insurance claims is also tax-exempt. However, when the policy expires without any claims, and the holder receives the coverage amount, they are not tax exempted.
Recommended Articles
This article guides you through Homeowners Insurance. We discuss its meaning, types, coverage, and more. Read the following articles to learn more,