Updated July 7, 2023
What is Disability Insurance?
Disability Insurance protects the policyholder's earnings if they cannot work because of a disability. For example, a graphic designer gets Lasik surgery and loses their ability to work for a while. The insurance may cover their expenses until they can go back to work.
However, the disabilities the insurance can cover depend on the specific policy. It is also called disability income insurance or DI. The funds help people protect their living expenses, such as their mortgage, food, utility bills, and childcare.
Key Highlights
Disability insurance provides financial protection to people who become disabled and can no longer work.
They are of two types: short-term and long-term. Short-term typically covers a period of three to six months, while long-term covers an extended period, usually till retirement.
The money from the policy can go towards everyday costs like rent, groceries, and utility bills.
Although it is not required legally, one can consider it if one wants to protect their income in the event of an injury or illness.
How Does Disability Insurance Work?
After choosing a policy with the necessary benefits, the policyholder pays a premium amount every month or annually to the issuer.
To qualify for the insurance, one must meet the definition of "disabled" outlined in the policy. This definition varies for each policy.
For the insurance, file a claim with your insurance provider. The issuer then evaluates the claim, and you will begin receiving benefits after the approval.
Sometimes, people can lose the ability to work in their current job but can still work in other sectors. Therefore, the policy will provide cover as long as the person does not work anywhere.
Some policies cover if the person can no longer work in their present profession but chooses another occupation. These policies are way expensive.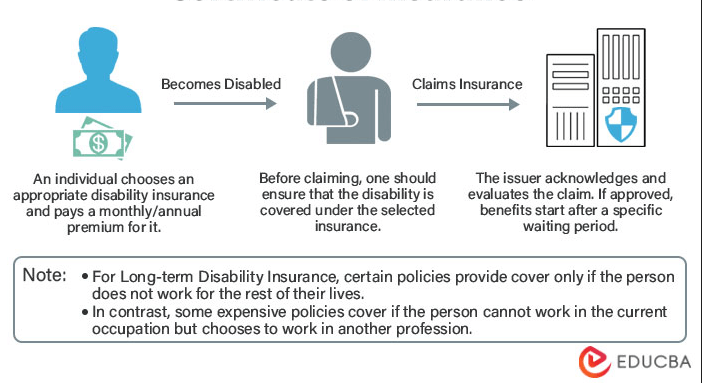 Types of Disability Insurance
Short-Term Disability (STD)
Long-Term Disability (LTD)
Benefit Period
The period for the benefits is usually three months to two years. It depends widely on the policy.
It has an extended aiding period, usually lasting from a few years until retirement.
Waiting Period
There is a waiting period of around two weeks before the issuer starts giving the benefits.
The waiting period can last for months, generally six months or more
Costs
It is generally more affordable
It is typically expensive
Included Disabilities
It covers pregnancy, temporary injuries because of an accident, or a lengthy illness.
The claims the policy covers are heart diseases, mental disorders, cancers, and other critical disabilities.
Issued by
Employers offer it to most employees
Most employers do not offer this
Expiry
The policy expires when the person recovers or if the benefit period ends
This policy expires if the person stops paying the premium or the benefit period ends
What Does Disability Insurance Cover?
While some cover pregnancy and childbirth, not all policies provide this gain.
Long-term insurance does cover mental health, heart, and other critical conditions, whereas some provide limited coverage.
Generally, these plans pay for 50% to 80% of the expenses depending on the scheme and disability.
Most policies will not cover conditions one had before taking the plan. It also does not cover self-inflicted injuries, or disability caused by alcohol or drug use.
Every policy is different, so it's always best to read the fine print carefully before purchasing a policy.
Examples
A parent becomes disabled and cannot care for their child. The parent can use their policy to help cover childcare costs while they recover from their injury.
A business owner is diagnosed with cancer. While they get their treatment, the insurance covers the business costs.
An employee at a large corporation is pregnant and has gone through childbirth. Their employer pays them monthly during their maternity leave when they can't work.
Benefits of Disability Insurance
It can give peace of mind in the event of a sudden disability.
Financial protection can cover living expenses and help the disabled's family in case of need.
Various policies can suit both high-income earners and someone living paycheck to paycheck.
The compensation from these schemes is mainly tax-free.
Conclusion
Disability insurance can help everyone support their family and themselves in case of a sudden disability. It can help one get by until they can return to their previous lifestyle. With no insurance, one may have fewer options and a difficult recovery. In conclusion, it is an essential type of coverage everyone should have.
Frequently Asked Questions(FAQs)
Q1. Does health insurance cover disability insurance? What if I do not have insurance?
Answer: Even if you have health insurance, it is unlikely that it will cover you in case of a disability. Only a few expensive health insurances aids those conditions. If one has no insurance, they should consider getting one for the future safety of themselves and their family.
Q2. What is the cost of disability insurance?
Answer: The cost of disability insurance varies depending on your age, income, and profession. Your income level helps calculate your premiums, as higher-income people are more likely to afford the policy's benefits. Usually, plans charge you 1-3% of your income. For instance, if you earn $30,000 per annum, the scheme may charge $300 to $1000 per year. It also depends on the type of policy. For example, a catastrophic policy only covers significant disabilities. In contrast, a partial disability policy will cover a portion of your lost income.
Q3. What disabilities come under disability insurance?
Answer: The insurance covers most kinds of disabilities. It can be visual, hearing, speech, or other physical impairments. It also includes critical diseases like cancer and medical conditions that can last for a lifetime.
Q4. How to decide which disability insurance to take?
Answer: Ensure that the policy covers your family (parents, spouse, children) in the event of your inability to earn. Also, ensure that the policy pays out a lump sum of money to your beneficiaries, so they can cover any final expenses or debts you may have. It would be best if you always considered your needs to decide what coverage would be best for you.
Q5. Do I Need Disability Insurance?
Answer: Even though the law does not state that every person should have insurance, you should consider it if you want to protect your income. If you are self-employed, with no access to insurance through an employer, it is essential to consider this type of coverage. Additionally, if you're a parent, view a policy that covers childcare costs.
Recommended Articles
This article explains disability insurance's definition, types, coverage, and importance. Visit the following articles to learn more,