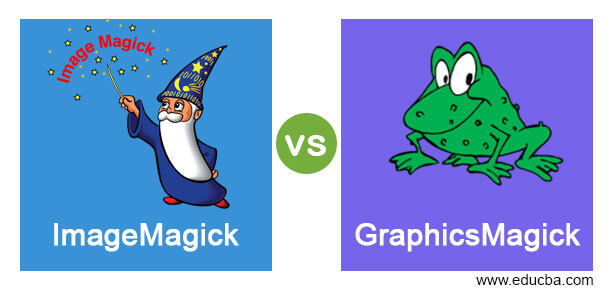 Difference between ImageMagick vs GraphicsMagick
ImageMagick deals with raster images and performs a different type of task related to it such as it creates, display, convert, modify as well as edit raster images. Being an open-source cross-platform it is used in a wide range of open source applications not only this but it is also absolutely free to use. GraphicsMagick is fork project software of ImageMagick and focused on stabilization of both Command line options and Programming API. After the 5.5.2 version of ImageMagick due to difference among developers' group GraphicsMagick branched off in 2002. So let us now delve into both of these software from more information. Here in this article of ImageMagick vs GraphicsMagick, I will tell you all the possible characteristics and facts of these two software so that you can find out important information from them.
Head to Head Comparison Between ImageMagick vs GraphicsMagick (Infographics)
Below are the top differences between ImageMagick and GraphicsMagick

Key difference between ImageMagick and GraphicsMagick:
This section will cover some of the points which explain ImageMagick and GraphicsMagick in terms of their pricing, working methodology, and so on. So let us have look at them too.
Let me tell you about that how much you have to pay for having any other software in your pocket? ImageMagick can download without pay anything and offers you to have it in whole or part, use it for commercial purposes, personal purposes, or for internal work of the company. You can use it in packages or distributions that you created in it. For linking against a library it needs a different license and many more things it offers to it used but it also forbids you from doing some of the work in the licensed package of this software that is you cannot redistribute any piece which is originated from ImageMagick without proper attribution and many other things are there which you cannot do without permission. You can check more terms and conditions applied by ImageMagick on their product by visiting their official website. Whereas for having information about price of GraphicsMagick you have to send a query on it official website because it provides information to it, users, according to their need.
ImageMagick refers to 64 libraries for performing its work in a smooth manner but if it will tell you about GraphicsMagick then it requires 36 libraries. GraphicsMagick was considerably executing image processing operations faster than ImageMagick 6.5.8-10. You can also check it by doing some type of processing on both of the software one by one.
GraphicsMagick ran the algorithm much faster and efficiently with Microsoft windows due to having the number of advanced features incorporated with it whereas ImageMagick ran it as much as 770 times slower.
GraphicsIMagick can process over 89 major file formats of image for making it accessible with number of sources and among these format some of the important formats are .gif, .jpeg, jpeg-2000, .png, .pdf, .dpx, . pnm, .tiff, .webp. It uses multi-thread for processing image and this multi-thread use OpenMP so that CPU bound tasks scale linearly due to processor cores are added. In other hand ImageMagick can process .gz, .z, .jpge, .png, .tiff, .psd and many more.
I told you this point because from this you can have an overview about ImageMagick and GraphicsMagick for choosing one of them.
Comparison between ImageMagick vs GraphicsMagick:
In this section, you will go through some fundamentals, essential requirements as well as primary facts of this software which develops a base in your mind about this software.
| | | |
| --- | --- | --- |
| | ImageMagick | GraphicsMagick |
| Definition | ImageMagick is an open-source free program for dealing with different types of editing and converting tasks related to raster images. | It works of stabilizing Programming API and Command line options with its standard features and also provides a user-friendly environment to its user. |
| Developer and launched in | It was created by John Cristy in 1987 and launched for public use by ImageMagick Studio LLC on August 1, 1990, 30 years ago. | GraphicsMagick Group was its developer and launched it in the market for dealing with a different type of editing procedures of a raster image in 2002 which is 19 years ago. |
| Latest or currently stable version | Its latest or stable version released on March 2, 2021, and named 7.0.11-3. You will find lots of improvement and new features in this version in comparison with the last version it. | Before a few months on 26 December 2020, its latest version was released and it is 1.3.36 and it can easily deal with drawbacks of the last version. |
| Written in language | It can consider as Image manipulation software and written in C language. | It can consider as cross-platform graphics software that means it can use on both desktop as well as mobile platforms and is written in C language. |
| Availability | If you want to have more knowledge about this software or want to download it then you can go through www.imagemagick.org which official website of ImageMagick. | www.graphicsmagick it is an official website from where you can have a number of information related to it or you can also download it from here by going through downloading procedures. |
| Compatibility | It includes a Unix operating system for a basic native, X window for rendering and manipulation of images, and API libraries that deal with many programming languages. Linux, Microsoft Windows, Mac OS X, iOS, Android operating systems | It is available for any Unix or Unix-like system and Linux also includes in it. You can run it on Windows Vista, and later version of vista after Vista 7, and Mac OS X. |
Now you can say you have grabbed very good details from the above sections after analyzing this information. Let me take you through some advanced characteristics of this software so that you can make a deep analysis of it in a better way.
Conclusion
Wasn't this a good article for understanding ImageMagick as well as GraphicsMagick? I think it was and you will also agree with me that you have lots of good information which can be deciding factor for you. Now you just have to try both software one by one so that you can choose anyone from your own point of view.
Recommended Articles
This is a guide to ImageMagick vs GraphicsMagick. Here we discuss the ImageMagick vs GraphicsMagick key differences with infographics and comparison table. You may also have a look at the following articles to learn more –