Updated April 11, 2023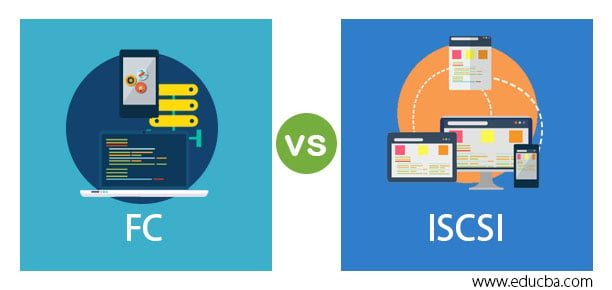 Difference between Fibre Channel and iSCSI
The fibre channel is a data transfer protocol that operates at high speed to transmit the raw block data without any loss. The main aim of the fibre channel is to connect the data storage of a computer to a server in the storage area networks (SAN). iSCSI is expanded as an Internet Small Computer System Interface which is an internet protocol based on linking the standard storage networks. It carries SCSI commands via TCP to server storage systems with block-level access. For the past several years, fibre channel was highly used in the market but due to its difficulty to support in geographical locations, it fails to gives its efficiency. At that time, interruption of iSCSI in the commercial market took a big elevation to climb into the organization. In this topic, we are going to learn about FC vs iSCSI.
Head to Head Comparison Between FC vs iSCSI (Infographics)
Below are the top differences between FC and iSCSI

Key Difference between Fibre Channel and iSCSI
There are many differences between the fibre channel and iSCSI and few of them are listed below
1. Storage Market
The market is confused to choose a fibre channel or iSCSI. It was split as the large scale vendors who need binding storage invests in fibre channel whereas the offspring vendors opt of iSCSI because of its low cost. But if the people had worked on with fibre channel for years, it is expected to believe that iSCSI is unreliable and slow and has a faster breakage if the user runs a critical service on it. But if the user had worked with iSCSI for years, then he would think like FC is too expensive to set up and managing is highly challenging.
2. Beginning of fibre channels and iSCSI
Fibre channel was standardized in 1994 and implemented in host bus adapters and switches and so it is considered as expensive than other storage networking method whereas iSCSI is also a storage networking protocol deployed on top of TCP protocol in the year 2004. It received high attention as it executes over the same network and does not require any additional hardware which resulted in low cost when compared to the fibre channel.
3. Performance measures of fibre channels and iSCSI
It is difficult to win the high throughput and low latency of Fibre channel since it was built to handle the traffic in storage systems. The processing cycles needed to produce and infer FCP frames are entirely offloaded to lo latency HBA. It empties the server's CPU to manage applications instead of working on storage. To be open, the performance of iSCSI is not standard as FC. But if iSCSI is implemented correctly, the difference drops down to several milliseconds of extra latency because of overhead that needed to cover up the SCSI commands with the TCP protocol. It makes a vast difference for multiple transactional I/O loads which makes unfit to use in the enterprise.
4. Traffic management by FC and iSCSI
Fibre channel protocol is completely optimized to manage the storage traffic. It includes the flow control in the built-in mechanism and checks that the data is sent to the server completely. But the user cannot achieve the same minimum latency devices in the current markets. iSCSI has throughput by the use of multiple 1Gbps Ethernet. It also receives benefits as being IP in that which is used to execute over maximum distance via WAN links. But it is limited to the replication of SAN to SAN and easier way to implement and only method for the alternatives of FC.
5. The infrastructure of Fibre Channel and iSCSI
The important advantage of a fibre channel is its capability to use the convergent infrastructure that enables LAN and Storage area network to pass the data via the same hardware links but still requires some isolation features. They are best instances for blade servers which has an array of special servers embedded in a single piece of computing and shared network, power, storage. With the help of copper lanes, it supports the operation of fibre channel and enables the system admin to change LAN wires in case of any damage or any requirement in business needs
Comparison Table of FC vs iSCSI
Now let's draft the comparison between FC and iSCSI in a table below
| | | |
| --- | --- | --- |
| Behavioural Parameters | Fibre Channel | iSCSI |
| Definition | It runs on the dedicated infrastructure which is separate from the user and server | It runs on the same enterprise application which is deployed in the user network |
| Supporting protocols | Fibre channel protocol is used in the frames of SAN network | It works with TCP protocol |
| Performance metrics | It is rapid than iSCSI | It has a lower efficiency than FCP because of the encapsulation of iSCSI commands |
| Load of CPU | The load of CPU is lower | The load of CPU is higher |
| Access control | Zoning is used for performing access control in FCP | IP based ACL used for the communication in iSCSI |
| Supported distance | It is applicable up to a limited distance | Here the distant is not limited. It can apply to any extent |
| Cost of the techniques | It is too expensive because of the dedicated infrastructure in the storage area network | The cost is reduced because of the infrastructure |
| Deployment | It is a complex technique and labour intensive. Skill labour is required to manage the fibre channels | It is so simple for deployment and easy to manage |
| Required skills | Requires specialist to have in-depth knowledge in the management of fibre channels | Skillset is required to implement the iSCSI in multiple ways to general network techniques |
| Application | It is built-in well suitable latency equipment and bandwidth-sensitive devices. It is also applied in high input-output applications | It is also well suitable in low input and output applications |
FCP has limitations in the interconnectivity of storage. For a maximum distance, it is expensive and configuration of FC to the remote site is highly challenging. Managing the infrastructure of FC needs an advanced and well-trained skilled resource. But the deployment of iSCSI is easy and has a simple structure for flow control, switching, and jumbo framing. But when implemented in multipath is results in lack of performance which should be overcome in future.
Recommended Articles
This is a guide to FC vs iSCSI. Here we discuss the FC vs iSCSI key differences with infographics and comparison table. You may also have a look at the following articles to learn more –