Updated May 26, 2023
About Bangkok
Bangkok, the capital and most populous city of Thailand is a beautiful tourist destination known for its cultural landmarks, colorful nightlife, and beautiful hotels in Bangkok. Naturally, a city that attracts people worldwide will also have numerous hotels.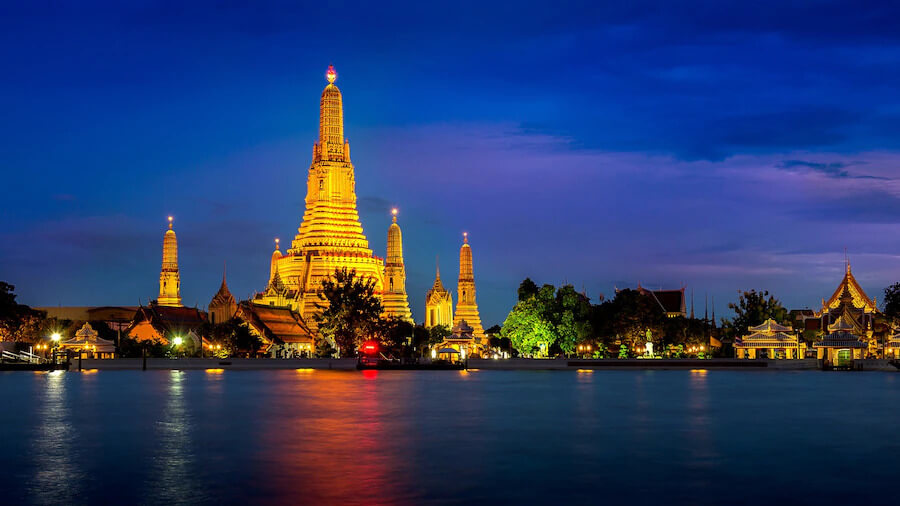 Hotels in Bangkok
If you are one of the many people interested in visiting Bangkok, you might need clarification about which hotel to choose. Let me give you a glimpse into the hotels in Bangkok which will help you make the right choice for yourself.
#1 Mandarin Oriental Bangkok
Famous as the first luxury hotel in Thailand, Mandarin Oriental Bangkok is present at the pristine and scenic Bangkok Riverside. You will start feeling special when you enter the hotel with its fantastic customer service. This hotel, which is more than 146 years old, has undergone a massive transformation over time and caters to its customers' varied needs. You can also have a great experience at its restaurants, outdoor pools, spa, and wellness center.
#2 Casa Nithra Bangkok
If you want to stay near the most famous Khao San street in Bangkok yet love to have your beauty sleep, then Casa Nithra is the place to be. It is a perfect mid-range option, which helps you relax and be a part of the bustling street life of Bangkok. It boasts a delicious breakfast, cozy rooms, and a lovely rooftop swimming pool.
#3 Local Time Bangkok
If you want to glimpse Bangkok's most cosmopolitan and vibrant area but at a budget price, then Local Time Bangkok is a good option. This place has a warm and welcoming staff, comfortable rooms, and a simple yet delicious breakfast. The guests can also get a peek into the local lifestyle with the team by joining them for grocery shopping.
#4 Banyan Tree Bangkok
Are you looking for a classy yet old-fashioned place to stay in Bangkok's business district, Silom? The answer to your quest in Banyan Tree Hotel. This high-end luxury hotel has large and wonderfully decorated rooms, a unique outdoor area, and a health club offering Yoga. You can also get a fantastic view of Bangkok from the top floor of this hotel.
#5 Siam Eco Hostel
Are you looking for budget accommodation in the shopping district of Bangkok? Siam Area Eco Hotel will offer clean rooms at affordable prices and a convenient location close to the shopping plazas. It also has facilities like free Wi-Fi, TVs, and regular breakfast.
#6 Avani+ Riverside Bangkok Hotel
Avani+ Riverside Bangkok Hotel, which overlooks the lively Chao Phraya River, is one of the best places to stay in Bangkok, whether you are for sightseeing or a business meeting. There are shuttle boat services to BTS Skytrain from this hotel. The central Saphan Taksin boat gives easy access to the city's most important places. It is also close to the Damnoen Saduak Floating Market, which offers visitors an experience of Traditional Thai shopping.
#7 Avagard Capsule Hotel
If you are looking for a peaceful place to rest before catching your flight at Bangkok Suvarnabhumi Airport, then Avagard Capsule Hotel is a good option. Situated inside the airport, it also offers a locker facility for your luggage. There are other much-needed facilities like fold-out tables and charging points. It looks small outside but provides enough space to work and rest.
Conclusion
Bangkok is a city of Angles; you can find numerous hotels to stay in after having a memorable day. Choose the required one according to your convenience. Go for a nearby hotel in Bangkok if you plan to roam around the streets of Chinatown's labyrinth. Apart from the above hotels, many other luxury and budget hotels exist in Pratunam Area, Chinatown, Siam Area, Silom Area, etc. Ponder on your taste and choose the best place. More options for the finest hotels are available without breaking your bank balance.
Recommended Articles
We hope that this EDUCBA information on "Hotels in Bangkok" was beneficial to you. You can view EDUCBA's recommended articles for more information,