Gap Insurance
Gap Insurance, also known as Guaranteed Asset Protection Insurance,  covers the difference between what you owe on your car and its actual cash value in the event of a total loss.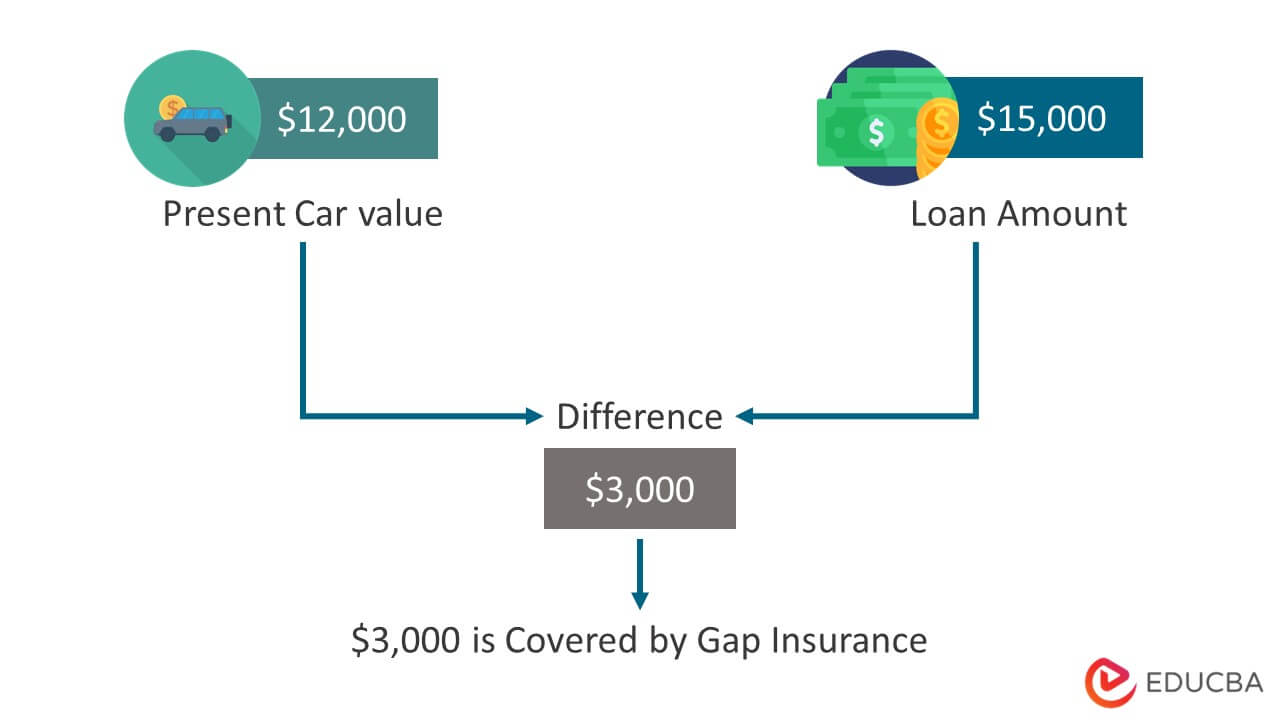 When you buy a car, its value begins to depreciate. In fact, your vehicle loses nearly 20% of its value in the first few years. In the worst-case scenario, if your car is stolen or crashed, the insurance money will only cover the vehicle's depreciated value.
However, it can be a cause of concern if your car is on loan or rent; there can be a significant difference between the amount you owe to the loan company and the insurance money you get.
This is where GAP Insurance can help. It bridges the gap between the amount you receive from the company and the amount you owe to your loan provider.
Key Highlights
Gap Insurance comes into the picture only when your car is stolen or crashed and can not be recovered or beyond any repairs.
It is payable by the loan provider only when your loan amount is greater than the value of your car at the time of the accident.
How Gap Insurance Works?
Here's an example. Assume you purchased a new car for $20,000 using an Auto Loan. After 3 years, your car is wrecked in an accident and cannot be repaired. However, you do still owe $15,000 on your Auto Loan. Your auto insurance would pay off your loan, but only up to the value at the time of the accident, say $12,000.
You must settle the remaining loan amount if you do not have GAP Insurance. It is $3,000 in this case ($15,000-$12,000). However, if you have  Gap insurance, it will pay the remaining $3,000, so you don't have to pay for a thing you don't own now.
Thus, Guaranteed Asset Protection helps cover the difference and protects you from unwanted loss.
What does Gap Insurance cover?
Theft: GAP protects you against theft if your car is stolen and cannot be recovered.
Accident: If your car is totaled or wrecked, you can use Guaranteed Asset Protection to cover the difference.
It primarily covers the two scenarios mentioned above. Other damages to your vehicle are covered by your comprehensive car insurance policy.
How to Calculate Gap Insurance?
To calculate it, you should know the amount you owe the loan company at the time of theft or accident, as well as the current value of your vehicle after considering depreciation.
Suppose the current market value of your car is $18,000. This is how you should calculate Gap Insurance if you owe $20,000 to the loan provider.
The actual price of your car (A): $18,000
Car loan you must pay (B): $20,000
GAP  will cover (B-A) =  $2,000
However, it would be wise to discontinue the GAP after the initial years of buying your car. It is required only if your vehicle is brand new and your debt to the loan provider is more than the car's actual value.
Remember that the value of your car depreciates over time, and the gap shrinks as your loan payments are made monthly.
Is Gap Insurance Worth it?
If you are not taking any loan on your vehicle, then there is no need to purchase Gap Insurance. Taking kind of insurance makes sense only if you owe more on your car loan than the actual worth of your car.
However, it also depends on the car you are purchasing. If you buy a car whose value depreciates quickly and has a more significant loan period, then taking this insurance is worth it.
Car value also reduces when you drive more. The more you drive, the faster the value of your car will depreciate. So your car value will decline faster in comparison to your loan amount.
Pros and Cons of Gap Insurance
When considering to purchase GAP insurance, there are a few factors to think about. Let's look at a few pros and cons.
Pros
Having Gap Insurance can save you from suffering heavy losses.
You can buy a luxury car with fewer concerns.
The annual cost is low.
Cons
It is an extra cost in addition to regular insurance
It is not worth it if you are purchasing a budget-friendly car
It may only cover a short tenure
At some point, the value of your car will depreciate, and there will be no significant difference between what you owe and the value of your car.
Conclusion
If your car is totaled or stolen, and the amount owed to the loan provider exceeds the car's value, you have negative equity. In this case, GAP will help you pay the difference.
FAQs
Q1. How long do I need Gap Insurance?
Answer: Consider buying it for at least two years if the vehicle is new. You will owe less than the car's actual value by that time.
Q2. Should I buy Gap Insurance from a dealer?
Answer: It depends on your budget and requirements. Do your market research and find the perfect rate fit for your budget.
Q3. What is the difference between regular insurance and Gap Insurance?
Answer: Regular insurance only covers the cash value of your vehicle, thus, leaving a gap between the car's actual value and the amount owed to the loan provider.
GAP fills this void and relieves you of the financial burden. It is only payable when your loan balance exceeds the value of the vehicle.
Recommended Articles
This article explains everything about Gap Insurance. Read the following articles to learn more,