Updated November 24, 2023
Ganpati Bappa Morya
These words reverberate through the streets, homes, and hearts of millions of people as they welcome Lord Ganesha, the beloved elephant-headed god, during the annual celebration of Ganesh Chaturthi. This vibrant and joyous festival is not just a religious event; it's a cultural extravaganza that unites people from all walks of life. Ganesh Chaturthi, also called Vinayaka Chaturthi, is one of the most significant and widely celebrated festivals in India and beyond. As the resonant call of "Ganpati Bappa Morya" fills the air, it announces the arrival of Lord Ganesha, the harbinger of wisdom, prosperity, and good fortune. It marks the beginning of a grand and unforgettable celebration.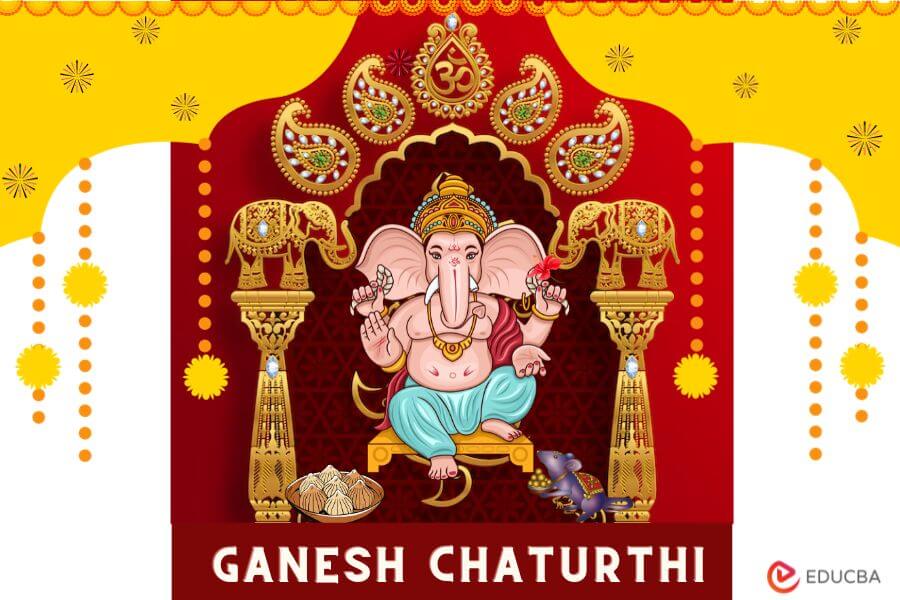 Why is Ganesh Chaturthi Celebrated?
Ganesh Chaturthi is primarily celebrated to honor the birth of Lord Ganesha. Lord Ganesha is a revered deity with an elephant head and is the son of Lord Shiva and Goddess Parvati. He is said to bring good fortune and prosperity and is considered the remover of obstacles and the god of wisdom and knowledge in Hindu mythology. The festival celebrates the day of his earthly arrival and is a time for devotees to express their devotion and seek his blessings.
The celebration of Ganesh Chaturthi is deeply rooted in a captivating mythological tale. As per Hindu scriptures, Goddess Parvati created Lord Ganesha from sandalwood paste and brought him to life. She assigned him the duty of guarding her chamber while she bathed. When Lord Shiva, Parvati's husband, returned and attempted to enter the chamber, Ganesha, unaware of Shiva's identity, blocked his way. This led to a fierce battle, resulting in Lord Ganesha losing his human head. To pacify Parvati's grief and anger, Lord Shiva granted Ganesha an elephant's head and declared him the divine deity to be worshipped before any other gods. This captivating narrative is central to the Ganesh Chaturthi celebration and reinforces the festival's significance.
Ganesh Chaturthi symbolizes the belief in new beginnings and the removal of obstacles in one's life. Devotees offer their prayers and seek Lord Ganesha's blessings to overcome personal, professional, or spiritual challenges. It's a time for individuals and communities to start afresh, setting positive intentions and embarking on new ventures. Lord Ganesha's presence is seen as a guiding force in these endeavors, inspiring confidence and determination.
Religious Significance of Ganesh Chaturthi
Ganesh Chaturthi is a significant festival for Hindus and followers of Lord Ganesha. It has several key aspects that hold religious importance, which are as follows:
1. Celebration of Ganesha's Birth
Ganesh Chaturthi marks the day of Lord Ganesha's birth. According to Hindu beliefs, Lord Ganesha was born on the fourth day (Chaturthi) of the bright half of the Bhadrapada month. As the "Vighnaharta," or remover of obstacles, Lord Ganesha's birth is celebrated with great enthusiasm, as it signifies the commencement of a period filled with blessings and positivity. Devotees believe that during this time, Lord Ganesha is more accessible and responsive to their prayers and petitions.
2. Rituals and Devotion
The festival is a time of intense devotion and religious observance. Devotees invoke the presence of Lord Ganesha into the idol, typically made of clay or other eco-friendly materials, by performing elaborate rituals. The installation of the idol is a sacred ceremony accompanied by Vedic hymns and prayers. During the festival, people visit temples and participate in daily aartis (ritual offerings of light) to seek Ganesha's blessings and guidance.
3. Modak and Prasadam
One of the highlights of Ganesh Chaturthi is the preparation and offering of modaks, a sweet delicacy believed to be Lord Ganesha's favorite. Modaks are rice flour dumplings stuffed with jaggery and coconut. They are offered as prasadam (divine food) to Lord Ganesha and later distributed to devotees. This practice symbolizes sharing divine blessings with the community and reinforces the idea of selflessness.
4. Symbolism of the Elephant Head
The distinctive appearance of Lord Ganesha, with an elephant head, carries profound symbolism. The elephant head symbolizes wisdom, knowledge, and discernment, while the large ears represent the importance of listening and learning. Lord Ganesha's appearance reminds his devotees to strive for wisdom and understanding as they navigate life's challenges.
5. Removal of Obstacles
Ganesh Chaturthi is closely associated with the theme of triumph over adversity. Lord Ganesha is prayed to seek his blessings and wisdom at the start of new endeavors, voyages, or any big activity. Devotees believe that he helps remove the obstacles and challenges that may come in their path, making it easier to achieve their goals and aspirations.
6. Cultural and Regional Variations
The religious significance of Ganesh Chaturthi can vary across regions and communities. This festival is celebrated in some places with grand processions; in others, it's a more private and family-oriented affair. Nevertheless, the core theme of devotion, gratitude, and celebrating Lord Ganesha's divine qualities remains consistent.
How is Ganesh Chaturthi Celebrated?
Here's how the festival is typically celebrated:
Idol Installation: The festival begins with installing Lord Ganesha's clay or eco-friendly idol in homes, temples, or public pandals (temporary shrines). The idol represents the divine presence of Lord Ganesha.
Prana Pratishtha: A priest or a knowledgeable person performs a ritual called Prana Pratishtha before placing the idol, invoking the divine spirit into it through mantras and prayers.
Daily Pujas and Aartis: Devotees perform daily pujas (religious ceremonies) and aartis (ritual offerings of light) to the idol throughout the festival. These rituals involve offering flowers, incense, sweets, and other symbolic items to seek blessings and show devotion.
Modak Offerings: Modak, a sweet dumpling believed to be Lord Ganesha's favorite, is offered to the deity. Devotees prepare a variety of modaks and other sweets, presenting them as prasadam (divine food) to Lord Ganesha. They then distribute the prasadam among family and friends.
Cultural Events: Many communities and organizations organize cultural events, including music and dance performances, dramas, and art exhibitions. These events celebrate the artistic and cultural heritage associated with the festival and create a sense of festivity and togetherness.
Processions: In some regions, especially in Maharashtra, elaborate processions are organized with grandly decorated idols of Lord Ganesha. Music, dance, and enthusiastic crowds accompany these processions. Devotees carry the idol through the streets, and the procession often culminates in a body of water for immersion (Visarjan).
Visarjan (Immersion): The immersion of the Ganesh idol in a river, lake, or sea is one of the most iconic aspects of Ganesh Chaturthi. It symbolizes the return of Lord Ganesha to his heavenly abode and the life cycle. Devotees bid a tearful farewell to the deity during this emotional ceremony, chanting, "Ganpati Bappa Morya."
Eco-Friendly Initiatives: In recent years, there has been growing awareness of the environmental impact of idol immersion. As a result, many communities are adopting eco-friendly practices. This includes making idols from biodegradable materials, using natural dyes, and encouraging artificial immersion tanks to minimize pollution in natural water bodies.
Community Bonding: Ganesh Chaturthi is a time for community bonding and unity. Families, neighbors, and friends celebrate, share sweets, and participate in various rituals and cultural events. The festival fosters a sense of togetherness and mutual respect.
Prayer and Reflection: Devotees engage in prayer and reflection throughout the festival. They seek Lord Ganesha's blessings for removing obstacles, wisdom, and guidance. The festival is an opportunity for self-improvement and spiritual growth.
Ganesh Idols and Decorations
Let's delve into the fascinating world of Ganesh idols and decorations:
1. Types of Ganesh Idols
Traditional Idols: These idols often depict Lord Ganesha sitting, symbolizing wisdom and meditation. They are crafted following ancient sculpting techniques, reflecting the rich heritage of Indian artistry.
Theme-based Idols: In recent years, theme-based idols have gained popularity. Artists create idols inspired by various themes, such as historical events, social issues, or mythological stories. These creative interpretations add a contemporary touch to the traditional celebration.
Eco-Friendly Idols: With environmental concerns rising, eco-conscious individuals opt for clay idols and natural, biodegradable materials. These idols dissolve easily in water during immersion, minimizing ecological impact and promoting sustainability.
2. Artistic Excellence
Talented artisans invest months of meticulous work to sculpt Ganesh's idols. The craftsmanship involved in creating intricate features, expressive eyes, and delicate ornaments is awe-inspiring. Many artisans pass down these skills through generations, preserving the art form and cultural heritage.
3. Symbolism in Decorations
Floral Decorations: Flowers, particularly marigolds and roses, are used abundantly to adorn idols and pandals. They symbolize purity, beauty, and devotion, enhancing the spiritual ambiance.
Color Symbolism: Each color used in decorations holds symbolic meaning. Red signifies energy, yellow represents knowledge, green symbolizes nature, and blue embodies the infinite. The combination of these hues creates a visually captivating display.
Traditional Motifs: Elaborate motifs and patterns inspired by Indian mythology, such as lotus flowers, peacocks, and conch shells, are intricately incorporated into decorations. These motifs connect the celebration to ancient traditions and religious beliefs.
4. Elaborate Pandal Decor
Pandals, the temporary structures where idols are placed, are transformed into magnificent works of art. Intricate arches, domes, and pillars are adorned with fabric, lights, and ornamental designs. The pandals often reflect architectural styles from different eras, showcasing the region's artistic diversity.
5. Illumination and Lighting
Ganesh Chaturthi is synonymous with dazzling illumination. Thousands of lights and lamps adorn pandals and surrounding areas, creating a mesmerizing ambiance. The radiant glow signifies the divine presence of Lord Ganesha and dispels darkness, both literally and metaphorically.
6. Innovation and Creativity
Artists and organizers continually push the boundaries of creativity. From innovative materials for idol-making to experimenting with unconventional themes, Ganesh Chaturthi celebrations witness constant innovation. These creative endeavors breathe new life into the festival, captivating the imagination of devotees and onlookers alike.
Environmental Awareness
Here's how environmental awareness is shaping the celebration:
Eco-friendly Idol Materials: To mitigate the environmental impact, there has been a shift towards using clay idols and natural, biodegradable materials. These materials dissolve easily in water during immersion, reducing pollution in water bodies. Eco-friendly idols have become increasingly popular, promoting sustainable practices.
Natural Dyes and Paints: Environmentally safe, natural dyes and paints are used for decorating idols and pandals. This move away from synthetic, chemical-based colors reduces the ecological footprint of the festival.
Artificial Immersion Tanks: Many regions now promote the use of artificial immersion tanks, especially in urban areas, to prevent the immersion of idols in natural water bodies. These tanks collect and treat the debris from immersion, reducing water pollution and preserving aquatic ecosystems.
Public Awareness Campaigns: Various organizations and governmental bodies run public awareness campaigns to educate people about the environmental impact of Ganesh Chaturthi. These campaigns emphasize the importance of using eco-friendly materials and responsible immersion practices.
Eco-conscious Devotees: Individuals play a crucial role in the drive towards sustainability. Eco-conscious devotees choose to use eco-friendly idols, participate in community-led initiatives for responsible immersion, and raise awareness about eco-friendly practices among their friends and family.
Innovative Recycling: Some communities have developed innovative methods to recycle materials used in decorations. For example, flowers and other organic offerings can be composted, reducing waste and benefiting the environment.
Regulated Sound Levels: Firecrackers and loud music are integral to Ganesh Chaturthi celebrations. In some areas, there are regulations in place to limit sound pollution and promote quieter, eco-friendly celebrations.
Community Participation: Ganesh Chaturthi's community spirit extends to eco-friendly initiatives. Neighbors and communities work together to create awareness and implement sustainable practices, minimizing the festival's environmental impact.
Reusable Decorations: Some pandals and organizers have started using reusable decorations and materials to reduce waste. These eco-conscious efforts ensure that the environmental impact extends beyond just using idol-making materials.
Conclusion
Ganesh Chaturthi is a festival that showcases magnificent idols, vibrant decorations, and growing environmental awareness. It's a celebration that embodies the rich tapestry of tradition, artistry, and devotion. As the festival continues to evolve, it harmonizes age-old customs with modern eco-consciousness, respecting both heritage and the planet. Ganesh Chaturthi unites communities and inspires sustainable practices for a greener future.
Recommended Articles
We hope this EDUCBA information on "Ganesh Chaturthi Essay" benefited you. You can view EDUCBA's recommended articles for more information.