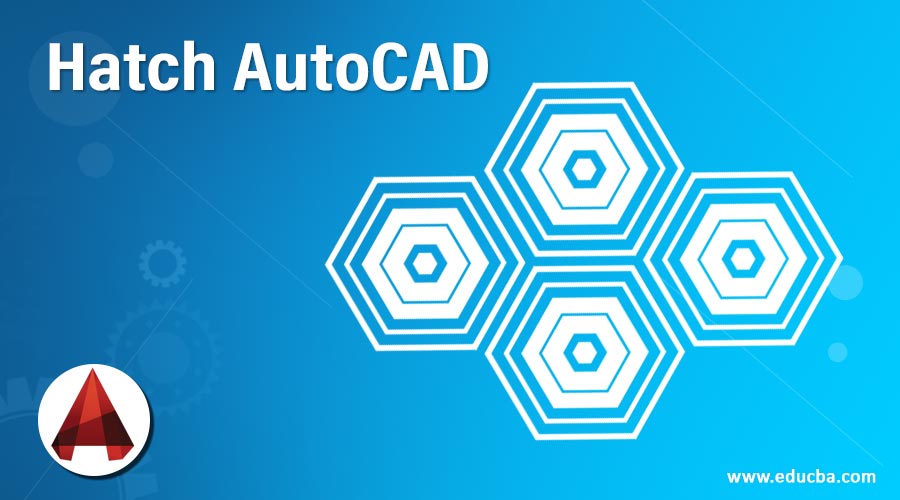 Introduction to Hatch AutoCAD
Auto Cad is 2d and 3d computer-aided designing software which was developed by Autodesk as designing software of engineering drawing. We have a different type of 2d and 3d commands in this software for making drawing work easy for its users. Hatch is one of those commands. You can define Hatch as a command through which you can highlight a cross-section of a particular part of any component or you can apply the pattern in your drawing for specifying a particular object. Here in this article we will discuss Hatch command of auto cad and analyze important parameters of it so that we can better understand this command.
How to Use Hatch Command in AutoCAD?
We can use Hatch in AutoCAD in few simple steps you just have to follow the instructions of this article for using this command in your drawing but before starting let us have a look on the working screen of this software so that there will be no problem occurs during our learning of this topic.
Step 1: At the top of the working screen, there is the ribbon in which we have many different types of tabs such as Home tab, Annotation tab, View tab and some others for managing different command in this software, below this we have a working window in which we can see our current working, below this working window there is some navigation command for handling our work during the making of the drawing.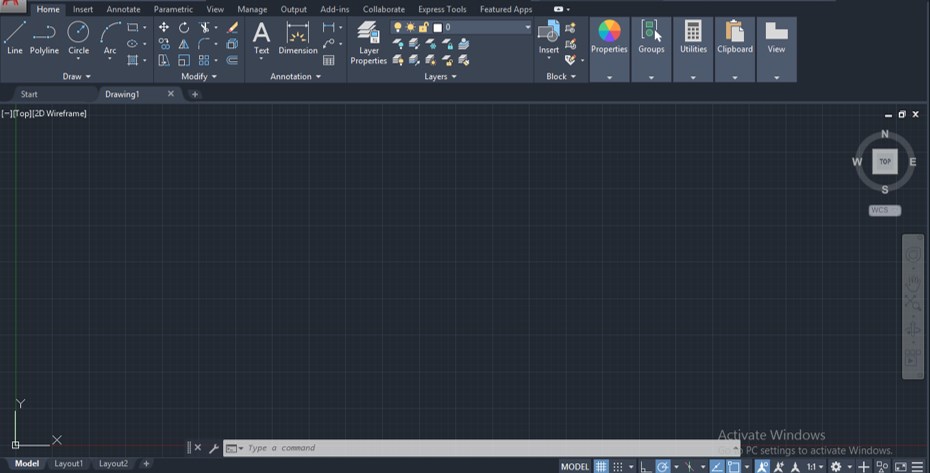 Step 2: Now let us have a drawing for applying hatch on it. I take a front view and top view of an engineering component like this. I want to show the cross-section of this component so I will use hatch for this purpose.

Step 3: Now click on Hatch command of Draw menu of Home tab or you can press the H button then press enter button of the keyboard for Hatch command.

Step 4: Once you take the hatch command, the Hatch creation tab will be open at the command section of this software. Choose the pattern of the hatch which you want to apply on your object from the Pattern tab of the Hatch Creation tab.

Step 5: Now you can apply hatch on your object by two methods. We will see both one by one. First, click on this Pick Points icon.

Step 6: Now it will ask you to select a point inside the object on which you want to apply the hatch and when you take your cursor inside that object preview of hatch will be visible to you and once you make click inside the object your hatch will apply to your object.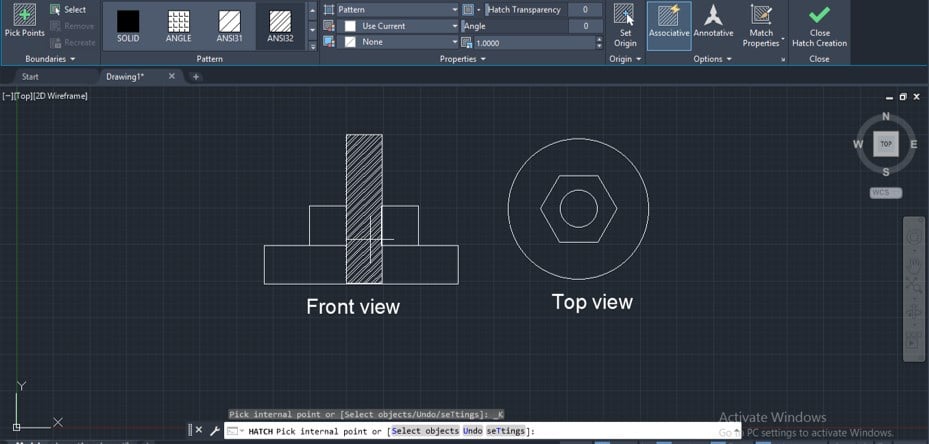 Step 7: The second method is Select so click on Select icon.

Step 8: Then it will ask you to select the boundary of the object on which you want to apply the hatch and when you click on the boundary hatch will apply on your object like this.

Step 9: There is a difference between both methods when you use the Select method then it will cover all portion which is inside the boundary of your selected object.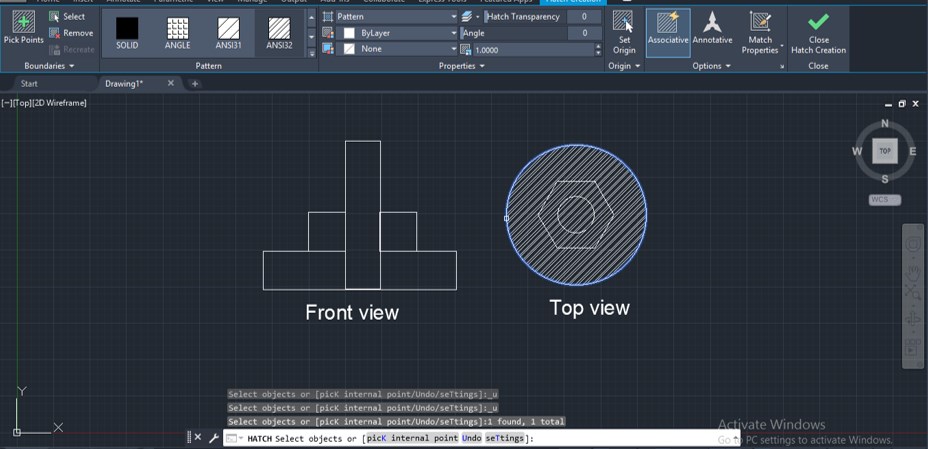 Step 10: But if you go with the Pick Point method then it will only apply hatch on the selected object and leave object which is inside your selected object. So you can take any method according to your requirement.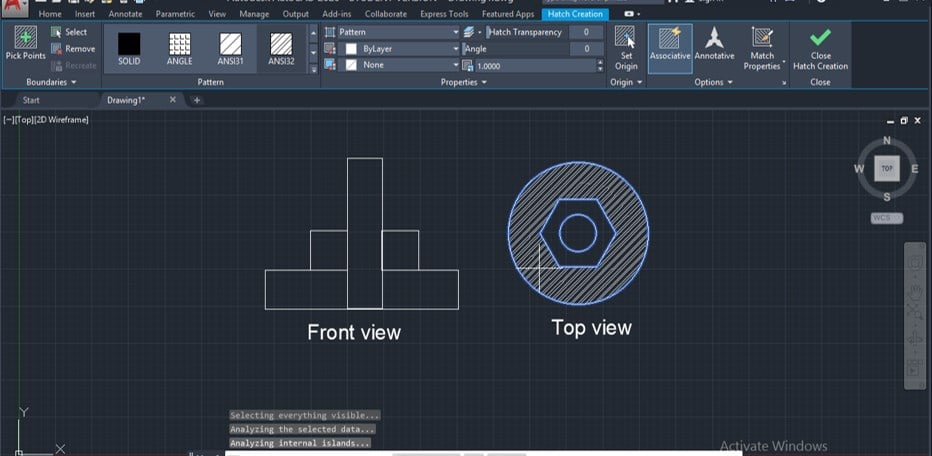 Step 11: You can apply more than one pattern of the hatch on different objects. To apply two different hatch patterns, apply the first pattern on the first object by the same method as we did in previous then exit from command and again go to hatch command then apply different hatch patterns on another object.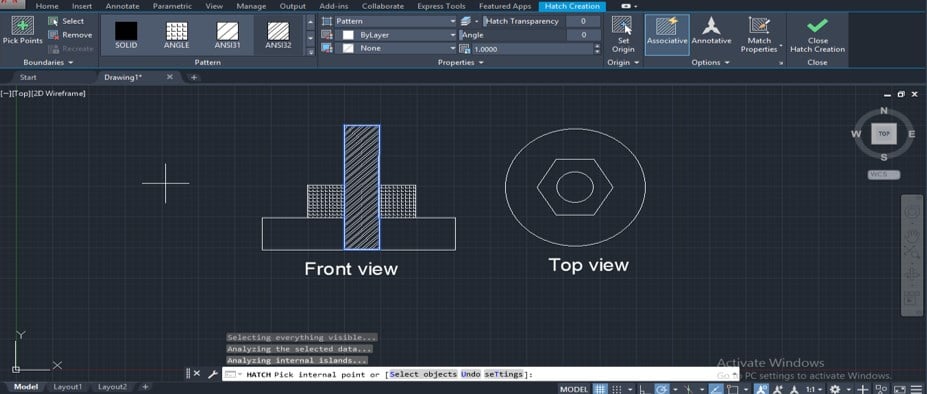 Step 12: You can change the color of the hatch line form this option. Click on the drop-down arrow button and choose your desired color from here then the color of the hatch line will be changed into your selected color. Such as I choose red then the hatch color line will change into red color.

Step 13: You can change the fill color of the hatched block from this option just click on the drop-down arrow button of this option and choose your desired color. I will choose a yellow color then hatch block color will change into yellow color.

Step 14: If you want to increase the density of the hatch then increase the scale of the hatch. You can increase the scale from this option. For example, I increase the value as 2 after selecting my hatch.

Step 15: Then the size of my hatch block will increase like this.

Step 16: You can also change the angle of your hatch pattern. For changing the angle, select your hatch and enter the value of hatch angle in the box of Angle option then the angle of hatch will be changed like this.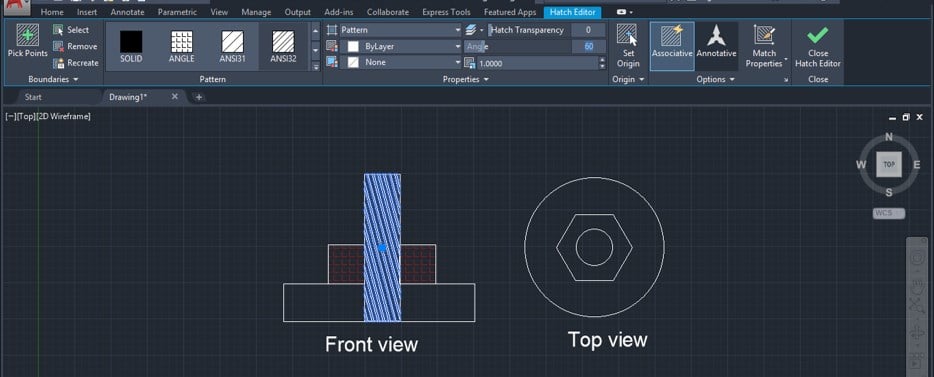 Step 17: If you want to decrease the visibility of the hatch line then decrease the value of the Hatch Transparency option after selecting your desired hatch. I will change the value as 60.

Step 18: Then the visibility of my selected hatch will decrease like this.

Step 19: If you want to copy your applied hatch of any object on another object of your drawing then click on the icon of the Match Properties option.

Step 20: Then select the hatch which you want to copy by click on it.

Step 21: Then make click on the boundary of the object on which you want to paste this hatch.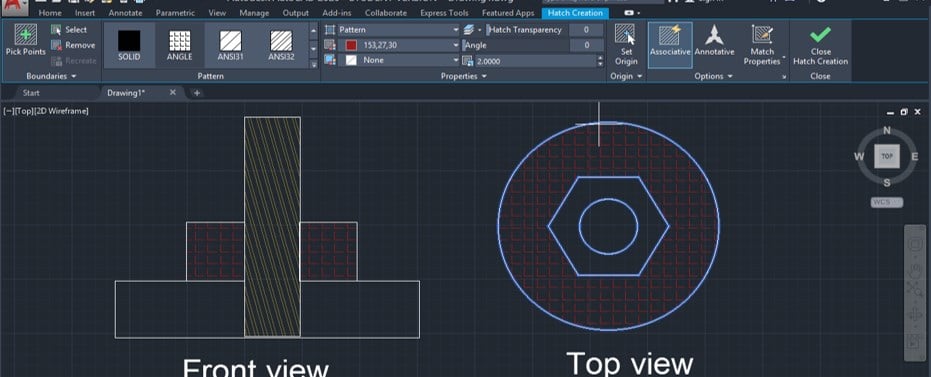 Step 22: You can set all these parameters at the time of applying hatch on your object. Just click on the Settings option of the hatch command which is at the end of the working window in the parameters box of this command.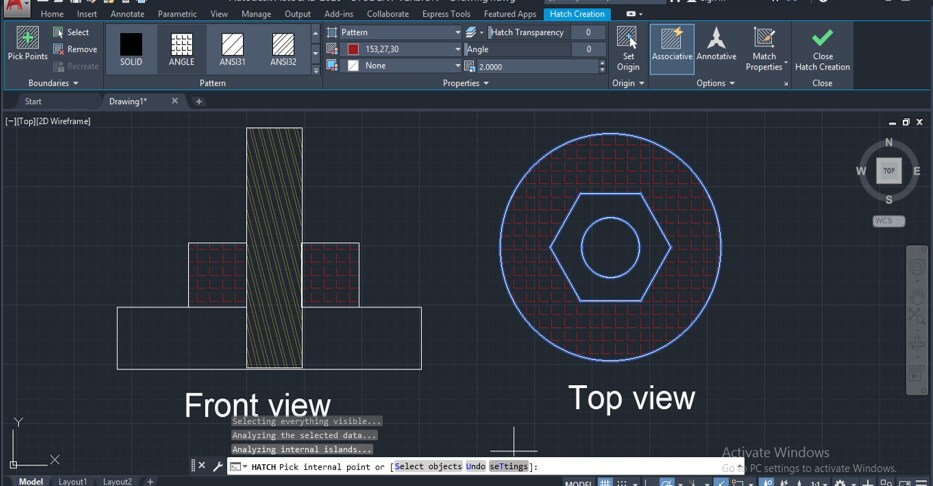 Step 23: Once you make click on this option a Hatch settings box will be open like this. You can make your desired settings in this box and also see the preview by click on the Preview tab of this box.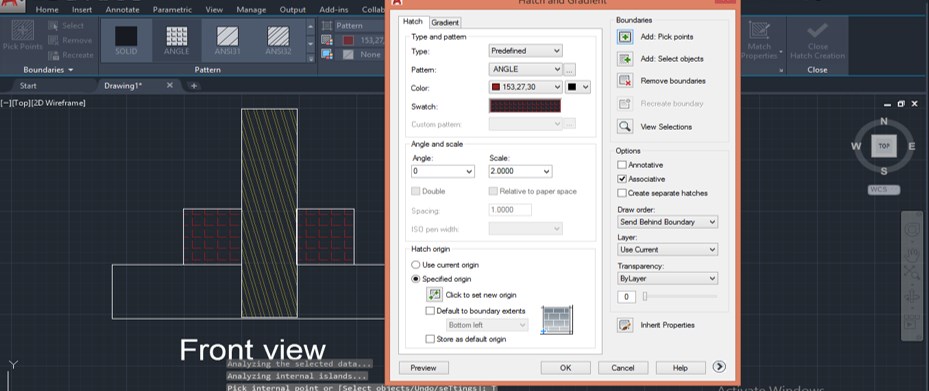 Step 24: If you want to remove any particular hatch from your drawing then click on the Remove button of the Hatch Creator tab.

Step 25: And click on the boundary of the object of which hatch you want to remove then press enter button of keyboard and your hatch will be removed from your object.

In this way, you can use hatch command in auto cad.
Conclusion
Now after this article you can understand what is a hatch auto cad and how you can handle parameters of it for making patterns and cross-section on the object of your drawing. You can make a good command of it by practicing it.
Recommended Articles
This is a guide to Hatch AutoCAD. Here we discuss the Introduction, how to use Hatch AutoCAD in a step by step manner. You can also go through our other related articles to learn more –