Updated April 6, 2023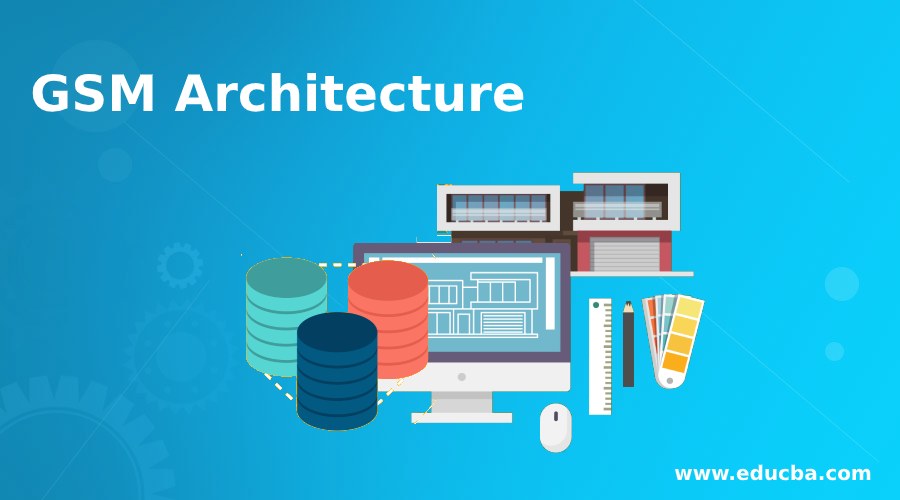 Introduction to GSM Architecture
Wireless mobile communication plays an important role in connecting People, Aircraft, Ships, Vehicles, and many other things that are on the move irrespective of their geographical location. It enables the 24×7 connectivity of the abovementioned objects digitally and the evolution of real-time applications to monitor their location and performance.
Mobile communication is economical as it doesn't consume any wire/cable or requires maintenance and continuous technological improvements make it faster and accurate. Any mobile communication framework should be scalable, able to balance the load, robust to manage complexities, secure, support roaming, and manage devices through effective device management policies (MDM). Global System for Mobile communication (GSM) is one of the mobile communication standard used extensively in second-generation cellular networks. In this article, let's study the evolution of mobile communication technology and features of GSM in particular.
Evolution of Mobile Communication Technology
Mobile Protocols underwent several changes in the last 40 years, and the developments are:
Generation

Platform/

Signal band

Technology/

Freq. Utilization

Year

Features

1G

(Analog)

NMT 824-894

MHz

FDMA 30 KHz
1981
First-generation mobile phones with multiple cells and transfer facilities. Analog, duplex voice calls with limited data. Poor voice quality, limited capacity, large phone size are the disadvantages.
2G

(Digital)

GSM/

IS-95

1900 MHz

TDMA/FDMA/ CDMA

0.2 MHz

1991
Enabled data services along with voice. SMS and MMS were supported. Not able to handle video and other rich data files.
3G

(Digital)

UMTS, IS-2000

2100 MHz

W-CDMA 5 MHz
2000
Packet switching enabled the transfer of Video and rich 3D data content @ 3Mbps, Video conferencing; Live streaming are the strengths.
4G

(Digital)

LTE

S-band

OFDMA

20 MHz

2009
High bandwidth for data transfer up to 1Gbps. 802.16 and 802.16e standards are used.
5G

(Digital)

5GNR

Mm waves

OFDMA

400 MHz

2020
Faster & Higher rate of data transfer. Serves Driverless cars, IoT devices, and Smart city applications.
Abbreviation UMTS: Universal Mobile Telecommunication System.
NMT: Nordic Mobile Telephony.
W-CDMA: Wire band Code Division Multiple Access.
DMA, LTE: Long term Evolution.
OFDMA: Orthogonal Frequency Digital Multiple Access, 5GNR -5G New Radio.
TDMA: Time Division Multiple Access.
GSM Architecture
GSM is a digital cellular protocol used in mobile communication, adopted in Europe and Asia in the 1980s and its features are
It belongs to the second generation (2G) of cellular technology, and it is a Digital using circuit switching concept to transfer voice and data.
GSM Initially referred to the group of European technocrats involved in the development of the standard "Groupe Special Mobile". Upon adoption is was changed to "Global System for Mobile communication ".
GSM was widely embraced across the globe, and it is the default network standards followed by many countries.
It was reigning the mobile world in the 1990s and 2000s, provided a good quality of voice and text and multimedia messaging services. I enjoyed a market share of 80% in the global market.
The advent of more digital technologies triggered the need for transferring high-resolution video and data-intensive content over the network. This has paved the way for the advent of 3G technologies and the entry of smartphones.
Still, GSM exists to serve feature phone, and the Major Service providers like Telstra and AT&T had stopped GSM services in 2017.
GSM Deployment
Basic components in GSM deployment are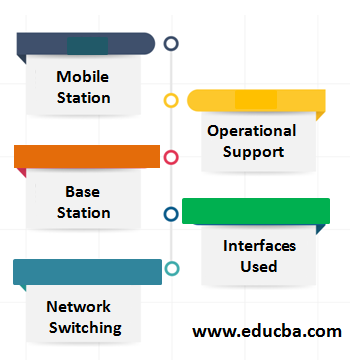 1. Mobile Station
It consists of a portable phone used for voice calls and data services (SMS/MMS), identified uniquely by IMEI (International mobile equipment identity) number. It keeps a tab on the signal quality of the nearby cell to facilitate easy transfer while roaming. Each phone should have a SIM card (subscriber identity module) that has an International mobile subscriber identity (IMSI) number used for voice calls and data transfer. This exchangeable SIM card has password protection, holds network identification data and an activation/deactivation facility.
2. Base Station
It provides a radio transmission environment for the mobile stations to connect to the Message Switching Centre (MSC) and provides a perfect interface between mobile stations with other GSM parts. Two important constituents of the Base station are
Base Transceiver Station (BTS) (cell tower) receives the information from mobile stations and send it to the station controller. It also modulates, encrypts, multiplexes the information is received, and feeds them to the mobile station in the radio interface.
Base Station Controller (BSC) allocates frequency/time slots to all mobile stations and communicates with the mobile switch center (MSC) as well as with BTS.
3. Network Switching
It supports MSCs in switching functions to communicate with ISDN and PSTN networks, and it encompasses
Mobile Switching center plays a key role in managing call set up, routing, switching, registration, location updation, billing information, and gateway functions.
Home location Registers (HLR) manage the mobile subscriber database.
Visitor locating Registers (VLR) hold temporary data of new Mobile station entrants.
Authentication Centre to protect intruders by maintaining strict security procedures.
Equipment identity Registry (EIR) to track handset IMEI number.
4. Operational Support
It helps system administrators to maintain GSM operations and monitor performance.
5. Interfaces Used
UM, Interface manages communication between MS with BTS, Abis interface between BTS with BSC, A interface between BSC with MSC, SS7 protocol between MSC and other networks.
Types of GSM
Three Common technologies are used in communication in 2G network to which GSM belongs to, and they are
Frequency Division Multiple Access (FDMA): Available spectrum bandwidth is split into equal bandwidths of voice channels like multiple radio stations broadcasts signal at their assigned frequency in the band. It is mostly used for analog though it is capable of digital transmission.
Time Division Multiple Access (TDMA): Available narrow bandwidth in a frequency channel is shared with multiple users by splitting into multiple time slots. Users pump the data in succession in their time slot over the same channel. Voice is converted into digital format, and it consumes less bandwidth in the channel.
Code Division Multiple Access (CDMA): It follows a different approach in which several calls are accommodated in a channel delimited with a unique sequence code. The channel transmits the data pockets of multiple calls efficiently, and it is a form of spread spectrum. It is not used by GSM but used by IS-95 in the 2G family.
Advantages of GSM Architecture
Some of the advantages of GSM Architecture are:
A matured and time tested technology adopted worldwide, and it exists even today in feature phones.
Cost-effective.
Minimal disruption to international Roamers as this technology is present everywhere.
Easy to set up and maintain GSM networks with abundant availability of Knowledge among Engineers.
It provides a seamless interface with other technologies.
Recommended Articles
This is a guide to GSM Architecture. Here we also discuss the Introduction and evolution of mobile communication technology along with types of GSM. You may also have a look at the following articles to learn more –