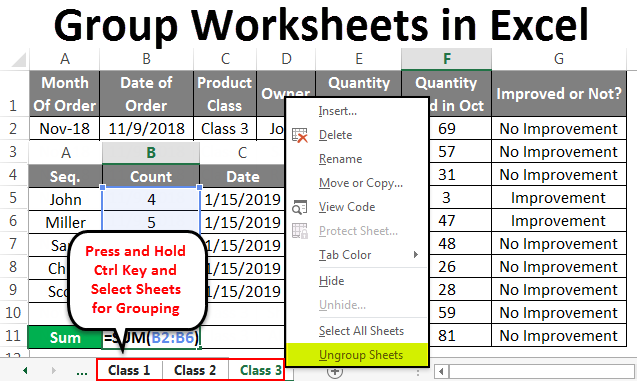 Group Worksheets in Excel (Table of Content)
Group Worksheets in Excel
Grouping up the worksheets in Excel is used when we need to perform exactly the same type of process in all or selected worksheets. For example, if we want to paste some data from different sources to multiple worksheets in the same cells then we can first group the worksheet by holding the Ctrl key and then selecting each worksheet one by one or else if we need to group all the worksheets, then click right on any of the worksheet name and choose Select All Sheets.
How to Group Worksheets in Excel?
Below are the Examples to Group and Ungroup Worksheets in Excel
Example #1
Consider 2 or 3 worksheets of the same format. They may have different sets of data, but the format should be the same. Here, we have 3 worksheets and all have data in the same format as shown below. Also, we have named all 3 sheets are Set-1, Set-2, and Set-3 as shown below.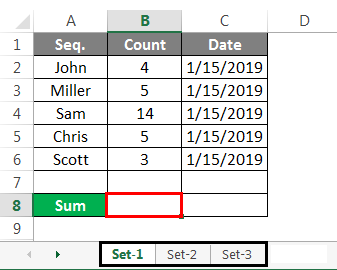 Group Selected Worksheet
For Grouping all the worksheets together, first press and hold the Ctrl key and Click on the sheet which you want to select. By this, selected worksheets will be grouped. And the tabs will be embossed as shown in below screenshot.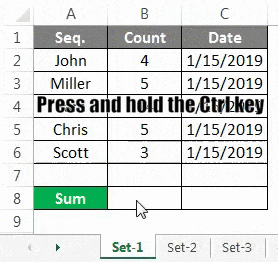 Now, if you want to perform any task in these grouped worksheets, then you are ready to do so. For example, let's sum the count shown against all respective sequence.
Set-1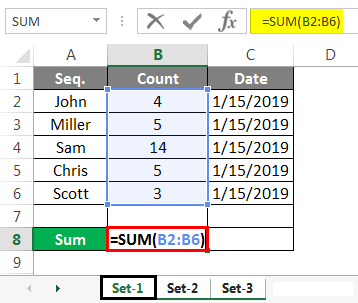 As shown in the above screenshot, we have summed the column B in Set-1 worksheet. Now let's check whether the same formula is copied in other selected grouped sheets or not.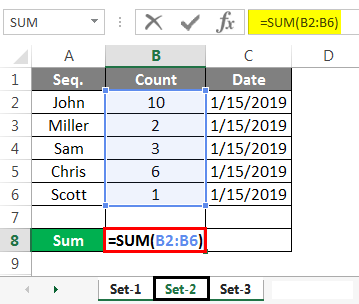 Set-3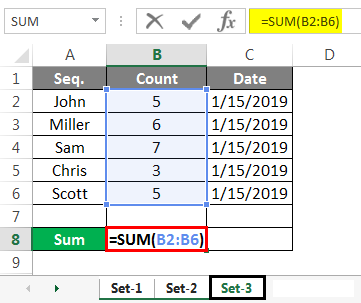 Above screenshots of Set-2 and Set-3 have the formula of the sum which we have applied in Set-1 sheet.
Set-1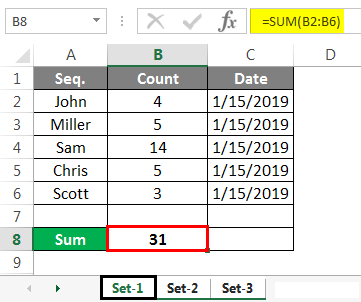 Set-2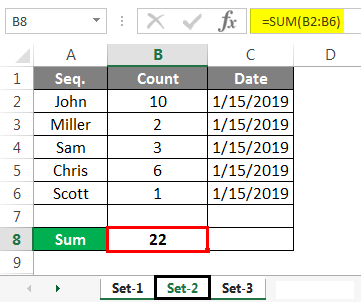 Set-3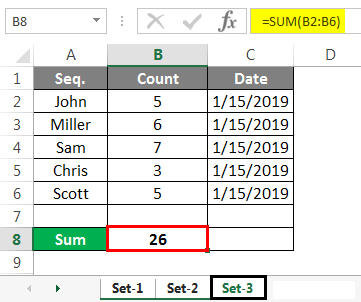 And those above screenshots have the actual summed value of column B, in cell B8 in respective worksheets.
Ungroup Selected Worksheet
For ungrouping the worksheets, press and hold Ctrl key and select the sheet which you want to ungroup.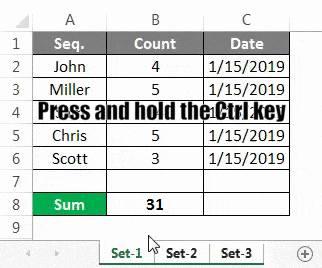 Now right-click on any of these sheets and where you will see a list of option. That at the end of it click on Ungroup Sheets.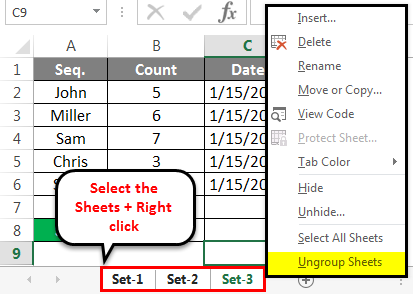 Once you select Ungroup Sheets option, then all the grouped sheet will come back to normal mode.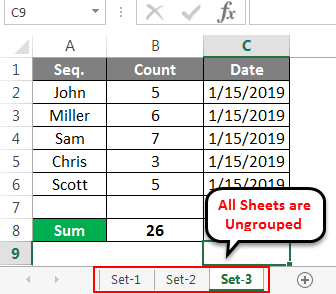 This can be performed for 2, or more than 2 worksheets.
Example #2
Let's consider another example. Here we got the sales data of some executives for a month.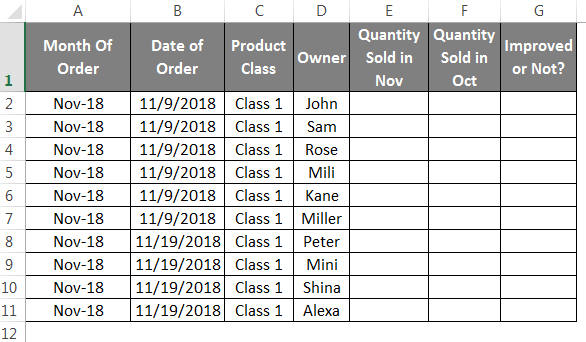 And these data are divided into 3 Product Classes. Class 1, 2 and 3 in the same format.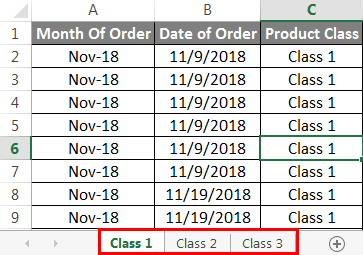 Press and Hold Ctrl keys and select all sheets. After that sheets will be grouped together as shown below.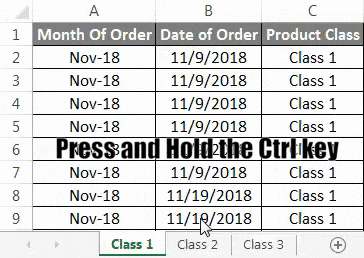 Now apply a formula for comparing the data present in column E and column F and drag in all the rows as shown below.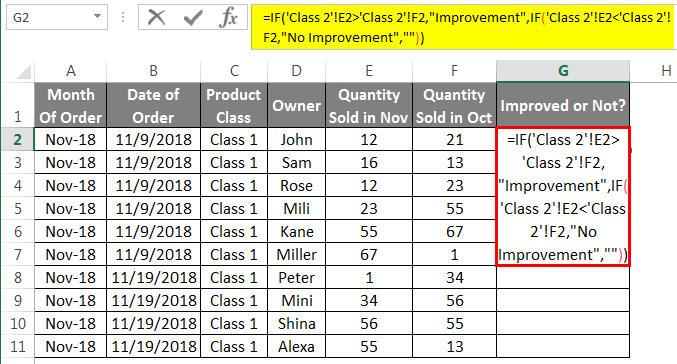 Once the formula is copied in all rows, it will give the comparison results whether the sale is improved or not, as shown in the below screenshots. If there is any improvement in the sale from the previous month, column G will reflect "Improvement", and if there is a decline or no improvement in the sale from the previous month, then column G will reflect "No Improvement" as result.
Class 1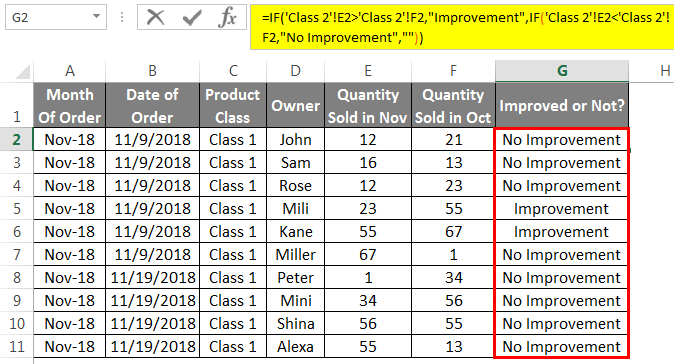 Class 2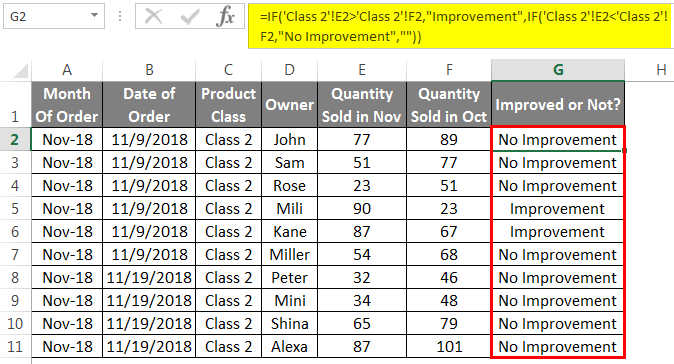 Class 3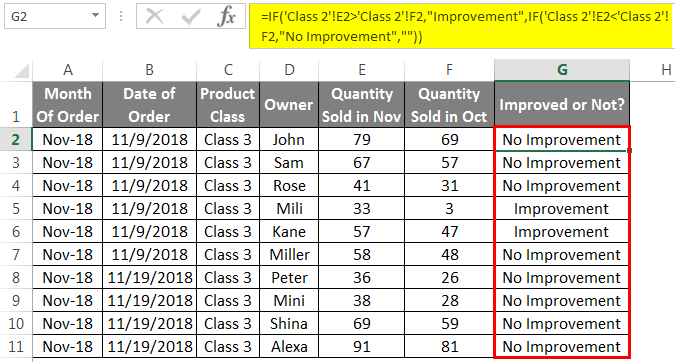 Now for Ungrouping the worksheets, select all the sheets by pressing and holding Ctrl and select the sheet or right click on any sheet and select All Sheets, Then again right click on any of the sheets as shown below.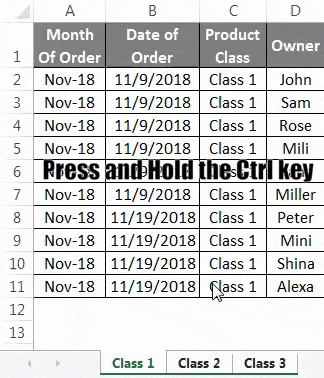 Or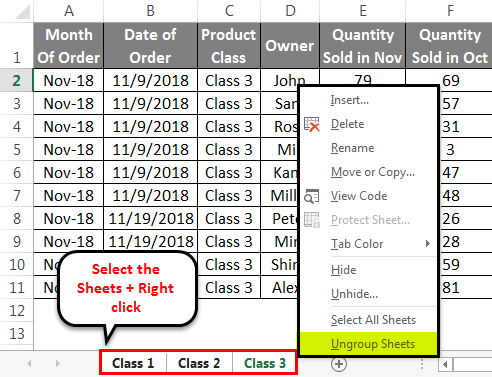 This will ungroup the selected worksheets.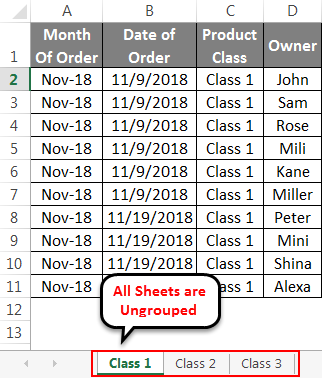 Pros of Group Worksheet
It saves time by not doing the same task in multiple sheets.
Things to Remember
Make sure, whatever you want to edit in all worksheet together, they must be in the same format to get it implemented.
Ungroup all the worksheet, so that they can be used later with different functions. And it will not give any error over it.
Recommended Articles
This has been a guide to Group Worksheet in Excel. Here we discuss How to Group and Ungroup worksheet in Excel with examples and downloadable excel templates. You may also look at these useful functions in excel –