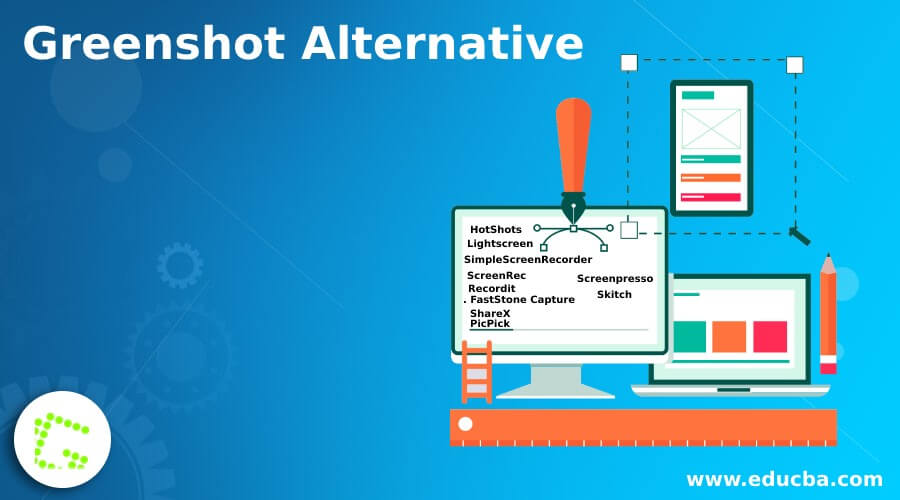 Introduction to Greenshot
The following article provides an outline for Greenshot Alternative. Greenshot is a free, open-source screen and screenshot tool that allows users to take quick screenshots and notes on windows operating systems. This tool is used for capturing display snapshots and also for performing various editing functions. For example, users are able to highlight and then share a particular part of the image with others. Greenshot's main features are quick screenshots of the part of the windows selected, easy basic screenshot editing, export screenshots in several formats, direct printing and sharing with others.
List of Greenshot Alternative
Given below is the list of Greenshot Alternative:
1. SimpleScreenRecorder
SimpleScreenRecorder is a software solution from the Qt-based screencast to help you record the entire computer screen or part of that video audio. The software is designed specifically for those wishing to record a demo, play games, and other tasks. Solution with all the tools and functionality that helps you to capture and modify your recording is easy and easy to use. Furthermore, the programme synchronizes the video-audio-captured property, which reduces the video frame rates if the computer is too slow and multi-threaded.
2. Lightscreen
Lightscreen is a Microsoft Windows-designed lightweight screen shooting software solution. The software is used for the automation of screenshot saving and cataloging. It works as a hidden background process, invoking a hotkey and saving screenshot files to your disc as the user wants. The solution, which allows you to easily capture the screen and share it without limitation, is quite simple and easy to use. An interesting fact is that you can capture the area of the screen and capture what you need, resize and adjust it for maximum flexibility.
3. HotShots
HotShots was a tool that allows users to take and edit a screenshot. The software operates both on Linux and on Windows. It also enables users to edit their screenshots, for instance, to highlight an area. Even users can scroll through the software to capture or shoot an entire webpage. Users can point to any part where, on the one hand, likewise, any part of the screenshot may be removed. In addition, users can automate tasks such as showing a fast work menu, copying or annotating the image to the clipboard. During screenshots, users can hide the interface and add or remove the mouse cursor. Furthermore, hotShots enable users to add date and time in the filename, and when all tasks have been completed, they can also enable volumes. Finally, on your screenshots, users can draw forms, lines and other characters.
4. ScreenRec
ScreenRec is free, lightweight software which allows the user to capture or capture a screenshot. In using this software, no hectic and extensive training is needed; it is easy to use. A user can simply choose the capture area with this software, either fully or partly, and can do the job and record a sound in the capture area, as well. A user can have a private, secure cloud connection to share their graphics or screenshots with other users, and there is no need for upload time. The software maintains all the registrations in an online library to prevent the user from searching his e-mails and from having access to the material he needs with one click.
5. Recordit
Recordit is a recording software which allows users to record their desktop screen activity on any operating system. The application is a GIF tool that lets users record their screens for up to five minutes. The application can also be used for GIF. It is easy to work by clicking the software button; users can simply start and stop the download process.
6. FastStone Capture
FastStone Capting is an all-in-one universally available Windows operating systems screenshot shot and screen recording platform used to take a snap of the selected area of the application that has been opened in Windows and record what is going on the screen. It is one of the best applications with two primary functions for screenshotting and user recording.
7. ShareX
ShareX is a free and open-source screenshot capture and screen capture application which is incorporated into various productivity and tools. Features and functions include capturing the complete screenshot of the display in contrast to the traditional Windows printing system. These frames are available in complete image capture, window recording, monitor capture, rectangle image capture. In addition, all captured screenshots are available in multiple frames.
8. PicPick
PicPick is a tool to capture and design your PC image, edit it, save it, and share it with others. It is a unique tool to capture and design screens. It is one of the best screenshots integrated with the image editor tool design, colour picker, pixel ruler and more. The easy-to-use interface makes it easier for the users of any part of the monitor to take a screenshot and share it with others.
9. Screenpresso
Screenpresso is an ultimate screen collection tool based on the two areas of the screenshot and takes either the whole window or some given region with snapshots. Besides capturing screenshots, it also offers capturing of video screens. This tool is intended for those interested in organizing training sessions and presenting detailed work to the audience.
10. Skitch
Skitch is a snap-shot software that takes a screenshot of any active part of the window. Skitch is designed for the Mac user. The highly advanced Skitch picture capture system gives the users the ability to capture multiple screenshots and also the ultimate access for editing them. It even allows users to share the picture taken with the others.
Conclusion – Greenshot Alternative
In this article, we have seen various Greenshot alternatives for capturing screenshots. You can choose any of them based on your requirements.
Recommended Articles
This is a guide to Greenshot Alternative. Here we discuss the introduction and list of greenshot alternatives, respectively. You may also have a look at the following articles to learn more –