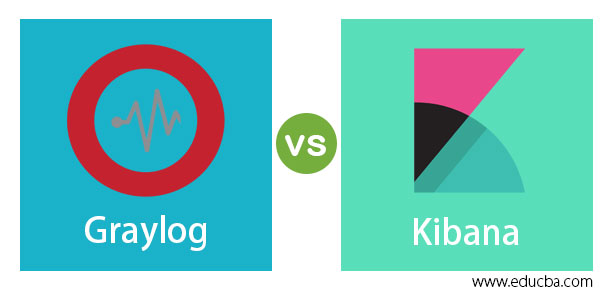 Difference Between Graylog vs Kibana
Did you ever wonder what happens when some device fails? Field engineers are there to take care of that right! Now when a field engineer arrives there might be a hundred reasons why the device failed. What the field engineer does is, he goes into the log file and then looks at the log just before the device failed, and voila! With the log file, the error can be sought out pretty quickly and efficiently. Now you must be wondering that these logs would be generated at some instance of time. Yes, you are correct! Now, what happens to such a huge amount of data? That is where log management software like Graylog, Kibana comes into the picture and tries to automate the majority of the log management tasks.
Head to Head Comparison between Graylog vs Kibana (Infographics)
Below are the top 6 differences between Graylog vs Kibana:

Key Differences between Graylog vs Kibana
Following are key differences between Graylog vs Kibana:
here we would dive a little deeper into Graylog and Kibana. Kibana is one of the element of ELK stack which deals with the GUI perspective to visualize a huge amount of data whereas Graylog is a solution which depends on MongoDB and Elasticsearch to operate.
There are different genres in which Graylog and Kibana differentiates themselves and we would look over them one by one in this section. The different genre we would be looking at are Learning curve, Usability, plugins availability, Pricing, Visualizations, Indexing.
Starting off with learning curve, Kibana has a steep learning curve, because of the fact that ELK stack is fairly an advanced suite of products. Now this learning curve is a debatable issue as people who are comfortable with ELK might argue that the curve is rather flat, but when we compare Graylog and Kibana, Kibana has a much steeper learning curve and the one for Kibana is rather smooth.
Now that we are aware of Kibana being a part of a suite which is fairly advanced the usability perspective is something we need to keep in mind because more complex the suite the difficult it is to maintain them whereas for Graylog it is fairly a simple GUI and all options available is easily found in the GUI.
Talking in terms of the same lines, the availability of plugins in Kibana is a lot more in comparison to Graylog and the only reason for it to be present is because of the different levels of complex solving capability ELK stack brings in is huge! Whereas the plugins for Graylog is pretty restricted.
Now coming to the pricing, which might be of prime importance to organizations. Though ELK advertises it to be open source, things might get pretty expensive for organizations as they would be compelled to buy plugins which has complex visualization capability and also the amount of data that would be processed and the numbers add up pretty quickly. Whereas Graylog although is again an open source tool has a fixed cost of $1500 per server instance in a cluster. So now it is all about the math and trade-offs that needs to be done.
From a visualization perspective, Kibana has incredible visualization options and that sets up the bar for any other application to compete whereas Graphing perspective is very limited and would need to rely on Grafana for visualizations.
Lastly, from an indexing perspective Kibana has a total control on how we can index data in Elasticsearch hence providing the flexibility on that terms which is not present in Graylog.
 Graylog vs Kibana Comparison Table
Let us discuss the top comparison between Graylog vs Kibana:
| | | |
| --- | --- | --- |
| Genre | Graylog | Kibana |
| Learning Curve | Relatively flat learning curve | Steep learning curve for its complex nature of areas of application |
| Usability | The usability is rather simple with less effort in maintenance | Due to it being fairly advanced suite, the usability is there for solving complex problems, but is difficult in terms of maintenance. |
| Plugin Availability | Restricted in terms of plugins | Lot of plugins are present for different use cases |
| Pricing | Fixed $1500 for enterprise edition. | Although advertised as free, users need to pay as they use. |
| Visualizations | Visualizations is dependent mostly on Grafana | In-built visualizations in Kibana |
| Indexing | Not much control in terms of indexing | Total control on indexing of data in Elasticsearch. |
Conclusion
With the discussion in the article, we can see that there are a lot of pros and cons for the 2 types of log management suite available and it depends entire on the organization to do a detailed analysis on which one would be best suited for their structure of organization and then proceed with that. This article just helps you in achieving some of those pointers on which the discussion can be started. Lastly, it is not only about the use case, you should pay equal attention to maintenance part as well when going out for choice between these 2.
Recommended Articles
This is a guide to Graylog vs Kibana. Here we also discuss the Graylog vs Kibana key differences with infographics and comparison table. You may also have a look at the following articles to learn more —