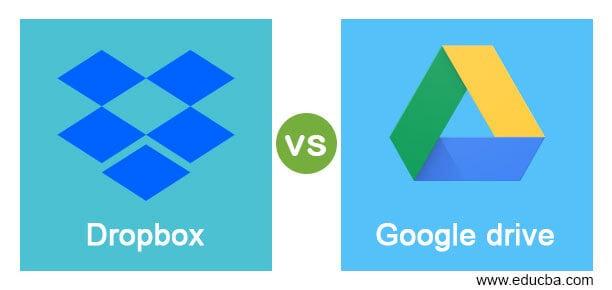 Difference Between Dropbox vs Google drive
Dropbox work and Google Drive well in your cloud instead of on your device for storing files. Each app is mobile so that both your desktop and cell phone allow you to enter documents. Google Drive offers you more free storage space than Dropbox and you can pay additional storage Maximums are 3TB of Dropbox while 30TB of Google Drive. Dropbox tracks and syncs file changes faster than Google Drive. Dropbox employs a block sync method which synchronizes only made changes. On the other hand, the whole document is downloaded and reloaded by Google so that access to these changes from another device is sometimes delayed. In this topic, we are going to discuss Dropbox vs Google drive.
What is Google Drive?
Google Drive is a cloud-based storage solution for saving and accessing files online on any smartphone, tablet, or computer. Using a cloud storage service such as Google Drive has many advantages such as easy file sharing and remote file backup. However, Google Drive's popularity is based on helpful collaborative tools and integrations with the Google suite of Google services, as compared to competitors such as DropBox and the iCloud service of Apple. You already have 15 GB of free storage on Google Drive when you have a Google account. So how can all of this space be used? Our guide covers everything from how to use Google Drive to upload files on any device to all the tools to work with others.
What is Dropbox?
Dropbox is one of several popular cloud storage services to save and share your cloud files online. What's the significance of this? You can save and store your files online from anywhere—from your home computer, computer, or mobile device. This enables easy access. You can store your files on the servers of Dropbox and syncing them on all devices, or maintain them automatically. You can upgrade to more storage space and additional features for a surcharge, but the basic Dropbox service is free.
Head to Head Comparison Between Dropbox vs Google drive (Infographics)
Below are the top differences between Dropbox and Google drive

Key Difference between Dropbox and google drive
Google Drive and Dropbox authenticate and encrypt data from cloud storage service to device and vice versa when it's in transit. However, Dropbox uses an advanced encryption standard (AES) for 256-bit encryption to maintain your file secure when stored. This encryption standard has been approved by the American National Security Agency for the protection of highly secret information.
Google Drive is the clear winner if your primary Google Drive or Dropbox usage is free storage. You have 15 GB of free storage available from Google Drive, while Dropbox gives you only 2 GB. However, for each friend that you refer to Dropbox, you can get an additional 500 MB of storage for up to 19 GB of open storage.
Google Drive and Dropbox use various sync methods, affecting sync speed. Downloads and uploads the whole document to sync when both files are saved automatically by Google. This can lead to delays when you attempt to access from another device the latest version of this document.
Comparison table
| | |
| --- | --- |
| Dropbox  | Google drive |
| Dropbox is a Dropbox, Inc. file hosting service providing cloud storage, synchronization of files, and client software. | Google Drive is Google's file storage and sync service. Google Drive is now home to Google Docs, a range of applications that offer collaborative document editing, tablets, presentations, and more. |
| The website of Dropbox is www.dropdox.com | The website of Google drive is drive.google.com |
| Dropbox was released in September month of 2008 | Google drive is Initial release on 2006  6th June |
| Dropbox provides you 2 GB free storage with some extra connecting like Twitter | Google Drive provides you free 15 GD storage |
| In the dropbox upto 300 mb file size upload limit via the website and from the desktop you can upload unlimited file size | In Google Drive upto 10GB file size upload limit via the desktop app and website |
| For  Mac, iOS, Android,  Windows, Linux, and Blackberry, Dropbox is available, which offers several different options for Google Drive. Microsoft Office, Apple iWork, video, audio, and image files supported by Dropbox. | For iOS, Mac, Android, Windows, Google Drive will be available in the future for Linux. Developers of third parties can create Google Drive integrated applications. |
| In Google drive, there is almost one billion-plus user | In dropbox, there is almost 500 million-plus user are available |
Conclusion
Besides the amount of storage space available, your selection depends on what cloud storage is intended for. The ability of Dropbox to share files in a shared folder gives you unique opportunities for collaboration, while Google ensures that Drive is built into its other word processing and email cloud services if you want. So in this article, we have seen key differences between Dropbox and Google drive. I hope you will find this article helpful.
Recommended Articles
This is a guide to Dropbox vs Google drive. Here we discuss the Dropbox vs Google drive key differences with infographics and comparison table. You may also have a look at the following articles to learn more –