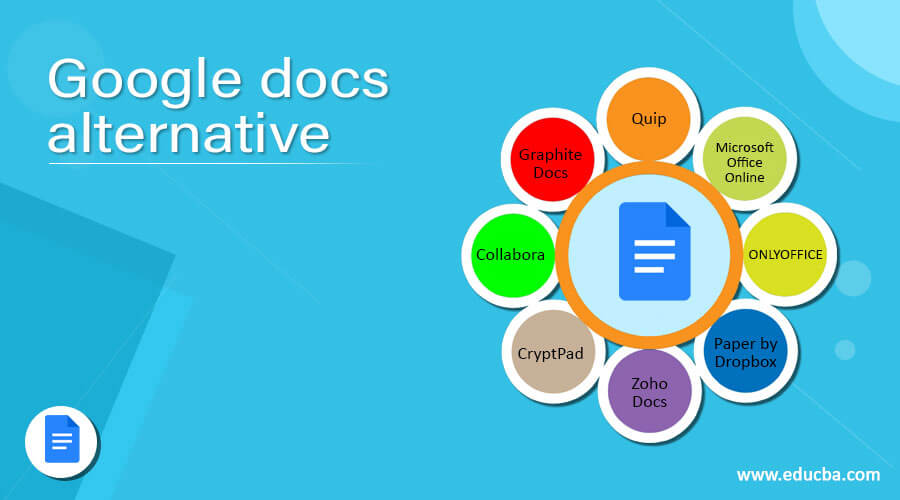 Introduction to Google docs alternative
Our computers were smaller and more compact, and we were able to operate on-the-job, combined with fast internet speeds and online support. Google Docs is certainly one of the most reliable products for those who prefer this freedom. In addition to allowing us to work online, Google Docs and Sheets and Slides also enable many users to cooperate and cooperate. Although Google Docs isn't that far behind other apps with similar features, it makes sure that we have some of the best options for it. Particularly if many of these applications are more editable and feature-rich. Good for small projects, Google Docs does, however, provide some of the alternatives we have listed on the list if you need to manage complex write projects. In this topic, we are going to learn about Google docs alternatives.
Alternatives of Google docs
Let's have a look at Google docs alternatives.
1. Quip
Quip does not provide all advanced document editing functionality, unlike other online office suits. However, if you want to find a free tool with solid functionality on all your computers, then the answer is Quip. In contrast to those that function best on a PC, its GUI is very intuitive and interactive in all devices like smartphones, tablets, and PCs. All documents include a chat section to discuss the text. All documents are available. This makes chatting and interacting easy on both documents and chats, particularly on smartphones.
2. Microsoft Office Online
Office Online certainly deserves the first mention if we move down from Google docs. It is Google Docs answer from Microsoft and offers all the basics of Google Docs. At advanced features, the only difference is that. Both provide some special advanced functionality, so the rivalry is up-to-date. Office Online does provide OneNote with a full note-taking app. Google provides drawing software in its office suite. Office Software Online also has a feature called "Tell Me," which lets you ask the office itself if you are stuck and want to know what to do.
3. ONLYOFFICE
Another big replacement for Google Docs is ONLYOFFICE. It features all Google Docs' average editing and collaborative tools with an Office Online-like GUI. The free 30-day trial for small to medium-sized companies and a free online office suite is included in the pay edition. This list is for the Google Docs options, so we'll only check the free edition that Google Docs will replace. If you are a major business, you must opt for-pay version that covers all of the software needed by a company, including mail servers, domain, and CRM tools. The free version is for personal use only.
4. Paper by Dropbox
Paper is one of the easiest collaborative editing resources that can be considered a perfect alternative to Google Docs. It is also the holder of Hackpad with the possibility of adding teaching boards, images, and links to Dropbox files by using Dropbox. You may also mark other Dropbox users, who may be in your lists of contacts, directly or add your Google account so that they can work with you.
5. Zoho Docs
Zoho Docs has Office Online-like features, but it is still exclusive to say Google Docs and Office Online. First of all, both desktop and web-based applications are included, which can be used for online and offline access. Both edits will be automatically synced on one of these sites. In fact, Zoho Docs creates a separate folder in your PC, and each added document will be synchronized with Zoho, which also includes documents from other sources.
6. CryptPad
CryptPadis a compilation of user-friendly online apps that can be used to replace Google Docs. Common formats, including rich texts and presentations, are available. In addition to these two formats, users can exchange surveys, whiteboards of the Trello-style, to-do lists, and even a compiler of codes.
7. Collabora
Collabora is a LibreOffice-based online collaboration and editing suite for information-rich materials. The online application includes a comprehensive collection of editing resources using the popular MS Office template. Along with a comprehensive editing toolbar, you can also comment if the team emphasizes an edit or clarifies your doubt.
8. Graphite Docs
Graphite Docs is a text editor built on a blockchain that you can use to invite employees. The editor is easy to use and includes a minimal UI with direct controls and interactive elements of design. Despite the lightweight GUI, all the useful editing features are available, except that you have only three fonts in the free edition of Graphite Docs. Graphite Docs uses BlockStack to sign in based on this blockchain. In addition to the text editor, there is a vault, i.e. a storage drive blockchain-backed with a range of secure documents. Added protection over Google Docs and other applications on the drive.
Recommended Articles
This is a guide to Google docs alternative. Here we discuss the various alternatives to Google Docs along with their features. You can choose any of them based on your requirements. You may also have a look at the following articles to learn more –