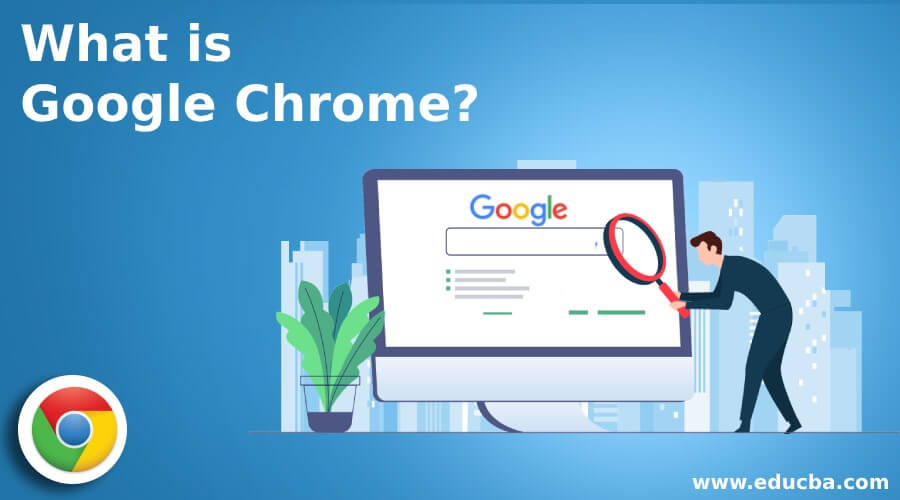 Introduction to Google Chrome
Google Chrome is a Google-designed free Web browser that is used to view Internet sites. As of May 2020, with more than 60 percent of web browser market share, it's the world's most popular web browser option. Google Chrome is also a cross-platform browser, so versions are running on many laptops, handheld devices, and Operating systems. Statista notes that Google Chrome is the most-used version for Android that retains more than 32 percent of the global market share for web browsers in February 2020. Google chrome was the first web browser to use the search box and address bar, which other rivals followed. In 2010, google launched the online shop chrome in which web-based software can be bought and installed by consumers.
Features of Chrome
Following are the features are given below:
It is easy to use fast and secure.
Web pages can also be accessed and loaded very easily, even with heavy graphics, advertisements, and video material browsing across several pages. The interface is simple and easy to use, even for beginners
It provides automated changes that are enforced to ensure that safety is reviewed.
It provides search google in the bar.
Do you have to search? only open a new window or tab and start typing in the address bar whatever you need to find. Then press Enter / Go / Check and the search results page will show you.
Chrome settings across devices.
Do you have to search? Only open a new window or tab and start typing in the address bar whatever you need to find. Then press Enter / Go / Check and the search results page will show you.
You will synchronize all your bookmarks, passwords, history, auto-fills, etc by using chrome for your google account. This ensures that whether you use chrome on some other machine or laptop, the settings will be compatible and updated through the google account.
Advantages of Chrome
Google chrome provides so many benefits that it can be used effectively, as follows:
The Chrome browser has a basic user interface with mostly used buttons like forward, backward, refresh, etc. It also has a search bar or Omnibox, which helps users to search the web address.
Many websites are created with advanced scripting, which may be the source of sluggish navigation. Chrome operates effectively with this scripting and easily shows dynamic websites. Thus, it saves time in certain cases and makes the internet session reactive.
Google periodically upgrades the chrome browser to keep it secure. when connected to the internet, it can be changed automatically. Moreover, the following security is given by chrome:
Chrome has become a world-famous browser, as it can be combined with other google apps, such as gmail. when you log into chrome, you can immediately log into other google apps such as adsense, gmail, analytik, google ads, search console, and more.
Incognito mode.
Chrome offers an incognito mode private mode option, which corresponds to private browsing, personal windows, or in private browsing. It is an internet environment that prevents the history of browsing from being saved. In general, the image, content, and cookies requested by the page are locally saved on your computer when you access any website. In addition, autocomplete fields can store any search querying or filled-out types. Incognito mode forgets to save these data if you do not retain these data and close the browser window.
Chrome helps users to scan the sandbox in a special web session with incognito mode. It allows you temporary power over the history and identity of your browser since you fail to save your history when you close your browser window although it does not guarantee the anonymity of this information.
To open a new incognito tab window, you can select Ctrl + Shift + N on the Windows or Linux OS and Command + Shift + N on MacOs X.
Disadvantages of Chrome
Some of the disadvantages are given below:
More RAM (Random Access Memory) and CPUs are used in the google chrome browser than in other web browsers. although the browser is lightweight, high memory consumption will affect other applications on your device at the same time.
No customization and options as are available on the chrome browser. for example, if the chrome browser window is closed with several open tabs, you won't be asked if you are closing or not all tabs. both tabs and windows are locked right away.
Chrome does not have a sync option on Google. Other browsers, such as mozilla firebox, can sync with the mozilla weave option on many computers. This feature helps you to merge your home browser, office browser history desktop, and preferences.
Recommended Articles
This is a guide to What is Google Chrome?. Here we also discuss the advantages and disadvantages along with features of google chrome. You may also have a look at the following articles to learn more –