Updated February 27, 2023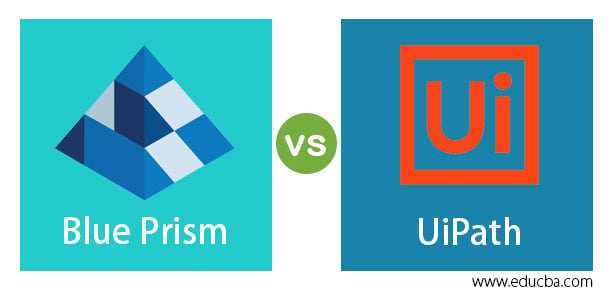 Difference Between Blue Prism vs UiPath
Physical robots in the factory automate repeated, mundane work hitherto performed manually. Activities like material handling in an arduous condition, machining, assembling, and welding are performed by these robots in an efficient way without any fatigue.
Similarly, Software robots in an office environment replace mundane, repeated activities in data capturing, document generation, completing an end to an end process cycle, monitoring activities, and control the process using machine learning. These office automation procedures are part of Robotic Process Automation (RPA) one of the Artificial Intelligence (AI) techniques.
While Physical Robots consist of electronic hardware items, Office Automation Robots consists of software components and it is called BOTs.
There are several vendors specializing in software Robot viz., 1. Blue Prism, 2. UIPath, 3. Automation anywhere, 4, Datamatics, 5. Blackline, 6. Help systems, 7. Edge verve, 8. Jacada, 9. Kofax, 10. Nice, 11. Pegasystems, 12. Verint.
In this article let us focus on the features of RPA products of Blue Prism and UIPath.
Head to Head Comparisons Between Blue Prism vs UiPath (Infographics)
Below are the top comparisons between Blue Prism and UiPath:

Key Differences Between Blue Prism vs UiPath
Let us discuss some of the major key differences between Blue Prism and UiPath:
UIPath programs can be accessed through Web Browser from Desktops or Mobile phones and the Blue prism is accessible only through Apps from various end-user devices.
UIPath supports attended BOTs deployment in which the user controls the operation at his own convenience. Blue Prism mostly supports unattended BOTs that run on the remote computer
UIPath tool is versatile in providing solution in front end and back end applications but Blue Prism specializes only in Back end applications.
BOTs are managed in UIPath through one of its product namely Web-based Orchestrator and it is the Architecture of this tool. Blue prism operates in Client-Server Architecture.
The software platform for UIPath is MS Share point Workflow, Elastic-search, and Kibana and for Blue Prism it is C#.
Blue Prism tool is highly stable, reliable, and scalable but UIPath is not that reliable. There are reported cases of a frequent crash when UIPath operation is scaled up but Blue prism is steady at a higher load.
Blue Prism software cost is higher when compared to UIPath. UIPath Initial software cost is very competitive.
Abundant training and certification facilities are there for the UIPath tool in the market to develop UIPath expertise among IT professionals. Such services are limited for Blue Prism Tool and only certification courses are available.
About Blue Prism
Blue Prism, one of the major vendors in the RPA arena, is a UK based company and the very word RPA was coined by them. This company specializes in BOT development to automate backend office work and the features of BOT are
It simulates the manual operations in the data collection, collating, and complete an entire process.
Operations of BOT are Agile and cost
Provides accurate and fatigue-free solution by emulating a Digital Work Force
Easy to operate with drag and drop facility and automate business process
BOTs are secure, centrally managed and easy to scalable
Has robust characteristics like Work distribution, load balancing, queue management, audit, encryption and etc.,
Results from Bots can be interfaced with third party analytics
Can be deployed in the cloud
No coding is required anywhere during the operation of this
It provides a collection of codes in the form of libraries and environment to execute the
Process studio and object studio are the two major parts in this RPA
In object studio, interfacing with external applications are handled through Business Objects and these objects can be created in the shortest possible time and easy to maintain as
Process studio resembles flow chart and it contains features of Objects and it also allows building business logic and control
About UIPath
UIPath is another RPA tool used extensively by the Industry to automate mundane office activities and it was designed by a Romanian and its features are
UIPath provides a fast, reliable, robust and intelligent solution in Robotic Automation
This tool is highly user friendly and Business Processes are automated and the virtual workforce is managed easily
It has 3 products in its stable namely UIPath Studio (Design Tool), UIPath Robot (Execution Agent) and UIPath Orchestrator(Management Tool)
Can be hosted in Virtual Terminal mode or in Cloud
Supports versatile applications viz., Desktop and Web
BOTs are hosted centrally and accessed by all users simultaneously.
Provides auto authentication to ensure security
Facilitates data and content extraction from Web using Java, .net, PDF, Flash, and SAP
Supports Process modeling
Solutions are highly scalable and Robust
This solution has unique features to manage Data handling, Data extraction (Scrapping), Coding the business logic, Desktop automation
Blue Prism vs UiPath Comparison Table
Let's look at the top comparisons between Blue Prism and UiPath:
Sl
Parameter
Blue Prism
UIPath
1
Architecture
It supports Client-Server architecture.
It supports Web-Based Orchestrator architecture.
2
Platform
C#
MS Share point WF, Kibana
3
Scalability
Responds well with good performance.
Not stable sometimes crashes.
4
System Integration
It Provides better Interfacing.
It's Not that great as compared to the blue prism.
5
High-Speed Mapping

processes

High-Speed Mapping

Processes is Not Available in Blue Prism.

High-Speed Mapping

Processes can be Available in UIPath.

6
BOT Access
It is access Through the App only.
It can be accessed Through Desktop, Mobile, etc.
7
Investment cost
The investment cost is Very High.
The investment cost is Moderate.
8
Dynamic Changes
Dynamic interactions are possible
Dynamic interactions are Not Possible
9
Design Controls
Provides good control features
Provides Visual Design features
10
Attended/ Unattended BOTs
Unattended BOTs running in a remote computer and it has no control over the execution.
BOTs running in the front end with full control and attended
11
Exception Handling
Blocks which is rectangular in shape that are resizable wraps the exception handlers
Handled through traditional codes
12
Training and certifications
Only Certifications are available
Online training courses and certifications are available. More developers with UIPath expertise would be available in the market.
Conclusion
Both UIPath, as well as Blue prism, have unique features to offer robust and efficient RPA solutions and there are subtle edges each tool over the other and we have seen them in detail in the above paragraphs. Though the investment is high, Blue Prism is a more robust, scalable, steady, and stable tool over UIPath. But UIPath is versatile and it supports multiple application environments. Users will have to choose the right one depending upon the business needs.
Recommended Articles
This is a guide to Blue Prism vs UiPath. Here we discuss the key differences with infographics and comparison tables. You can also go through our other related articles to learn more –