Updated April 5, 2023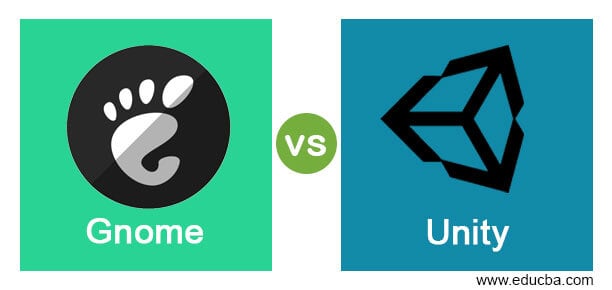 Difference Between Gnome vs Unity
Gnome and Unity are defined as desktop environments that are available for Unix-like operating systems with an aim to provide various features under the hood of the environment with individually each having their own benefits and cons making it more significant for this article to be written. Desktop Environment is a unifying concept that allows users to interact more easily with the computer through bundling up of programs and run it on top of the operating system that the graphical user interface runs. With the desktop environment it is easy for users to access, edit, delete or perform similar operations on the files that the operating system stores. Another trivia for the brain, GNOME is acronym'd version of GNU Network Object Model Environment, but this acronym is no longer used as the current version of GNOME no longer reflects the vision originally put by the full form!
Head to Head Comparison between Gnome vs Unity (Infographics)
Below are the top 8 differences between Gnome vs Unity:

Key Differences between Gnome vs Unity
Following are the Key differences between Gnome vs Unityare given below:
Before we learn about the differences between Gnome and Unity, we need to understand why this article of difference is even needed in the first place. In the introduction, we have seen that both of them are desktop environments each providing the strong feature of their utility use case. With some other commonalities like similar lines of working with menus, YouTube being an incompatible app in both, auto-completion feature present in the search leads to confusion among users on to choosing which serves the purpose more and hence the significance of this article.
In terms of the launch of an application, Gnome is slightly tedious, though not very significant, as it requires 2 clicks in case the application is present in-dash or 4 in case it is not present but for Unity, it takes just one click if present in-dash else 2 clicks. Any application launched in Gnome uses innovative window manipulation and Gnome 3 has the most innovative one whereas in Unity most of the application gets launched in maximized mode. Both Gnome and Unity come with pre0-installed apps with Evolution email client being one of them in Gnome and Mozilla thunderbird being the one for Unity. There is the presence of Wikipedia and Google buttons in Gnome whereas it is missing in the case of Unity.
There is a lack of search filter in navigation utility in Gnome whereas Unity comes with a search filter and automatic categorization of applications leading to easier navigation. Coming to performance and stability Gnome is counted in another league itself and nothing else can even be close to that! Finally, Gnome is a bit rigid when it comes to customization, though Unity not being the classic best example of customization among other desktop environments gives a bit more flexibility though here!
Gnome vs Unity Comparison Table
Comparison between Gnome vs Unity is given below:
| | | |
| --- | --- | --- |
| Gerne of Comparison | Gnome | Unity |
| Launch of Applications | In order to launch an application in Gnome, one would need a considerable number of clicks (4 in number) in case it is not present in the dash. For applications present in-dash, it takes 2 clicks to launch the application. | Launching an application in unity is considerably different from that of Gnome, as in unity it will take one click to launch the application if present in-dash and 2 clicks to launch the application from the document launcher. |
| Launch of an Application and its performance | Though the application and its performance are close enough to unity, Gnome comes with an Evolution email client already installed. Gnome 3 in fact has the most innovative techniques when it comes to window manipulation. | Unity comes with Mozilla Thunderbird already installed on the desktop and is also extensible with apps that can be accessed by the Ubuntu Software center. Most application launch is in maximized mode. |
| File or application search | The application search is just one click away with buttons for Wikipedia and Google search, which can be thought of as overkill if the search is performed within the hard drive. | In Unity, the search is also a click away with an autocompletion feature like that of Gnome but is not as popular as that of Gnome. |
| Navigation capabilities | In terms of navigation, Gnome lacks search filters and no categorization of apps is present, but for someone who would need to view all the applications in one place, Gnome is the desktop environment to choose from. | Unity allows users to access the most commonly used applications along with search filters and automatically categorizes applications for easier navigation. But for one who wants to get a complete view of applications, Unity is not the obvious choice. |
| Integration capabilities | With some flaws in applications like YouTube not being compatible, Gnome provides a better interface while playlist creation and managing the music files. | In unity, one would not need different applications to open different media files with different lenses provided by Unity, though the flaw of YouTube not being compatible remains here. But, undoubtedly, unity is more convenient. |
| Performance and Stability | When it comes to performance and stability, there is no doubt about Gnome with recent iterations giving an incredible boost to the performance bringing it to a whole new level of stability. | Though the performance and stability for Unity are commendable but don't reach in the league where Gnome belongs to with some users complaining of vague crash reports begin generated because of instability. |
| Virtual workspace working | Gnome 3 has an incredible solution of automatic management of virtual workspaces and create new ones to avoid cluttering. This process is ideal for window management. | A virtual workspace widget is available with 4 default workspaces, but not much thought is given to the implementation of workspace in unity. |
| Desktop Customizations | In terms of desktop, customization Gnome is a bit rigid than Unity and would need to install a separate app in case one needs to change the default theme. | With containing a basic set of customization features, Unity has slightly a bit more options of desktop customizations. |
Conclusion
In this article, we tried to understand the differences between Gnome and Unity in various genres and this will enable readers to make an informed decision on whether to choose Gnome or Unity for their use case. Long story short, one who needs a reliable and high-performing desktop with not many tweaks in the desktop, Gnome is the choice and for people who want to use desktop for making things easy and efficient Unity is the choice!
Recommended Articles
This is a guide to Gnome vs Unity. Here we also discuss the Gnome vs Unity key differences with infographics and a comparison table. You may also have a look at the following articles to learn more –