Updated April 18, 2023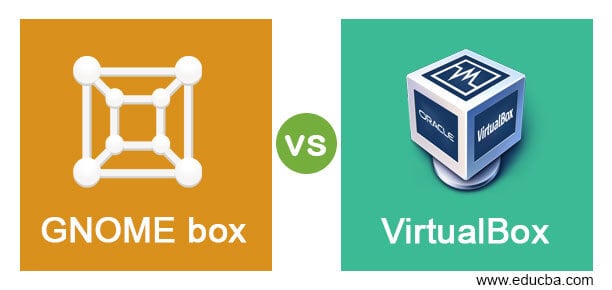 Introduction to GNOME box vs VirtualBox
GNOME is expanded as GNU Network Object Model Environment and used to access virtual systems. It uses KVM, QEMU, libvirt virtualization methods and also needs a CPU to support a few hardware-dependent virtualizations. VirtualBox is a standard virtualization tool for x 86-64 hardware and x 86 hardware. It is mostly implied on desktop, servers, embedded-based servers, that enable the admin and user to execute multiple guest OS on a single host machine. The features of GNOME and VirtualBox are briefly discussed in this article.
Head to Head Comparison Between GNOME box vs VirtualBox (Infographics)
Below are the top 7 differences between GNOME box vs VirtualBox:

Comparison Table of GNOME Box vs VirtualBox
| | | |
| --- | --- | --- |
| Attributes | GNOME box | VirtualBox |
| Definition | Boxes enable the user to access virtual machines running remotely or locally. It enables the user to connect the display to the computer. | It is a powerful intel64 and x86 virtualization product for companies and domestic use. it is enriched with features and performance for enterprise users and provides professional solutions. It is available as open-source. |
| Written language | GNOME is compiled in C, C++, HTML, C#, XML, Python, CSS, JavaScript, and Vala. It can also be written with many bindings. | VirtualBox is compiled in x86 Assembly, Python, C++, and C |
| Operating system | The operating system of GNOME is Linux, Unix, and BSD. | The operating system of VirtualBox is macOS, Linux, Windows, and Solaris. |
| Advantage | GNOME has different development tools Glade interface designer, devhelp, accerciser, and GNOME builder | It has extensible RDP authentication which supports PAM on Linux and Winlogon on windows. Virtualbox enables the user to connect arbitrary USB devices to the VM executed on the RDP server. |
| Application | The application of GNOME is Linux virtualization and virtual machine management | The features are Group chat notification, cloud computing, and virtualization platform |
| Price | For standard users, GNOME boxes provide a flexible VM solution and Linux users require virtual machines, many install VirtualBox, either it's free or licensed. But both are free to download | The VirtualBox is free and available as an open-source license. The extension pack of VirtualBox is licensed under PUEL which is free for the personal user but paid for commercial users and they also need to avail VirtualBox personal and evaluation license. |
Key differences between GNOME box vs VirtualBox
Configuration:
The important aim of VirtualBox is to execute the virtual machine on the base machine without reinstalling the operating system which is running on-base machine. It can be installed free and the unit virtual machine behaves the same as the physical host machine. GNOME is a desktop manager for QEMU and KVM virtualization, here the VirtualBox behaves like a self-constrained virtualization system. GNOME has a simple and straight interface to boot a VM but it lacks the configurability features that a VirtualBox holds. In GNOME, the configuration is set up by editing the profiles of the virtual machine and virsh.
An interface for Kubernetes and docker doesn't go for GNOME boxes as it is not a great fit, but they opt for VirtualBox because the remote support is provided by the virtual machine manager
Advantages
The key feature of VirtualBox is it doesn't use the entire resource system and generally doesn't slow down the computer too much when it is in use. The home screen itself is the interface for the management console and contains all general and system information. As it is free and easy to set up and understand, it is popular among students. It can be quickly launched in UI and VM. The merits of GNOME are its cool features which create a user-friendly environment. Such features are shortcut panels, organized settings, customized interface and themes, in-built snapshots, fewer menu bars, and a dynamic workspace.
The GNOME application has a shell extension that further simplifies user productivity by offering accessible and quick shortcut features. The suitable program that integrated with GNOME and Shell is Pomodoro where the user pauses or starts the timer and can take a halt without launching the program.
Disadvantages
The processing segments and memory segments are different from technologies like Docker. Here the one segment works on processor and RAM usage and shares it to a virtual machine when created. So the memory is not properly segmented. When any instantaneous power shut down happens, one must bring the fault machine up and there are steps to clean up before the virtual machine is brought to life and here the fault recovery mechanism fails and needs better planning. It should be improved how the program affects the resources in the system when executed on multiple virtual machines simultaneously. If you are executing multiple VM, there may be performance issues and slow down of the system.
Features
The important features of VirtualBox are portability, rapid hardware support, virtual machine groups, unique modularity, well-defined architecture, remote machine display, multigenerational branched views, and has many add-on features like seamless windows, shared folders, and 3D virtualization.
GNOME box has many attractive features like tutorials on getting started, dashboards, clean up folders, minimalistic and compact desktop view, notifications when the application is ready multimedia files, better device support, GNOME beautification, on-screen keyboard, favorite option in folders, terminals, flatpak, a multimedia application like video, music, games, and photos, enhanced view in the calendar and clock application, a new desktop is popped up when an empty one is started to use and it is compatible.
Application
GNOME has its applications in Games, development tools, and core applications. There is an enormous number of clutter and GTK based programs that focus on a set of programs that accounts for core applications. They adhere to the existing GNOME human interface guidelines and strong integration with core layers like GOA, and GVF. It can interact with google drive with GNOME files and Google photos with GNOME photos. Few programs are readily available and few are written from the scratch with the refurbished user interface. GNOME games have the thrashing look and the core applications of GNOME are released with GNOME HIG update.
Conclusion
Hence these are few important differences between GNOME boxes and VirtualBox. It is applicable according to the user's requirements. GNOME has various features than VirtualBox but it is not applicable in all environments. Though VirtualBox has minimal features it is applicable in all environments.
Recommended Articles
This is a guide to GNOME box vs VirtualBox. Here we discuss GNOME box vs VirtualBox key differences with infographics and comparison table, respectively. You may also have a look at the following articles to learn more –