Updated April 5, 2023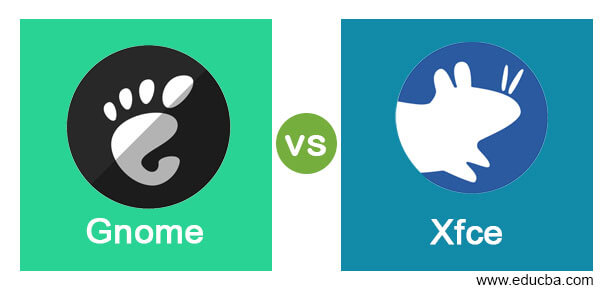 Difference Between Gnome vs Xfce
Gnome and Xfce offer a desktop environment and they are open-sourced and available free for users; they specialize in Unix operating systems and they support all the Unix/ Linux distributions like Debian, Ubuntu, SUSE Linux, Red Hat Enterprise Linux, Fedora, and its applications; Due to their attractive graphical features, most of the users by default, adopt one of these desktop environments (DE) in their system;  These two tools have competing capabilities in improving the productivity of the end-users and enrich the user experience considerably;  Let us analyze their strengths individually and compare their features one by one and help the users to make their selection process simple.
A brief on Gnome
Gnome is a Desktop application with a Graphical interface for the Unix/ Linux family of Operating
systems and it is a short form of GNU Network Object Model Environment but subsequently
lost in GNU network identity due to a change in the objective. It focused more on Linux / Unix
operating system distributions and got propelled by the developer community and RedHat.
The look and feel of this desktop resemble Windows or Mac and it also has matching
applications as found in these two systems. This software brought in a lot of innovations and
made the life of users simple. There are four versions of this tool and the latest is Gnome 40.
A brief of Xfce
This product was launched as Common Desktop Environment for Linux in 1996 and
Xfce was initially referenced to XForms Common Environment and it lost connections with XForms and it was later rebranded as Extra Fine Computing Environment. It also supports Unix / Linux OS and its applications and is one of the most preferred Desktop applications by many users. It follows the philosophy of Unix that everything should be modular and reusable.
Head to Head Comparison between Gnome vs Xfce (Infographics)
Below are the top 7 differences between Gnome vs Xfce:

Key Differences between Gnome vs Xfce
Following are the Key differences between Gnome vs Xfce are given below:
Gnome
It has simple looking but effective UI.
Simplicity is its USP
Users have more dynamic work areas on the screen.
It has built-in recovery facility that helps users to maintain continuity in their work
Ideal for beginners to navigate through all features and learn.
It provides a perfect compatible platform for the smooth running of applications developed for other DE
Xfce
It Can be installed on low-end desktops due to its lightweight.
Xfce gives an elegant look and it enhances user experience
It is highly user friendly and it's a pleasure for users to work in Xfce
Performance is superior to other DEs.
It offers many customizable touchpoints for flexible use.
Users have more information about its backend
Gnome vs Xfce Comparison Table
Comparison between Gnome vs Xfce is given below:
Gnome

Xfce

1.      Computer Resources Usage
Gnome consumes more CPU. For some select processes, CPU usage exceeds 10%
Xfce consumes less CPU when compared to other Desktops. Only 1% of CPU is used by Xfce. Low CPU is one of the unique selling points (USP) for Xfce.
Gnome uses around 800 MB of RAM.
It uses lower memory space, unlike the other desktop software.  The memory footprint of Xfce is around 500MB of RAM.

Lower consumption of CPU and memory reflects in the overall performance.

Lightweight reduces the loading time and improves the productivity of users

2.      Front End Screen
Front screen in Gnome is designed with minimum disruptions and enhances the user experience. The top bar enables navigation to menus such as Activities overview, Applications, calendar, system options, Windows list, and Lock screen. Major portions of the screen are available as a workspace for users.
The screen looks very simple and it is not cluttered with unwanted stuff. The screen is neatly divided into panels consisting of Applications launcher, Icons to access Applications, workspaces, and options to switch multiple workspaces. These panel displays can be customized.
3.      File Manager
File Manager in Gnome is very powerful and it manages file operations and maintains directories. It provides a drag and drop facility to maintain files and subdirectories within a folder in the system.
Thunar is used as a default file manager in most of the systems with Xfce DE. It may not have a decorative look but it is a very fast and efficient tool. It doesn't have multi panes but it has sidebars and tabs to view multiple directories and to open any files.

It provides simple and easy-to-navigate file handling features.

4.      Multiple Terminals emulation in a window
Gnome Uses a software called Terminal to emulate different terminals like VT100, IBM3270 which are not in production now. This emulator mimics and creates a command-based screen in a graphical mode and connects to legacy applications. It may run on the same computer or run through telnet, sh.
It uses Xfce4 emulator tool to mimic multiple terminals on a screen. This tool is simple to operate, unlike others, The tabs for different terminals can be renamed and rearranged easily.  The name of the host is clearly displayed with the complete link in the tab. These emulators can be configured easily and it takes fewer computer resources.
5.      Stable Performance
Though there were some stability issues in the old versions of Genome, the latest versions have a recovery function inbuilt into it so that users will not suffer any loss of effort.
The operation of this DE is steady and stable. This is amply demonstrated by the fact that there were no major updates in this tool for the last 3 years. There are cases that this desktop never crashed for some users.
6.      Modular Approach
Gnome uses the default approach and the entire software is loaded onto the memory
Xfce uses a modular approach and it installs the modules required for your project only and the rest are not loaded in memory or loaded when needed.
7.      Configuration changes
Gnome has only default configuration and the action buttons on the top line provide a menu to access various function
Xfce is a highly configurable DE. Settings manager allows changes in the settings of all the apps from its screen and simplifies the user's efforts.
Recommended Articles
This is a guide to Gnome vs Xfce. Here we also discuss the Gnome vs Xfce key differences with infographics and a comparison table. You may also have a look at the following articles to learn more –