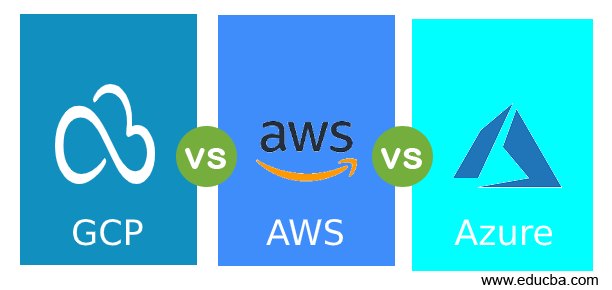 Difference Between GCP vs AWS vs Azure
A combination of cloud computing services provided by Google that uses the same infrastructure as Google is called Google Cloud Platform or GCP.  Both individuals and enterprises are provided a platform to build and test the software and the internet is used to connect the software with the users. The on-demand cloud computing platform provided by Amazon on a pay as per your use basis is called Amazon Web Services or AWS. A Cloud computing service in Microsoft used for building, testing, deploying, and managing the applications through data centers is called Microsoft Azure. The data centers should be managed by Microsoft. This article will surely help you find the difference between GCP vs AWS vs Azure
Head to Head Comparison between GCP vs AWS vs Azure (Infographics)
Below are the top 10 differences between GCP vs AWS vs Azure:

Key Differences between GCP vs AWS vs Azure
Following are the key differences between GCP vs AWS vs Azure:
GCP is relatively new and does not have a strong enterprise base. AWS has enterprise support while Azure's enterprise support is great when compared with others.
GCP does not connect with the data centers and hence interoperability is not an option here. AWS focuses more on the public cloud and does not consider data centers interoperability as their main concern. Azure works on the interoperability of data centers and knows the data centers well. It works mainly on the hybrid cloud.
AWS works mainly on public cloud, Azure on hybrid cloud, and GCP on the public cloud.
AWS and Azure have a wide variety of services and GCP offer very few services when compared with others. GCP is relatively new to the market and stands third in the cloud provider to the users.
AWS cost structure is very difficult to understand and the price changes with respect to the services being used. Hence the enterprises find it difficult to manage the cloud costs in AWS. The cost structure of GCP and Azure is easy to understand and employ in the organization.
While using Azure, it is easy to link with the platform in use as many are familiar with Windows. As loyal consumers, enterprise tends to take the Azure cloud platform. Also, many discounts are offered by Microsoft to enterprise customers. This advantage is not present in AWS and GCP. Now, users tend to weigh the cost and services offered between these both and select one from them.
The platform and the documentation face issues in Microsoft and this leads to complaints from users. Though Microsoft is a platform vendor, issues of the platform in Azure are something to be considered in advance. AWS provides a better platform in this case. GCP provides documentation for all the services provided in its cloud platform.
GCP vs AWS vs Azure Comparison Table
Let us discuss the top comparison between GCP vs AWS vs Azure:
| | | |
| --- | --- | --- |
| GCP | AWS | Azure |
| Google provides containers and it has developed Kubernetes for orchestration. | Containers and orchestration platforms are relatively new in AWS. | Azure started offering containers and orchestration platforms which is not good when compared with GCP. |
| GCP stands third on market share due to the service offered by them is not enterprise oriented and the services are very less. | AWS stands on top for the cloud services provided by them as they are the first to start the service and the services vary depending on the customer. | Azure stands second in the market share as they are good in data centers and the enterprise platform provided pleases the customers who use Windows. |
| GCP can be mastered with the help of documentation and videos provided by Google. | Very good training is needed to become master in AWS. | Documentation is not proper and hence self -study is important to learn and to be skilled in Azure. |
| GCP is considered as a second option than AWS as both are similar in platform offerings. | AWS supports large organizations with different services and enterprise support. | Organizations prefer Azure that uses Windows and who can work and understand Azure without any outside help. |
| The global outreach of GCP is very less as they do not focus much on the marketing part. | AWS has vast global outreach due to the marketing efforts taken by the team. Many large and small organizations know AWS as the best cloud platform. | Azure is known by many but not used as AWS is its competitor. And organizations find it easy to adhere to AWS's policies than Azure's. |
| GCP integrates with Gmail, YouTube, and other Google services to provide users with the seamless experience of google along with cloud services. | AWS does not have any platform or tools of its own and renders services from other platforms. Users do not find it hard and are happy with the services being offered. | Azure integrates well with other Microsoft tools and software and the platform. Users find it easy to operate within the tools. |
| GCP is not offered open-source though some services can be availed for free. The cloud service should be paid as the user uses the service. Also, GCP provides portability of its services. | AWS is not offered as open-source and its payment service can be described as pay as you use to type. | Open source is offered in Azure and hence users find it easy to use Azure for small services. |
| All the tools are managed well in GCP. But the services offered are very limited in GCP. | Management tools are very effective in AWS. The services offered are very vast and properly matching the use of all the customers. | Management tools are not proper in Azure. |
| GCP is for cloud applications designed in the native environment. They offer discounts and the contracts are easily flexible for the users. | AWS is specially designed for applications with large storage data and network usage so that the cloud services are utilized fully. | Azure is designed for users with large data and has machine learning integrated with the data. |
| GCP focuses mainly on DevOps with Docker and Kubernetes. | AWS focuses on different services being offered on different platforms. | Azure has a broad feature set and has a primary focus on the hybrid cloud. |
Various computing services are offered by cloud services. All cloud platforms have their advantages and disadvantages. Hence it is important to understand the business and to focus on the needs so that relevant cloud could be selected with proper features and cost-cutting in their offering.
Recommended Articles
This is a guide to the difference between GCP vs AWS vs Azure. Here we also discussed GCP vs AWS vs Azure key differences with infographics and comparison table. You may also have a look at the following articles to learn more –