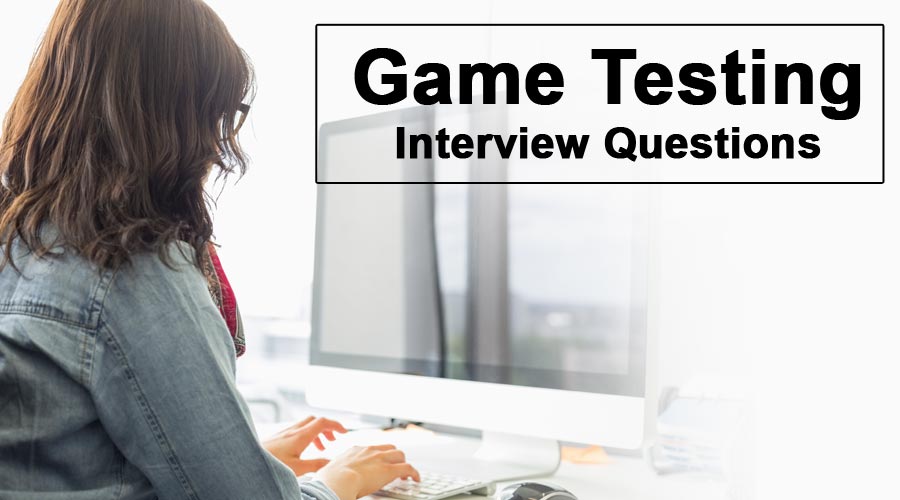 Introduction to Game Testing Interview Questions and Answers
Software Games, it can be computer games or mobile games, mostly used by the entire world for enjoyment or getting excitement coming out from one normal critical day by day responsibility or avoiding extra time from their busy schedule. Now, if someone wants to say that their developed game maintains the best quality compared to others, they have to go through their developed game by one of the game testers. That's creating the value of a game tester.
If you are looking for a job related to Game Testing, you need to prepare for the 2023 Game Testing Interview Questions. Every interview is indeed different as per the different job profiles. Here, we have prepared the important Game Testing Interview Questions and Answers, which will help you succeed in your interview.
In this 2023 Game Testing Interview Questions article, we shall present the 10 most important and frequently asked Game Testing Interview questions. These questions are divided into two parts are as follows:
Part 1 – Game Testing Interview Questions (Basic)
This first part covers basic Interview Questions and Answers
Q1. Explain in detail about game testing what needs to be verified by a game tester for any kind of computer or mobile games?
Answer:
The game tester is performing a similar kind of job as what one software tester has been done. They normally identified the bugs, reporting the same to the developer, and retesting again after the fixing. They also ensure the game has been designed properly as per the designer expectation, and performance should be considered.
Q2. Some common gossip in the current IT industry that a game testing job is really a fun job as one tester can play the game without invest. Is it really true?
Answer:
Again game tester job is absolutely similar to a software tester job. It is not easy to identify bugs frequently in a game, as they need to continue playing the game for an entire 1 month or more for identifying some bugs and reporting them. Also, they have to regenerate the same in front of a developer for resolving purpose. They also have big pressure on the usable delivery of the game.
Q3. Explain the exact key role and responsibility of a specific game tester in the entire IT market to avoid misconceptions about their job?
Answer:
One Game Tester normally followed the same kind of roles and responsibilities as one software tester has been performed. One of the common misconceptions is that one game tester is normally involved in playing a game for an entire day, but that is absolutely not a true statement; they are following some of the key responsibilities like below:
Writing test cases: The game tester has to write test cases for one specific game developed by the developer; test cases should follow some of the approaches taken by the designer and approved by the client or management of the organization.
Bug Identification: The tester is normally playing games in varieties approaches for identifying the critical bugs. They have to follow written test cases for ensuring of not breaking any approaches of an entire game.
Reporting and Retesting: They have to report their test cases to log details to the developer for rectifying. And also ensuring developer have been rectified their bugs and come with the proper solution. They also have to ensure the developer has understood the exact approaches expecting by the designer. After given proper rectification, they have to retest it.
Q4. Explain each and every process followed by the game tester in case of testing any game designed for computer or mobile?
Answer:
This is the basic Objective Game Testing Interview Question asked in an interview. One game tester should need to follow the below approaches any time for doing proper testing and architectural design for any game testing properly done. Some of the below key processes have to follow by one game tester:
Storyboard
Game Architecture
Features of the Game
Characteristics, key points of the game
Stages and clear concepts of the game
Q5. Explain about varieties kind of testing available in the current industry, specifically in game development?
Answer:
Several kinds of testing available for the game tester are:
Combinational testing
Testing for cleaning room.
Testing for ensuring functionality
Testing for ensuring compatibility
Tree testing
Load and Playtesting
Part 2 – Game Testing Interview Questions (Advanced)
Let us now have a look at the advanced Interview Questions.
Q6. Explain in detail what kind of strategical conditions need to be handled by one game tester at the time of testing the game in various ways to ensure it is bugless for the end-user?
Answer:
One game tester needs to be involved in various strategic approaches for developing their test cases architecture in case of any developed game. They have to ensure the designer concept has been properly followed as well as the performance of the game should not be a doctorate in a system to system. They commonly ensuring the below scenarios on their consideration strategies:
Varieties kind of data available in scope, out a scope.
Deliverables timeline, ensuring no impact on the same.
Calculating no of tester require for the game structure.
Have to be calculating proper testing cycle count for ensuring game quality.
Have to know about the type of testing that needs to be performed for ensuring the quality of the game.
Maintain one specific type of documenting defects.
Arguments need to be involved in case of level on services.
Calculate the risk on that specific game and submitting a plan for mitigation.
Q7. Explain about test technique available in the market in detail and give some examples of the exact purpose of using the same?
Answer:
Below techniques normally taken by any tester as well as a game tester:
Write both the test cases positive and negative.
Evaluate any rectification in varieties exception paths for ensuring the quality of the product.
Boundary value analysis or error guessing.
Alpha, bit, and gamma testing
Q8. Explain how you can make yourself as a game tester?
Answer:
This is the most asked Game Testing Interview Questions in an interview. Obviously, one person who really has a very big knowledge of the current game industry and a critical understanding of some of the popular game and how to use or improve it can go for a game tester career.
Q9. What can be assumed a salary of a game tester in the current industry?
Answer:
Salary can be varied as, like other industry, it can depend on the resource quality or proficiency in their job. But still, compared to the current market situation, on an average basis, it will be in between $15000 to $60000 per annum.
Q10. Explain about your learning during work as a game tester in any industry. What kind of common challenges you have faced in your game testing career?
Answer:
Some of the key challenges normally faced by one game tester are defined below:
It is always impossible to test one game completely as there may be several functionalities that the tester might miss.
There does not have any defined process in the market for the game tester, which needs to follow as an ultimate reference.
Communication lack.
Timeline and ensuring coverages of test cases.
Recommended Articles
This has been a guide to the list of Game Testing Interview Questions and Answers so that the candidate can crackdown these Game Testing Interview Questions easily. Here in this post, we have studied top Interview Questions that are often asked in interviews. You may also look at the following articles to learn more –