What is the Full Form of PhD?
The full form of PhD is a Doctorate of Philosophy. Now, you might wonder that though the name says philosophy, it doesn't mean you are limited to specializing in philosophy. The word is derived from the Greek and means "love of knowledge." Today you can pursue a PhD in any field you are passionate about and want to specialize in. A PhD is the highest degree a student can earn after submitting a thesis to the university.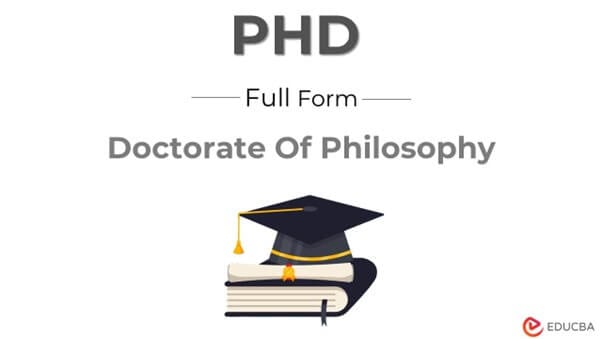 Typically you can pursue a PhD after a master's degree, but some institutions also allow you to go straight from their bachelor's degree to a PhD. Depending on your grades, knowledge, skills, and research abilities, some institutions may also give you the option to "upgrade" or "fast-track" your master's degree into a PhD.
A PhD typically takes three to four years of full-time study because, during that time, you complete a substantial original research project, which is then presented as a thesis.
Objectives of PhD
The objective of any degree is to help you understand the goals you want to achieve after completing the course. The objectives of every course vary. Following are some of the goals of a PhD:
To gain a better understanding of their field of expertise
Master the methodological and analytical abilities necessary to assess and undertake research in your expertise.
Create and carry out innovative research in their field of expertise.
Demonstrate the capacity to clearly and effectively convey the findings of your study.
Demonstrate your competence in teaching the university courses in your area of expertise.
Eligibility Criteria for Admission
You can pursue PhD at any time, but you need to meet specific minimum qualifications to get admission into the course. According to the new rules set by the University Grants Commission, you need to meet the following eligibility criteria:
Candidates applying for a PhD in India must possess a full-time bachelor's degree.
The candidate should have completed a full-time master's program at a university accredited by the government to earn a master's degree (MSc, MTech, MPhil, MA, MBA). For PhD admissions, correspondence master's degrees are typically not accepted.
The candidate must have an aggregate of 55% in their master's degree (or equivalent grade point).
Depending on the college or university, a candidate can be given a relaxation of either 5% or 10% of marks depending on the household that falls under a protected category (SC, ST, or OBC). In this situation, the candidate must present the required paperwork.
The candidate must pass the PhD entrance exam required by the university or college to be admitted to pursue a PhD.
Candidates must have the required work experience in a relevant field to be admitted to some universities/colleges in India for a PhD.
After meeting the eligibility criteria, a student can apply for the PhD program.
Entrance tests
After knowing the full form of PhD and about the degree, you may feel like getting your own PhD. To get admission to a PhD program in a university, it is essential to write entrance exams and meet the minimum eligibility criteria for your Bachelor's or Master's degree. The top PhD entrance exams include the CSIR UGC NET, UGC NET, and IIT JAM. You must also have a valid GATE score to pursue a PhD in engineering or technology.
1. CSIR UGC NET
The Council for Scientific and Industrial Research (CSIR) National Eligibility Test (NET), also known as the CSIR UGC NET, is conducted by the National Testing Agency (NTA). It is a national-level PhD examination, after which students can apply for Junior Research Fellowships (JRF) and Lectureships/Assistant Professor positions in Indian universities and colleges.
2. UGC NET
Candidates who have completed the University Grants Commission National Eligibility Test (UGC NET) or NTA UGC NET are eligible to apply for Junior Research Fellowship (JRF) and Assistant Professor positions in Indian universities and colleges. If you want to work as a research scholar or pursue a PhD, you must pass this test.
3. IIT JAM
The Indian Institute of Technology (IIT) administers the Joint Admission Test for MSc (JAM), which is an annual, rotational entrance exam for the entire country. If you want to pursue a PhD from an IIT, you must write JAM.
All three exams are conducted twice a year, and students work hard to secure a good rank to apply to the top universities.
Things To Consider Before Pursuing A PhD
Starting a PhD can be scary; hence, you must consider all the essential aspects before pursuing it. Here are some of the things you should consider before taking up a PhD
The topic or specialization you want to pursue.
Having the right superiors/ supervisory panel to lead you effectively.
Checking out the universities providing a PhD program and compare the program.
Consider if you want to pursue it abroad.
Checking if you meet the required eligibility criteria.
Conclusion
PhD is usually chosen by students who want to pursue research or be a research scholar. However, earning a PhD is problematic because it's one of the most challenging degrees, but once you get the doctorate, it all seems worthwhile. Hope this article has helped you understand the full form of PhD and its related facets.
Recommended Articles
We hope that this EDUCBA information on "Full Form of PhD" was beneficial to you. You can view EDUCBA's recommended articles for more information,