What is the Full Form of DNA?
Deoxyribonucleic Acid is the full form of DNA. Every molecule is composed of two polynucleotide chains that fold around one other, forming a double helix. The genetic material present in the DNA is responsible for growth, development, and reproduction.
The two DNA strands are called polynucleotides, which comprise smaller monomeric units known as nucleotides. Each nucleotide consists of one of the four nucleobases containing nitrogen, a sugar called deoxyribose, and a phosphate group.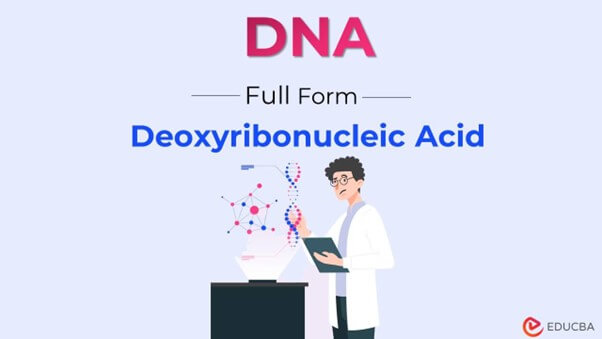 Discovery of DNA
Friedrich Miescher, a Swiss researcher who initially attempted to study the composition of lymphoid cells (white blood cells), discovered DNA in 1869. Although Miescher was the first to identify DNA as a distinct molecule, further research and comprehension of DNA's role in genetic inheritance did not begin until the early 1940s. Miescher first identified DNA as a molecule in 1869; humans got the first clue that it existed in our cells around 150 years ago.
During his research on white blood cells, Miescher encountered this by accident. Miescher took the sample of bandages from a medical clinic and disposed of the pus, which contained many white blood cells. Later he isolated the "nuclein," or DNA with associated proteins, from the nuclei of cells. Later, the German biochemist Albrecht Kossel gave DNA, or Deoxyribonucleic Acid, its name in 1885, more than 15 years after it was first discovered. However, it wasn't until another 70 years later that English chemist Rosalind Franklin discovered DNA's spiraled, double-helix structure.
In addition, molecular biologists James Watson and Francis Crick published a paper in 1953 that described the structure of DNA two years later. The groundbreaking publication by Watson and Crick was made possible by the contributions of numerous scientists, and we continue to learn about DNA today.
Structure of DNA
The structure of DNA is similar to a ladder. It is referred to as a double helix. DNA is a type of nucleic Acid that is made of nucleotides. The nucleotide in the DNA molecule is built of three elements: phosphate groups, sugar, and nitrogen bases.
There are four distinct kinds of nitrogen bases: adenine (A), guanine (G), thymine (T), and cytosine (C). The order of the nitrogenous bases determines the genetic code of the DNA.
The phosphate and sugar join the nucleotide to form the DNA. The sugar forms the backbone of DNA. The two strands run in opposite directions. The hydrogen bond that exists between the two complementary bases holds these strands together. Each strand forms a right-handed coil when twisted helically, and each turn contains ten nucleotides. Each helix has a pitch of 3.4 nm. Each chromosome contains a single DNA molecule as the DNA coils up to form them. There are approximately twenty-three pairs of chromosomes in the nucleus of human cells. DNA also plays a crucial role in the division of cells.
Forms of DNA
DNA comprises a long polynucleotide chain and exhibits structural diversity by changing its configuration in response to various factors like salt concentration, hydration level, etc. Below are the various forms of DNA:
#1 B-Form
It is the most common type of DNA. Watson and Crick identified the DNA by studying patterns of X-ray diffraction. This B-form of DNA is formed when there is low ionic strength and relative humidity of 92%. The B-form coils in a right-handed pattern, making up most of the cell's B-DNA.
#2 A-Form
It is the second most common type of DNA. It has DNA with a sense of right helices. The normal physiological conditions of 75 percent relative humidity and the presence of sodium, potassium, and calcium ions lead to forming of the A-DNA structure. The A-DNA is twisted with the right hand. It easily transforms into a D-form due to its metastability. The nucleotide bases are located closer to the major groove, away from the core.
#3 C-Form
C-DNA is scarce, and its configuration is stable at low ionic strength and relative humidity of 66%. C-DNA's helix is twisted right-handed and has a pitch of 30.97. It contains 9.33 base pairs per turn. Contrary to Z-DNA, C-DNA's two strands are anti-parallel to one another. The helix diameter of C-DNA is 19.0, and the base pair rotation is 38.6, with a base pair tilt of 7.8. The C-DNA is smaller in size and shape than the B-DNA and A-DNA.
#4 D-Form
D-DNA is very rarely found in cells. The right-handed twisted D-DNA helix is known as the poly (dA-dT) and poly (dG-dC) forms. The D-form has eight base pairs per turn, moving backward in the DNA helix. D-DNA's two strands are anti-parallel to one another. D-DNA exhibits a negative base pair tilt of -16.7 degrees and an axial rise of 3.03 per base pair.
Conclusion
DNA is crucial for the functioning of the body. With advancements in technology, much more will be known about DNA in the future. Hope this article has helped you understand the full form of DNA and the various facets related to it.
Recommended Articles
We hope that this EDUCBA information on "Full Form of DNA" was beneficial to you. You can view EDUCBA's recommended article.