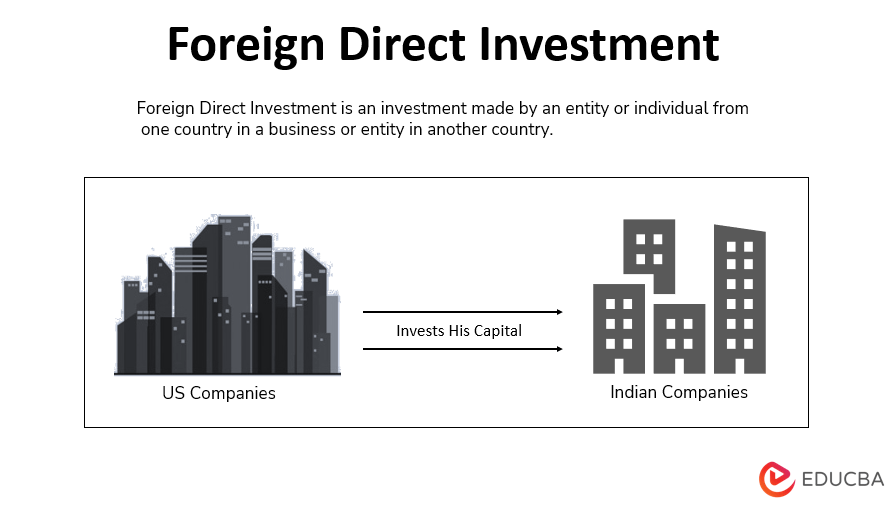 Overview of Foreign Direct Investment
Foreign Direct Investment is an investment made by an entity or individual from one country in a business or entity in another country. This is different from foreign portfolio investment, where investors hold securities of a foreign entity without exercising control in the organization's decision-making.
According to the International Monetary Fund, it is considered FDI when an investor holds 10% or more of a foreign company. Although a holding of 10% doesn't give an investor the controlling interest, it does provide the power to influence management decisions.
Some statistics:
According to OECD (Organisation for Economic Co-operation and Development) data, global FDI fell drastically by 27% in 2018, owing to the tax reform by the Trump-led US government. This tax reform required US companies to repatriate significant earnings from their overseas investments, thus resulting in a massive reduction in FDIs, because the USA has the highest FDI investors in the world.
Types of Foreign Direct Investment
There are two types of foreign direct investment. Let's understand these two briefly.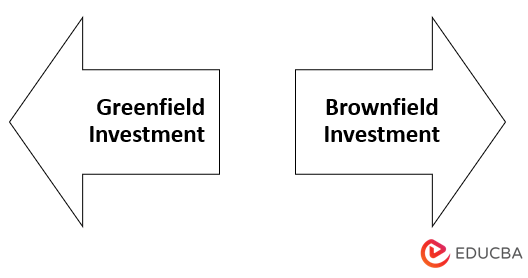 1. Greenfield Investment
When a company sets up a whole new unit from scratch in a foreign country, it is called Greenfield Investment. So, from the infrastructure, human resources, acquiring support services, vendors, etc. – everything that is required to run a business is built from the ground up.
2. Brownfield Investment
It would be easy to guess what a Brownfield investment is now that we have explained what a Greenfield investment is. And yes, you guessed it right! Brownfield Investment is when an investment company invests in an existing business/facility by acquiring a part or all the equity of a company or leasing out production facilities/infrastructure to carry out their production activities.
Advantages of Foreign Direct Investment
The advantages of FDI can be to either the investing company or the investee company. Of Course, an ideal situation would be if both the parties (and the countries involved) benefit from such arrangements.
Advantages to the Investing Company
1. Expanding and Exploring – It would help the investor company explore a new market and expand their market share beyond the boundaries of their own country. When a company has reached the maturity stage in its growth graph in its home country, it would be a significant boost to its profitability if it could enter a new market
2. Lower Costs – Production, Labor – Generally, in an FDI arrangement, the investor is based out of a developed nation (like the USA or the UK), and the investment is in a developing country. And in developing countries, the labor and material cost is considerably low. This is a significant reason for attracting investors to invest in developing countries.
3. Tax Incentives – Host countries usually give foreign companies tax incentives to attract foreign capital. This way, the investor will pay considerably less tax in the host country than in their home country, thereby increasing profitability.
Advantages to the Investee Company
1. Access to Global Technological Developments – The host country (i.e., the country where the investment is being made) gets access to new technology through FDI. Then gradually, their domestic competitors pick it up. This way, the consumers of the host country also benefit, as they can use new products/services.
2. Access to Advanced Business Practices and Expertise Developed Over the Years – An established company brings with it years of expertise that it has gathered over time from dealing with various challenges. Hence, the new company gains this experience without facing those challenges. This will give an edge to the investee company over its competitors.
Advantages to the Host Country
1. Generation of Employment – When more industries are set up in a developing economy, it helps generate large-scale employment, contributing to the host country's economic development. It may also provide the employees with a better quality of work, and more opportunities to go to foreign countries, experience different cultures, meet new people and build a diverse network. This will ensure they bring new perspectives and ideas back home that can be implemented and result in better productivity.
2. Contribution to GDP – The revenues generated by these companies contribute to the GDP of the host country. Further, as listed earlier, it helps in the generation of employment; this improves the purchasing power of the employees and thus boosts the economic activity in the country.
3. Higher Competition, Consumers Benefit – It is universally agreed that more competition benefits consumers. Why is that so? When multiple players are in the market, they try to lower the cost as much as possible to maintain a profit margin, as they cannot increase the market price. Further, they are constantly innovating to stay relevant and not lose their market share to competitors, giving consumers access to better quality products.
Similarly, when an established company from a developed country enters the market in a developing country, they usually possess better technology and business practices. Hence, domestic competitors will be forced to innovate and meet up to international standards. Thus, ultimately, the consumer benefits.
Disadvantages of Foreign Direct Investment
Below are some disadvantages of foreign direct investment as follows:
1. Uncertainty in Government Policies – Change in government policies is sometimes unpredictable and may adversely affect FDIs. Policy changes can either be in the home country of the investor, for example, the policy changes by the US government (as mentioned earlier). Or they can be in the host country; for example, experts have predicted that FDI inflow to the UK after Brexit will reduce.
2. Loss of Domestic Investment – As overseas investment gets more lucrative to investors, the domestic country loses out on domestic capital, adversely affecting its GDP, employment, etc.
3. The Exploitation of the Resources of Host Countries – This usually happens when the host country is a developing or underdeveloped economy. The investors exploit the human and other natural resources without considering the long-term adverse effect this may have on the host country, for example, underpaying labor, large-scale deforestation for setting up industries, releasing untreated wastewater into streams/rivers, etc. Although this will benefit the investor, such actions will have unfavorable effects on the host country in the long term.
4. Risk of the Unknown – Even if the investor possesses rich experience in the company's industry, this experience might fall flat on its face in a foreign (host) country owing to differences in the culture and preferences of the consumers there. Hence, detailed and comprehensive market research of the target demographic is imperative before deciding on foreign investment.
Conclusion
With the growing emphasis on the concept of a global village, where the different corners of the world can be connected with the internet, such arrangements of FDI are only expected to grow in numbers and volume. FDIs can take the form of mergers, acquisitions, Joint ventures, etc. The common challenge may be encountered in the voluminous paperwork (license and permits) required to be adhered to. In the future, it is expected that governments will relax such requirements and bring transparency in procedures to facilitate the free flow of capital, resources, and people without the barriers of boundaries.
Recommended Articles
This has been a guide to Foreign Direct Investment. Here we discuss the overview and types of FDI along with the advantages and disadvantages of foreign direct investment. You can also go through our other suggested articles to learn more –