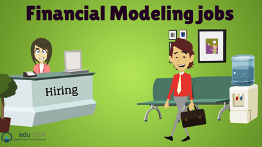 Introduction to Financial Modeling
Financial Modeling is an integral part of the business decision-making process. The Financial model allows companies to explore the impact of different scenarios like operational or financial scenarios for the business i.e. in Merger and acquisition, Project finance, DCF Modeling and so on. Financial Modeling is widely used by Investment Banks, Credit Rating Agencies, Equity Research, Mutual Funds, Financial KPIs and Project Finance companies.
Most of our students ask the following question?
"What are the Financial Modeling jobs? and how to get financial modeling analyst job position in an Investment Bank?"
Also, many of us looking for jobs in investment banking because of a high learning curve in investment banks, high salary/bonuses, lifestyle/culture at investment banks or for some other reasons.
Financial Modeling skills are the Key
Financial Modeling skills will be helpful for you to get entry into an investment bank. For an entry-level job in financial modeling for investment banking, equity research firms, credit research firms, brokerage houses or analytic firms; you will need to know about financial Modeling.
Investment bankers heavily ask questions on financial modeling. Having skills like financial modeling as a fresher candidate will determine a learning attitude and helps to differentiate you from others. If you look at any job advertisements for financial modeling, Investment Banking, Corporate Finance or Equity Research roles, you will find that this kind of jobs required financial modeling skills.
For example, if we searched "financial modeling" as a keyword in an Indian job portal, and the results were as per below – 22,354 financial modeling jobs!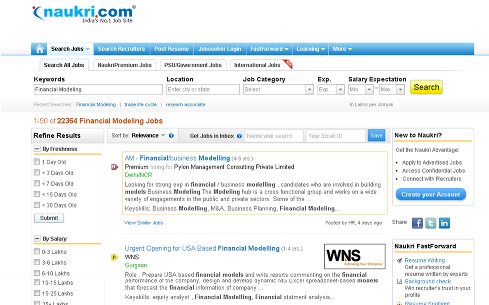 source – naukri.com
Now there are several important questions asked by graduate or an MBA student like
"After doing Financial Modeling what are the financial modeling job opportunities ahead?"
"What kind of jobs are available in the market after completion of financial  modeling?"
"Can you provide me a list of companies which hires candidates having financial modeling skill?"
Here are the answers:
After complementing financial modeling or having financial modeling skill you can approach to the following companies. Financial modeling is the heart and soul of Financial research and hence, anyone who knows this skill-set is apt for firms like
Investment Banks
Equity Reseach Companies
Project Finance Companies
Analytic companies
Credit Rating Companies
Most investment banks hire new candidates/entry level for analyst positions. In case of equity research, an analyst is responsible for researching and gathering data about markets performing an industry analysis, building a financial model and then provide recommendations based on the model to managers and his associates.
Below is the list of firms offering Financial Modeling jobs –
Financial Modeling for investment banking
Goldman Sachs
J.P. Morgan
Bank of America Merrill Lynch
Evercore Partners
Citibank
Morgan Stanley
Credit Suisse
Deutsche Bank
HSBC
Barclays Capital
BNP Paribas
Nomura
RBC
Financial Modeling jobs – List of Credit Rating Agencies Global
Moody's
Standard & Poor's
Fitch
Egan-Jones
DBRS
A.M Best
Japan Credit Rating Agency Limited
Rating and Investment Information Inc
LACE Financial
Realpoint LLC
Financial Modeling jobs – List of Credit Rating Agencies – India
Crisil Limited
Credit Information Bureau India Limited
Fitch Ratings India Private Ltd.
Equifax
Credit Analysis & Research Ltd
ICRA Limited
ONICRA
High Mark Credit Information Services
SME Rating Agency of India Ltd
Brickwork Ratings India Private Ltd
Financial Modeling jobs – List of Analytics companies
Wipro Analytics
Accenture Analytics
TCS Analytics
HCL Analytics
Mckinnsey Knowledge Center
IBM Analytics
Mu Sigma Analytics
Cognizant Analytics
Latent View
AbsolutData
Financial Modeling jobs – List of Job Portals
Naukri
Times Jobs
Monster India
Placement India
CareerBuilder
Shine
Jobs DB India
Career Age
Alltimejobs.com
Example of Financial Modeling Job Description (contains financial modeling skill)
0-3 years experience in Financial Modelling & Analytics
Conducting competitor analysis & Valuation Matrices
Relationship-building skills in the investment community
Monitoring analyst reports and summarizing them for senior management
Organizing conferences, road shows, earnings calls with shareholder representatives, and investor meetings
Excellent presentation & communication skills
A desire to learn in-depth about a sector and trends in that sector
Education Background
Do you want a 1 minute info-graphics summary of this Financial Modeling Jobs Article? – Financial Modeling Jobs Infographics
Recommended Articles
Here are some articles that will help you to get more detail about the Financial Modeling Job so just go through the link.