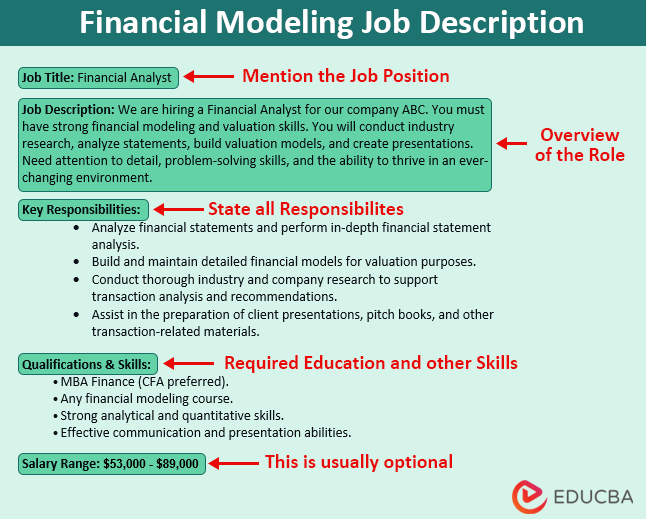 What Does a Financial Modeling Jobs Description Include?
The financial modeling job description presents a firm's specific requirements for the role, including skills, qualifications, and experience. It also mentions the responsibilities the hired candidate will have to carry out. Optionally, firms also state the salary range the candidate can expect while posting financial modeling jobs.
If you have an opening for a Financial Analyst but have difficulty finding the appropriate skills, roles & responsibilities, and qualifications, this article is for you. On the other hand, if you are a candidate interested in understanding what firms look for in an Analyst, this article can benefit you.
Table of Contents
Sample Job Description – Free Template
Companies usually post financial modeling jobs descriptions & openings in the following manner:
Job Title: Senior Financial Analyst
Job Description:
We are hiring a motivated Senior Financial Analyst for our Sell Side Research team. You should have a strong financial modeling, valuation, and quantitative analysis background. You will work with senior Associates on complex financial models for M&A, capital raising, and advisory. Conduct industry research, analyze statements, build valuation models, and create presentations. Need attention to detail, problem-solving skills, and the ability to thrive in a fast-paced environment.
Key Responsibilities:
Build and maintain detailed financial models for valuation purposes, including discounted cash flow (DCF), comparable company analysis (comps), precedent transactions analysis, and merger consequences.
Analyze financial statements and perform in-depth financial statement analysis.
Collaborate with cross-functional teams to gather necessary data and assumptions for model inputs.
Conduct thorough industry and company research to support transaction analysis and recommendations.
Assist in preparing client presentations, pitch books, and other transaction-related materials.
Stay updated on industry trends, market developments, and regulatory changes that could impact valuation and financial modeling practices.
Participate in client meetings and discussions, providing analytical insights and recommendations as needed.
Qualifications & Skills:
Bachelor in Finance, Economics, or related field (CFA or MBA preferred).
Any financial modeling course.
Proficiency in financial modeling and Excel.
Familiarity with valuation methods (DCF, comps, precedent transactions).
Strong analytical and quantitative skills.
Effective communication and presentation abilities.
Financial Modeling Jobs – Roles and Responsibilities
Roles
Data Analysis: Collect, clean, and analyze financial data to support modeling efforts.
Forecasting: Create financial forecasts and projections based on market trends, historical data, and business strategies.
Valuation: Determine company or asset valuations using appropriate valuation methods.
Financial Model Creation: Develop comprehensive financial models to analyze various scenarios and projections.
Scenario Testing: Perform sensitivity and scenario analysis to assess potential outcomes under different conditions.
Risk Assessment: Identify and assess financial risks, integrating them into the models for informed decision-making.
Reporting: Prepare clear, insightful reports and presentations to communicate findings and recommendations.
Responsibilities
Model Accuracy: Ensure financial models are accurate, error-free, and reflect the business's operational complexities.
Collaboration: Work closely with cross-functional teams, providing financial insights to guide strategic decisions.
Documentation: Maintain comprehensive documentation of assumptions, methodologies, and formulas used in models.
Quality Assurance: Perform rigorous testing to validate model outputs and verify formula integrity.
Adaptability: Modify models to accommodate changing business circumstances, regulatory changes, or new data.
Communication: Present findings and recommendations clearly and concisely to financial and non-financial stakeholders.
Problem-Solving: Address complex financial challenges by creating innovative solutions within the modeling framework.
Decision Support: Assist management in making informed choices by providing accurate financial insights.
Financial Modeling Jobs – Required Skills
To excel in financial modeling jobs, you will need a combination of technical skills, analytical abilities, and industry knowledge. Here are some of the key skills required:
Technical Skills
Forecasting and Budgeting: Forecasting involves using historical data and industry trends to predict future financial performance. Budgeting is creating a financial plan for an organization, detailing expected revenues, expenses, and allocations. These skills are crucial for planning and decision-making.
Excel Proficiency: Strong Excel skills are essential for financial modeling. You should be comfortable using advanced functions, creating complex formulas, building spreadsheets, and utilizing shortcuts.
Valuation Techniques: Knowledge of various valuation methods, such as Discounted Cash Flow (DCF), Comparable Company Analysis (CCA), and Precedent Transaction Analysis (PTA), is important for assessing the value of companies and assets.
Scenario Analysis and Sensitivity Testing: Financial models should not only predict a single outcome but also account for various possible scenarios and their potential impact on outcomes. On the other hand, knowing sensitivity testing to assess how changes in key variables affect the model's outputs helps to evaluate risk and uncertainty.
Analytical Skills
Accounting Knowledge: A solid understanding of accounting principles and financial statements (income statement, balance sheet, cash flow statement) is crucial for accurate modeling.
Understanding of Corporate Finance: Corporate finance concepts are the foundation of financial modeling. Understanding concepts like the time value of money, cost of capital, capital budgeting, and working capital management explains how businesses allocate resources.
Data Analysis and Visualization: You should be able to analyze financial data to derive insights, identify trends, and make informed decisions based on the results of your models. You must also be familiar with using ratios, metrics, and other tools to assess a company's financial health, performance, and efficiency.
Communication and Soft Skills
Project Management: Organizing and managing financial modeling projects efficiently helps meet deadlines and deliver high-quality results.
Problem-Solving Skills: Financial modeling tackles tough business problems with smart solutions. It's about optimizing finances or evaluating investments by breaking down issues and finding effective answers.
Attention to Detail: Precision is vital in financial modeling to ensure accurate results and avoid errors that could have significant consequences.
Communication Skills: Clear and concise communication is crucial for conveying complex financial insights to technical and non-technical stakeholders.
Educational Background and Experience
The financial modeling jobs description can include the following qualification requirements.
Educational Background
Bachelor's Degree: Most financial modeling positions require at least a bachelor's degree in a relevant field, such as finance, accounting, economics, mathematics, or business administration.
Advanced Degree (Optional): While not always necessary, a master's degree in finance, business administration (MBA), CFA, or a related field can provide a competitive edge, especially for more senior or specialized roles.
Practical Experience
Internships: Seek internships or entry-level positions in finance or related fields to gain hands-on experience. It will help you understand real-world applications of financial concepts and start building your professional network.
Personal Projects: Create your own financial models for practice. You can use publicly available financial data to develop models and showcase your skills to potential employers.
Financial Modeling Salary
The below table lists the salary range for different roles involving financial modeling.
| | |
| --- | --- |
| Role | Salary Range |
| Financial Analyst | $53k – $89k |
| Senior Financial Analyst | $72k – $111k |
| Finance Manager | $86k – $139k |
| Senior Finance Manager | $103k – $158k |
| Finance Director | $93k – $180k |
| Chief Financial Officer (CFO) | $102k – $248k |
| Vice President (VP), Finance | $99k – $198k |
(Source: Payscale)
Types of Companies with Financial Modeling Openings
| | |
| --- | --- |
| Type | Examples |
| Investment Banks | Goldman Sachs, JPMorgan Chase, Morgan Stanley |
| Private Equity Firms | Blackstone, The Carlyle Group, KKR & Co. |
| Venture Capital Firms | Sequoia Capital, Andreessen Horowitz, Accel Partners |
| Commercial Banks | Bank of America, HSBC, Citibank |
| Asset Management Companies | Fidelity Investments, Vanguard, BlackRock |
| Hedge Funds | Bridgewater Associates, Renaissance Technologies |
| Consulting Firms | McKinsey & Company, Deloitte, Boston Consulting Group, PwC, Ernst & Young |
| Technology Firms | Google (Alphabet), Microsoft, Apple |
| E-commerce Firms | Amazon, Alibaba, eBay |
| Pharma & Healthcare Firms | Johnson & Johnson, UnitedHealth Group |
Strategies to Optimize Your Job Profile
Use these methods to improve your profile visibility and effectively search for job roles on job search platforms:
Detailed and Optimized Profile: Fill out your profile with accurate information and a professional photo.
Keyword Optimization: Use relevant keywords in your profile and resume (financial modeling, business valuation, equity research, etc.)
Follow Companies & Network Broadly: Stay updated on preferred employers and connect with colleagues, peers, and influencers.
Publish Content: Share articles and insights to showcase expertise.
Stay Active & Engage with Content: Log in regularly to show engagement. Moreover, like, comment, and share to stay visible.
Job Alerts: Set up job alerts to receive relevant openings.
Apply Promptly: Apply to jobs as soon as possible after posting.
Upload Resume: Make your resume searchable for recruiters.
Customize Applications: Tailor your resume and cover letter for each job.
Stay Updated: Regularly update your status and experiences.
Frequently Asked Questions (FAQs)
Q1. Is financial modeling in demand?
Answer: Yes, financial modeling is in high demand as it enables businesses to make informed decisions based on quantitative analysis. Financial modeling has been a crucial aspect of the finance industry for quite some time, and there is a growing demand for professionals skilled in this area. This demand is especially strong in finance, consulting, investment banking, and corporate finance roles.
Q2. Who can learn Financial Modeling?
Answer: Anyone can learn financial modeling, from finance professionals and analysts to students and individuals seeking to work in valuation, investment analysis, and strategic planning roles. However, you must have a basic understanding of finance and accounting concepts. It can be beneficial if you have a strong grasp of Excel and quantitative skills.
Q3. How do I start a career in Financial Modeling?
Answer: To start a career in financial modeling, consider these steps:
Build a strong foundation in finance, accounting, and Excel skills.
Consider pursuing relevant certifications like Chartered Financial Analyst (CFA).
Learn the best financial modeling techniques and practice by creating your own models.
Make connections with professionals in the field.
Stay updated on industry trends and continue improving your skills to excel in your financial modeling career.
Recommended Articles
We hope this article on financial modeling jobs description solves all your queries and provides you with all the information. You can also use the free job description template. For more information, you can visit the following articles,