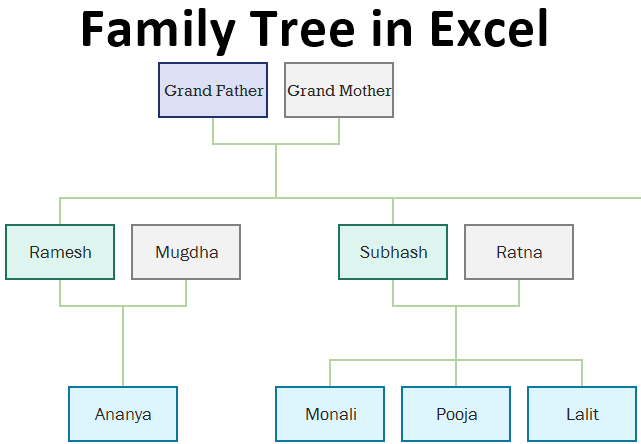 Family Tree in Excel (Table of Contents)
Introduction to Family Tree in Excel
Making Family trees is great fun during our school days, and it seems to be a popular project too. It would be a great idea to present the entire family tree to your relatives and surprise them with the work you did by digging up the roots of your entire family hierarchy. However, though you might be able to dig out the roots, it is equally important to present them in a visually appealing manner. If I tell you, Microsoft Excel has all you needed to present your family tree to relatives in a visually pleasing manner. Don't get surprised; it is possible. Thanks to the rich variety of subjects excel can touch. In this article, we will see how a Family Tree can be generated in Excel from scratch and using the inbuilt template provided under Excel.
Examples of Family Tree in Excel
Let us now begin exploring different ways in which we can sum multiple rows in excel with the help of the following examples.
Example #1 – Creating a Family Tree in Excel from Scratch
Let's create a simple family tree in excel from scratch. To do that, follow the steps given below:
Step 1: Open a new blank excel sheet and click on the Insert tab.

Step 2: As soon as you click on the Insert tab present at the topmost ribbon in excel, you will see a range of operations added under it. Click on the Illustrations option inside. This option will allow you to insert Pictures, Shapes, Icons, etc., under your excel file. Click on Shapes, and you'll be able to see the range of different shapes available to add under the excel sheet.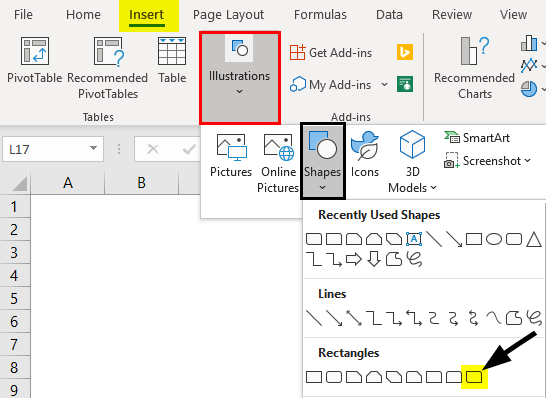 Step 3: Navigate through the available shapes and select any of them that you feel will be good while representing the family tree. I will go on with Rectangle: Diagonal Corners Rounded. Once you select the shape, draw it under your excel sheet, as shown below.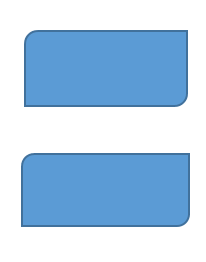 Step 4: Once done, add the shapes with text as Grand Father and Grand Mother, respectively. These are the roots of our Family Tree. See the screenshot below.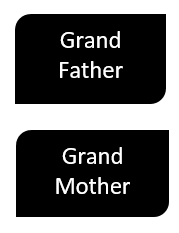 Note: You can change the format of shapes as per your requirement.
Step 5: Go to Illustrations and select a connector line that connects these two roots together.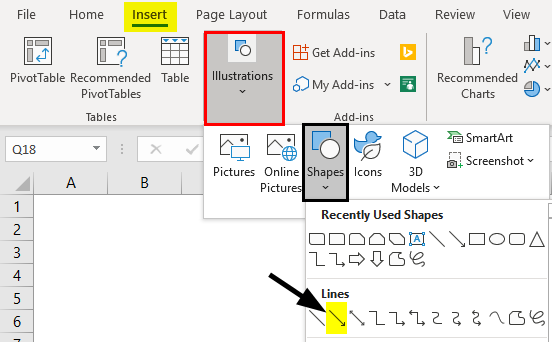 Step 6: Connect the two shapes with this connector line. You will see it like in the screenshot below.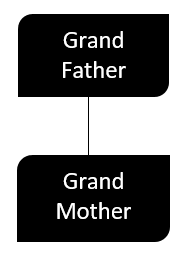 Step 7: Based on the number of children your grandfather and grandmother have, you can add the shapes next to both of them. The method for adding the shapes will be the same as in the previous steps. I will add three of the shapes, as my grandparents have three kids, namely Ramesh, Subhash, and Usha. See the screenshot below for better visualization.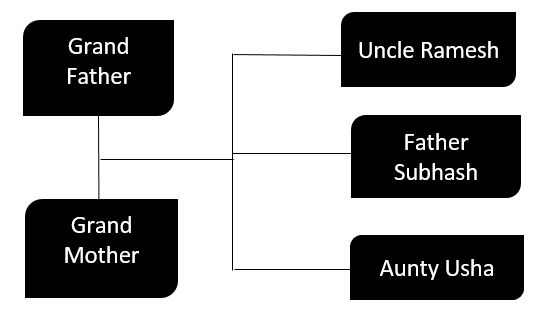 Step 8: Now, all three kids of my grandparents are married. Therefore, let's add the names of their wives and husband. Eventually, we are going to add new shapes, which are associated with Uncle Ramesh (his wife), Father Subhash (his wife), and Aunty Usha (her husband). See the below screenshot for your reference.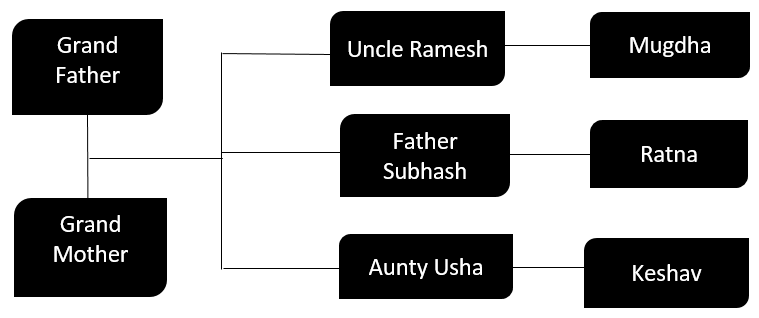 Apparently, Mugdha is the wife of Ramesh, Ratna is the wife of Subhash and Keshav is the husband of Usha.
Step 9: Now, add the kids, each one of Ramesh & Mugdha, Subhash & Ratna, and Usha and Keshav. Some more branches are coming.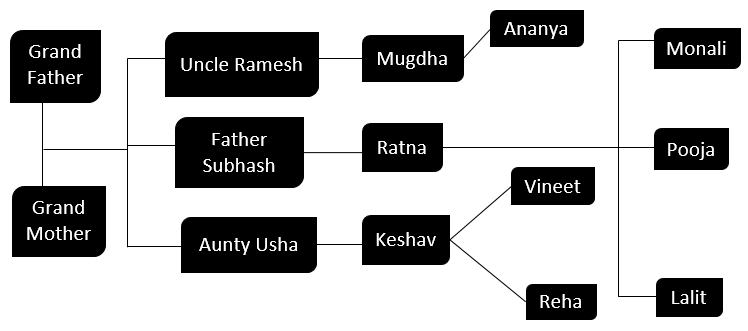 If you can see the structure now, the tree is as follows:
Uncle Ramesh and aunty Mugdha has one daughter Ananya.
My father, Subhash, and mother, Ratna, have two daughters, namely Monali & Pooja, and a son named Lalit.
Aunty Usha and her uncle Keshav have two kids, Vineet and Reha.
In this way, my family tree is completed. We have used basic shapes and some lines to connect all the branches with the roots (Grand-Father & Grand-Mother). This is how we can generate the family tree in excel through scrap.
Example #2 – Creating Family Tree Using Online Excel Template
As of now, we have seen how to create the family tree through a scrap with the help of some built-in shapes in Excel. However, there are ready templates as well to do so under Excel, using which you can generate and customize the family tree in a few minutes. Let's see how we can do that.
Step 1: Go to the File menu (present at the leftmost corner) from your Excel ribbon and click on New.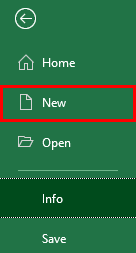 Step 2: As soon as you click on New, you'll see a range of excel templates for different purposes. If the one you are looking for is not visible, you can always use a search box. Type Family Tree under the search box and hit Enter button/click on the Find option. You'll see a bunch of templates customized for this purpose.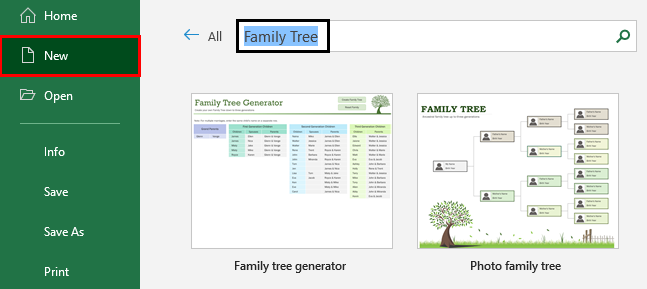 Step 3: Select the first template and download it so that you can use this template to create a family tree of your own in a jiffy. If you already have downloaded this template, you probably will see an option as Create when you select the template. Click on that option.

Step 4: Once you click the Create button, the template will be loaded under Excel, and you can use it now to make a family tree of your own.

Step 5: Fill in the details as per your requirements in the block of Grand Parents, First Generation Children, Second Generation Children, etc. See the below screenshot under which I have filled in the details for my family.

Step 6: Once you are done filling in the family member names, there is a button called Create Family Tree. Click on that button and Bingo!

Click on this button to create a Family Tree with provided Information; you will be able to see a family tree diagram as shown in the screenshot below.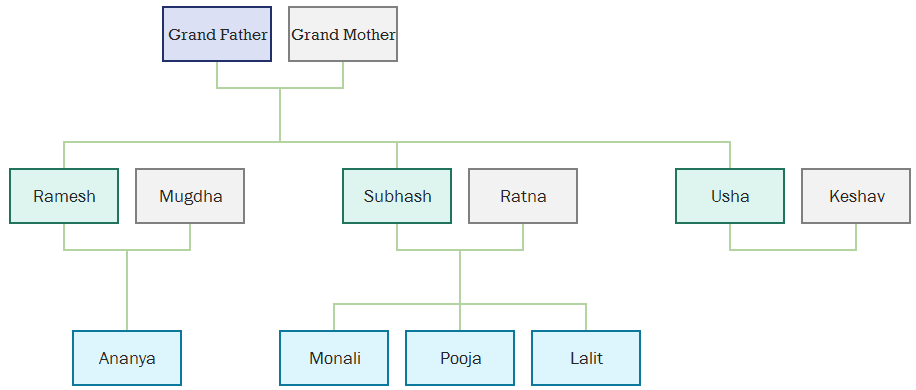 This is how we can create a family tree with an automated built-in template present under Excel. This is it from this article. Let's wrap things up with some points to be remembered:
Things to Remember About Family Tree In Excel
While creating a family tree using a built-in excel template, make sure you are connected to the internet so that you can download the template from the library. If you are offline, you will not be able to use the template's built-in.
While creating a family tree without any built-in template, you can copy and paste the leaves as well as branches to save your precious time.
Recommended Articles
This is a guide to Family Tree in Excel. Here we discuss How to Create a Family Tree in Excel, practical examples, and a downloadable excel template. You can also go through our other suggested articles-