Updated April 7, 2023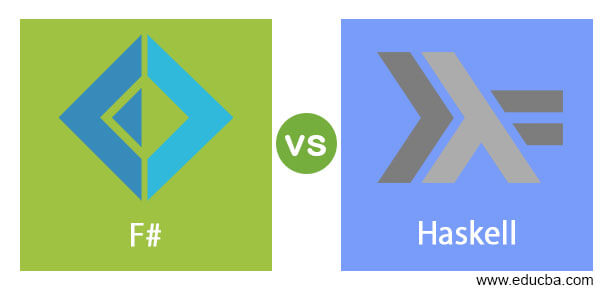 Difference between F# vs Haskell
F# vs Haskell is a comparison between F# and Haskell. F# is a multi-paradigm language, imperative by nature and is object oriented. Haskell is a pure functional language. All the functional languages are not defined in terms of operations on the global state. They provide a high degree of F#, makes it easy to code in the functional style, lets the user copy objects instead of changing their form. Haskell is a lazy functional language which gives no side effects; it has tuples, pattern matching and algebraic data. Functional languages provide a high degree of expressiveness and abstractions, which enables parallel programming. Likewise, we shall look into the key differences and list out similarities and differences of F# vs Haskell.
Head to Head Comparison Between F# vs Haskell (Infographics)
Below are the top differences between F# vs Haskell

Key Differences F# vs Haskell
Haskell is pure Functional, whereas F# is both imperative and object oriented.
Even though h Haskell is one of the amazing Programming languages, F# has a major benefit e. it acts on top of CLR.
Haskell has its own runtime environment, whereas F# uses .NET
Haskell has type classes which let the user do similar to Object-Oriented programming, whereas F# is automatically implemented in Object-Oriented Programming
Haskell is lazy, whereas F# is not. This laziness enables some tricks which looks actually slow but executes fast.
Syntactically, Haskell's syntax looks much better comparatively
F# has excellent integration with Visual Studio, whereas Haskell too has integration with an older version of Visual Studio
Comparison Table: F# vs Haskell
F#
Haskell
F# is a multi-paradigm language, i.e. an impure language
Haskell is a pure functional language
F# being an imperative and object oriented language
Haskell is lazy by default, quite different in terms of features.
Both languages have their own unique features, such as Code Quotations and Type Providers.
Both languages have their own unique features in their own functional space.
F# is a tightly bound language to .NET or Mono Platforms. User can use libraries and API's on .NET code, i.e. C#
Haskell mostly relies on Native code.
F# is much easier to learn and apply to programming if the user moves from imperative languages.
Haskell is not that easy compared to F#
F# is ranked 28th in the Slant Community
Haskell is ranked 24th in the Slant Community
F# is a functional language from Microsoft and based on ML Programs
Haskell encourages a less functional style; users work in a localized state.
Developers choose F# because of the Pattern matching style.
Developers choose Haskell because of Purely functional programming
F# tends to be readable and easier to understand
As Haskell does not mix with other programming languages, which forces to learn functional programming in pure form
F# can easily transit from other paradigms; users can easily pick up as F# has experience with other paradigms.
Haskell implementations are completely open-source and free of cost.
F# runs on common language runtime, has access to all .NET libraries and .NET languages such as C#, VB.NET and CLI.
Haskell's code is transparent. If the user wants to read a function, reading only the arguments is enough.
F# allows users to share code among server and the client
Haskell has very few language constructs. It relies basically on function application with a special case syntax
As F# has C# background, there are some restrictions like code has to be in dependency order
Haskell lets the user write expressions on white board or on a paper and discuss easily with others, which is a benefit in learning functional programming over other languages
F# being a functional language used to build for Android, Windows and iOS.
Haskell's transparency and a huge amount of abstraction encourage for high-level problem-solving.
Companies such as Walmart, Olo, Jet.com, goPuff, Trainline, Improbable, etc., use F# Programming.
Companies such as thoughbot, Juspay, Target, CentralApp, Broadcom, Diffbot, etc., use Haskell Programming.
Tools such as .NET, .NET Core, .NET for Apache Spark, Mono Develop, Continuous, etc. can be integrated with F#
Tools such as Rollbar, Buddy, Google Code Prettify, Swagger Codegen, Yesod, Message pack, etc., can be integrated with Haskell.
F# has good concurrency through asynchronous workflows, message passing and also parallelism through Task Parallel Library.
Haskell programming is large such that it allows sub-expressions to be executed in parallel for which the computation is desirable.
Task Parallel Library provides API's to simplify the process of adding parallelism. This TPL handles many low-level usages, such as partitioning of work, scheduling threads and scaling degree of concurrency to exploit all the available processors in an efficient way.
Glassgow Parallel Haskell is conservative and a parallel extension of Haskell, which is supported by the GHC compiler.

The compiler extends standard Haskell by providing basic primitives, one for specifying and the other for controlling parallelism.

F# parallelism support:

Skeleton: pMap

Semi-Exp: PLINQ( For async workflows)

Explicit: tasks

Haskell Parallelism support:

Skeleton: pMap

Strategies: parList

Semi-Exp: par, pseq

Explicit: IO Threads
Conclusion
With this, we conclude our topic 'F# vs Haskell'. We have seen F# vs Haskell's means and have seen their similarities and differences in a comparison table above. Some of the key differences or features are also listed to get an overview of F# and Haskell. In the Developer's opinion, Haskell is much more advantageous and disadvantageous both, but the most commonly used programming among both is Haskell. There are less disadvantages to F# comparatively. Thanks! Happy Learning!!
Recommended Articles
This is a guide to F# vs Haskell. Here we discuss the F# vs Haskell key differences with infographics and comparison table. You may also have a look at the following articles to learn more –