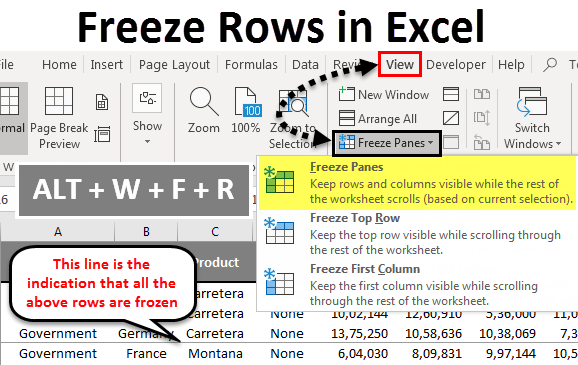 Excel Freeze Rows (Table of Contents)
Freeze Rows in Excel
In Excel, we have a function of freezing the rows as well. With the help of Freeze Row, we can fix the pane or row we select to go beyond the certain limit worksheet. Freeze Row can be accessed from the View menu tab's Window section from the drop-down list of Freeze Panes. First, to freeze the column, select the column which we want to freeze or put the cursor anywhere in that column and then select the Freeze Column option from the list. We will be able to see the selected column is now frozen.
The freeze option is located under the View tab in excel.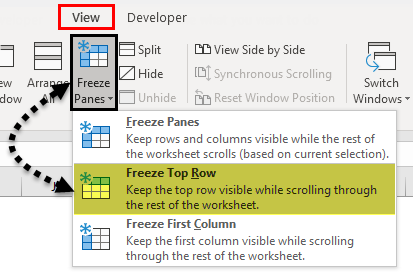 Here we have 3 options. Freeze Panes, Freeze Top Row, and Freeze Top Column. I will show you examples of Freeze Rows in this article.
How to Freeze Rows in Excel?
We use Freeze Panes in Excel when we want to keep an area or heading of a worksheet visible all the time while scrolling to another part of a worksheet. This is very useful and convenient when we are working on a large table. So we select Freeze Panes from the View tab as well as keyboard shortcuts to lock that particular area.
Let's understand how to Freeze Panes in Excel with some examples.
Freeze or Lock Top Row – Example #1
Usually, our header is located in each column, i.e., horizontally. In these cases, when we are scrolling down, we need to lock or freeze our first or top row, which enables us to see the first or top row at any given point in time.
Now take a look at the below image of sales data which is located in the sheet.
It is very difficult to see all the headers when we are scrolling down. So, in excel, we have an option called Freeze Top Row, which holds on to the top row when scrolling down and helps us see the heading all the time.
Let's look at the below steps to understand the method.
Step 1: Select the worksheet where you want to freeze your top row.
Step 2: Go to VIEW tab > Freeze Panes > Freeze Top Row.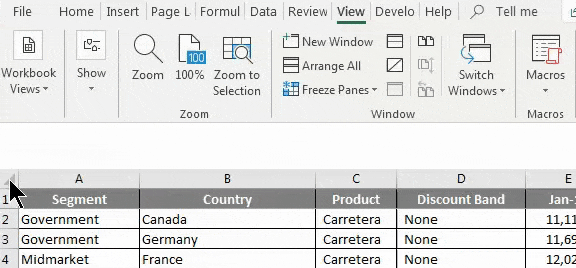 We have a shortcut key as well. Press ALT + W + F + R.

Step 3: Ok, done. It is as easy as you eat pizza. You have frozen your top row to see the top row when you are scrolling down.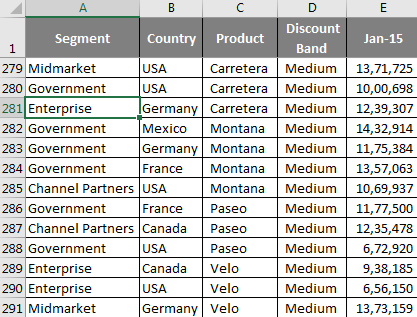 Even though I am in the 281st row, still I can see my headers.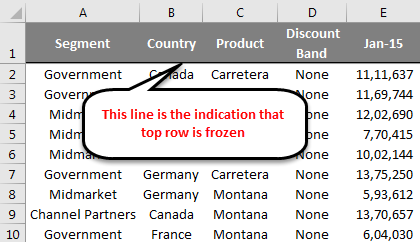 Freeze or Lock Multiple Rows – Example #2
We have seen how to freeze the top row in the Excel worksheet. I am sure you had found it like a walk-in-the-park process; you did not even have to do anything special to freeze your top row. But we can freeze multiple rows as well. So here you need to apply simple logic to freeze multiple rows in Excel.
Step 1: You need to identify how many rows you need to freeze in the Excel worksheet. For an example, take the same data from the above example.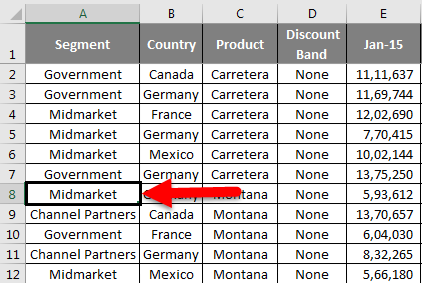 Now I want to see the data of the product Carretera, i.e., from C2 cell to C7 cell all the time. Remember that I don't just want to see the row, but I want to see the product and compare it with others as well.
Place a cursor on the A8 cell. This means I want to see all the rows which are there above the 8th row.
Step 2: Remember we are not only freezing the top row, but we are freezing multiple rows at a time. Do not press ALT + W + F + R in a hurry; hold on for a moment.
After selecting the cell A8 under freeze panes, again select the option Freeze Panes under that.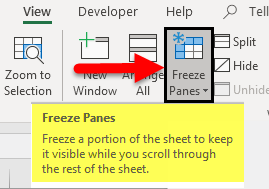 Now we can see a tiny grey straight line just below the 7th row. This means the above rows are locked or frozen.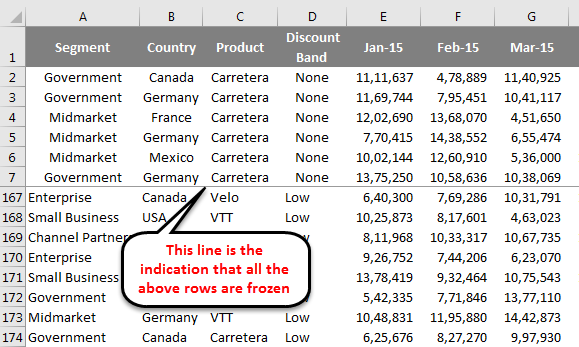 You can keep seeing all the 7 rows while scrolling down.
Things to Remember
We can freeze the middle row of the excel worksheet as your top row.
Make sure the filter is removed while freezing multiple rows at a time.
If you place a cursor in the unknown cell and freeze multiple rows, then you may go wrong in freezing. Make sure you have selected the right cell to freeze.
Recommended Articles
This has been a guide to Freeze Rows in Excel. Here we discussed How to Freeze Rows in Excel and different methods and shortcuts to Freeze Rows in Excel, along with practical examples and a downloadable excel template. You can also go through our other suggested articles to learn more –