Updated April 3, 2023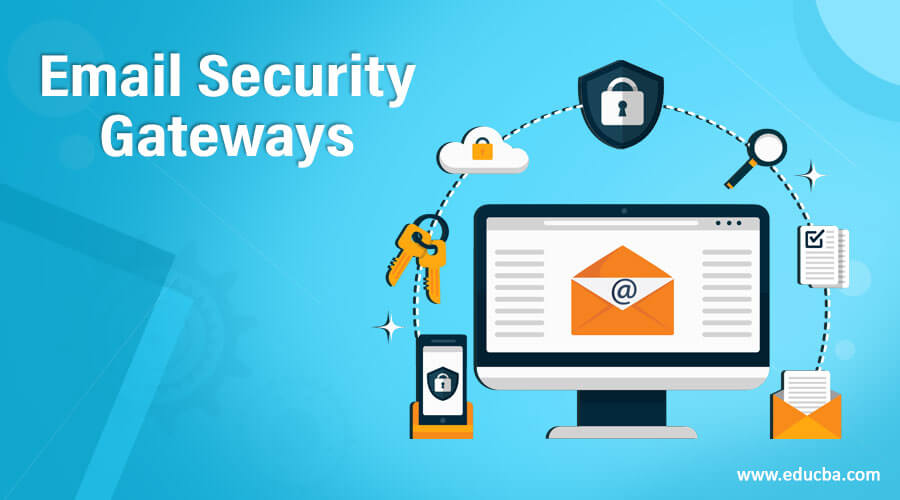 Introduction to Email Security Gateways
Email is one of the best methods to communicate for many organizations. However, it is also one of the simplest methods used by hackers to infiltrate networks, damage the target's reputation, or corrupt or steal companies' data.  Now a day's email attacks are more targeted, as well as more dangerous. Nearly all sectors are facing various email attacks such as malicious attachments, phishing attacks, and ransomware attacks. In this topic, we are going to learn about Email Security Gateways.
Hence, A secure email gateway is needed for an hour to protect companies from emails that contain malicious content by restricting them from reaching the targeted recipient. A secure email gateway decreases the attacks of stealing email hosts, user credentials, and sensitive data by blocking the sender or segregate malicious emails into the spam section.
How Does a Secure Email Gateway Work?
A secure email gateway provides a robust framework that protects from email threats. It is like a firewall for email which scans outbound as well as inbound email for malicious content. It also provides a set of rules for which email may leave or enter an email network.
Secure Email Gateways can be implemented on multiple cloud-based architectures. Various products are comprised in this category, such as public cloud, virtual appliances, hybrid-based architectures, etc. These cloud-based products filter email traffic via the cloud platform. Because of cloud-based architecture, it is easy to deploy and manage email security as it does not require hardware installation and maintenance.
Key Features
Secure gateways offer various security features like spam filtering, virus and malware blocking, email archiving, and content filtering, etc.
Spam Filtering: Spam filtering is the main feature of a Secure Email Gateway. All Secure Email Gateways use a filtering method that quarantines or blocks emails from known spam email domains. They use algorithms to detect defined or commonly known patterns of spam emails from malicious keywords and links. There are various filters like list-based, word-based, heuristic filters, Bayesian filters, etc. Secure Email Gateways also provide controls for end-users to report and block spam emails. Hence new spam emails can be blocked from entering inboxes.
Virus and Malware Protection:  Secure Email Gateways block malware and viruses from infecting companies' networks. In this, SEG filters emails using anti-virus technologies that identify and block emails with malicious attachments and URLs. So, it secures these malicious emails from reaching their targeted recipients and delivering the payload.
Phishing Protection:  Secure Email gateways Use anti-fraud technologies to detect and prevent sender spoofing. They also use domain name validation for identifying and blocking phishing attacks. Secure Email Gateways also uses encryption for outbound emails and decryption for inbound emails; hence mails can be scanned for malicious contents as well as viruses.
Admin Controls and Reporting:  Secure Email gateways, set pre-defined rules and policies and give admins control about detection and email quarantining emails. They provide a centralized admin dashboard by which admins can manage email security over the email network. In addition, it provides Automated and configurable reports so admins can get a more detailed view of email security management.
Content Filtering: Content filtering is applied to outgoing emails. For example, if the company is using an email gateway, then all the outgoing emails will be scanned to prevent sensitive data or documents from being sent to an external recipient. So, it protects companies from data loss. It also blocks specific keywords or image files from being sent via the internal email system.
Email Archiving: cloud or on-premise Email services must be managed efficiently. Storing emails is one of the problems while managing emails. Email gateway provides email archiving for the management of user mailboxes as well as increases the efficiency of systems.
Why is Secure Email Gateways Important?
Secure email gateways provide great protection against malicious emails and attachments. With the help of robust email security solutions, organizations can reduce the number of cybersecurity attacks and secure their data. Secure Email Gateways Use a unique combination of machine learning, predictive analytics, and sandboxing to protect companies from phishing, SQL injections, trojan horse, or ransomware threats.
Secure Email Gateways provide predelivery email security by blocking email-based threats before they reach an on-premise, on Office 365, or G-Suite mail server.  Email Gateways also provides security from social engineering attacks by checking the domain of incoming emails and scanning for suspicious content in the email. If necessary, Organizations can also allow admins to access spam emails to prevent any future risks.
Recommended Articles
This is a guide to Email Security Gateways. Here we discuss what is Secure Email Gateway along with its working and features. You may also have a look at the following articles to learn more –