About Drilling Machine
Drilling Machine is a utility tool that helps to make cylindrical holes in metal or wood or any other material. These are the most basic, moderately priced, and accurate machine tools found in practically all manufacturing operations and tool rooms. It is a type of equipment that uses a rotating instrument called a drill bit or a twist drill to make holes in a workpiece. Drilling is essentially a hole-creation technology.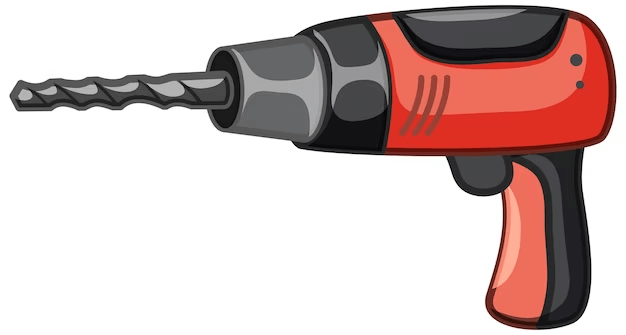 How does it Work?
It works on the mechanism that the rotating edge of the tool (drill bit) exerts a large force on the workpiece, creating holes in it. The material from the workpiece gets removed in form of small chips that lodge out by shearing forces, thus creating a hole or a bore.
Components of Drilling Machine
Base: The base of a drilling machine usually supports the machine and mounting the base in case of large machines is to the floor or a person can simply hold it in hand.
Column: It is a cylindrical structure that acts as a supporting arm that connects the drill head as well as a sliding table.
Arm: Positioned at the top of the column it supports the spindle and drill chuck. It is only present in larger machines instead of smaller drilling machines.
Spindle: It is a set of bearings that connects the chuck to the electric motor.
Chuck: Positioned on the spindle, to hold the drill jig in place during the drilling operation.
Drill Head: A feed, feeding mechanism, and drill chuck combinedly known as a drill head.
Worktable: A column-mounted table that helps to adjust the workpiece in vertical and horizontal directions.
Feeding Mechanisms: It controls the rate of the machine while lowering the material. They include manual and automatic feeding using an electrical motor.
Electric Motor: Provides rotation to the drill bit or drilling tool.
Types of Drilling Machines
Portable or Drilling Machine: A compact machine with a universal motor that helps to drill holes in a workpiece in any position. It is easy to carry the machine anywhere due to its smaller size compared to other drilling machines.
Radial Drilling Machine: It consists of a drill spindle in the tool head and saddle which projects itself in a rotating motion over the workpiece. Designed primarily for drilling heavy and large workstations, accommodating varying heights the change in the table is optionable. It enables the operator to spin the spindle directly on the workpiece rather than moving the part to the tool.
Sensitive or Bench Drilling Machine: This machine is ideal for making small holes at faster speeds and typically comprises a base, worktable, spindle, drill head, driving mechanism, and column.
Gang Drilling Machine: It has several drill heads and individual columns on a single base. This machine is for drilling, reaming, counterboring, and tapping by simply moving it back and forth.
Computer Numerical Control (CNC) Drilling Machine: A CNC drilling machine uses rotating cutting tools to make the holes in a workpiece. The program is in charge of the feed, speed, and table location.
Advantages of Drilling Machine
High Speed: The main advantage of the drill machine is that creation of holes and performing other drilling operations in the workpiece is easier at a faster rate.
Greater Flexibility: Modern drilling machines are highly flexible as they have numerous spindles that are automatic and flexible to drill holes at any angle, among other qualities.
Less Maintenance and Longer Life: This machine has a very low maintenance cost and a very long life. One can use it for a longer time with very little upkeep.
Disadvantages of Drilling Machine
Workpiece of Limited Size: One can use the drilling machine on a workpiece of limited size. The manipulation of a very large workpiece cannot be possible to perform drilling.
Oversized Hole: Chances of forming an oversized hole is huge as a result of a spindle failure or an uneven angle/length of the cutting blades.
Drill Failure: The drill may break, if it becomes dull, chips have clogged the flute, there is a high feed rate, and inadequate drill and work clamping happens.
Uses
This machine tool can execute a wide range of operations, including reaming, boring, counter-boring, tapping, and many others, making it useful in a wide range of applications.
They are in practical use in every manufacturing industry to make holes in workpieces as needed.
This is also used in carpentry to drill holes in wood and to repair wood structures.
Screwing and fixing are possible with hand drills or portable drills.
They are majorly found used in building sites and in the glass industry.
Final Thoughts
A Drilling Machine is a necessary instrument for a variety of industrial and residential applications. It helps to make holes in various materials such as metal, wood, plastic, and concrete. This machine is available in various designs as per drilling requirements. Drilling machines to shape or expand existing holes, as well as generate threads in various materials. Several precautions should are must while operating this machine.
Recommended Articles
We hope that this EDUCBA information on "Drilling Machine" was beneficial to you. You can view EDUCBA's recommended articles for more information –