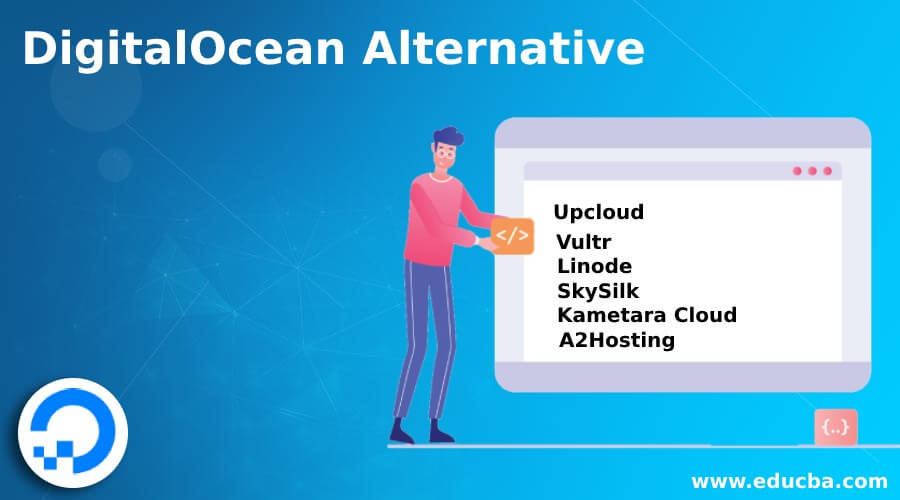 Introduction to DigitalOcean Alternative
A cloud vendor that provides services to developers mainly for Infrastructure as a Service is called Digital Ocean which has similar features to AWS and competes with the same. Any type of data can be stored in Digital Ocean storage space where users can scale the storage volume from 1GB to 16TB. We have proper documentation for Digital Ocean, and hence most of the users prefer the same. Along with this advantage, we have a good aesthetic look for the website and the user interface, which attracts the users to try the digital ocean. In this topic, we are going to learn about DigitalOcean Alternative.
Alternatives of DigitalOcean
Digital ocean is offered for free, and when we look for alternatives, we should focus on the applications that are offered either free or with less cost.
1. Upcloud
Startups who want to customize their business and want to give a personal touch to all the applications they develop prefer Upcloud. The servers are placed in six countries, and it provides block storage as their storage option. We also have cloud servers and networking controlled by software so that users can use the bandwidth based on their needs. In addition, metadata services are provided to solve customer queries, and server images are given to each server that can be customized. The pricing starts from $5/month to $80/month.
2. Vultr
The user interface of Vultr is very easy to use and designed by keeping the developers in mind. All the options are available with a single download, and hence it does not take much time for users. The IP address provided by Vultr can be changed, and hence customized IP address helps users to select the options based on the same IP address. Hosting options are also available in plenty, where users can select based on their requirements of the cloud. Block storage is also provided where the security of data will be huge. Various creative features are offered where users can select a needed option and store their data. The price starts from $2.5/month to $640/month were storage. CPU, bandwidth, and memory vary.
3. Linode
Linode is a private cloud service provider based in Philadelphia that helps users with high memory requirements and dedicated servers to store the data. Block storage is provided to protect the data with high security and to satisfy high volumes of data. Linode is specially dedicated to Virtual Private Server (VPS) hosting, where most of their competitors cannot match with Linode. Customer service and trustworthy hosting make Linode stand apart from its competitors. However, Linode is costly as it provides VPS services. Also, we cannot use shared servers in Linode. The control panel also does not attract customers much as this is difficult to understand and manage. If one is unsure about Linode, they can use the money back guaranty for 7 days.
4. SkySilk
Private and public cloud options are provided where customers can select their options and create an environment for themselves. The combination of service and the functions provided by SkySilk helps users to deploy their projects in any walk of life. If users need to scale the technology options, they can do so easily. The price ranges from $2 per month. Automation and deployment can be done easily in SkySilk. Auto backups happen in SkySilk, and resource group options are flexible so that users can change resources easily. Different layers of security are available where users can store their data. The infrastructure is also good, with zero fault tolerance and no failure at any point of cloud usage. The working and access of backend servers are provided only to cloud engineers, and hence users can make sure that data is protected well.
5. Kametara Cloud
Pay as you use option makes Kametara stand apart from other cloud servers. Users need to pay only for their services, which makes them save money in the cloud storage. In addition, We have a disaster recovery option that helps in recovering data if it was deleted accidentally. Server migration can be done easily either from public or private or virtual servers. Kametara provides 30 days free trial where users can try the resources and, if not satisfied, can move to other cloud options. The price ranges from $5 to $1000 per month, where customers can select the option based on their cloud needs. The infrastructure and configuration provided by Kametara make it a digital ocean alternative.
6. A2Hosting
Another alternative for the digital ocean and mostly preferred by bloggers, WordPress, VPS, and several cloud options are provided at low cost. PHP, Python, SQL, DotNet languages can be used, which makes developers love this cloud platform. All the software updates are done to the data centers, and security patching is provided whenever necessary. Turbo servers are provided where user can upload their data with maximum speed. Customer service is provided 24*7 where users can contact the service centers via mail or phone calls. Users can scale the cloud storage based on their requirements at less price. We can use A2Hosting at the price range of $5 per month.
We have other cloud options such as DreamHost, CloudSigma, Host1Plus, Cloudways, and ToggleBox.The expert technical team and good ethernet connection make InterServer recognizable among other cloud applications. BlueHost Cloud helps in any kind of domain registration and hosting solutions which help bloggers to develop their own blogging website. Block storage and cloud servers are provided in the Atlantic(dot)net, where users can have heavy bandwidth projects that can be done easily in any cloud server. An Amazon product to help customers deploy their projects in any operating system easily is called Amazon Lightsail. It works like AWS and has various storage options as well. Scaleway is the cloud provider where virtual cloud can be accessed via SSD, and various applications are provided for customer's needs.
With all the cloud services explained above, it is not easy to say which is the best DigitalOcean Alternative. It depends on the cloud storage use. If it is for developers, they can go with Kametara or Vultr, and if it is for bloggers, they prefer A2Hosting or BlueHost Cloud.
Recommended Articles
This is a guide to DigitalOcean Alternative. Here we discuss the proper documentation for Digital Ocean along with its alternatives and advantages. You may also have a look at the following articles to learn more –