Updated April 5, 2023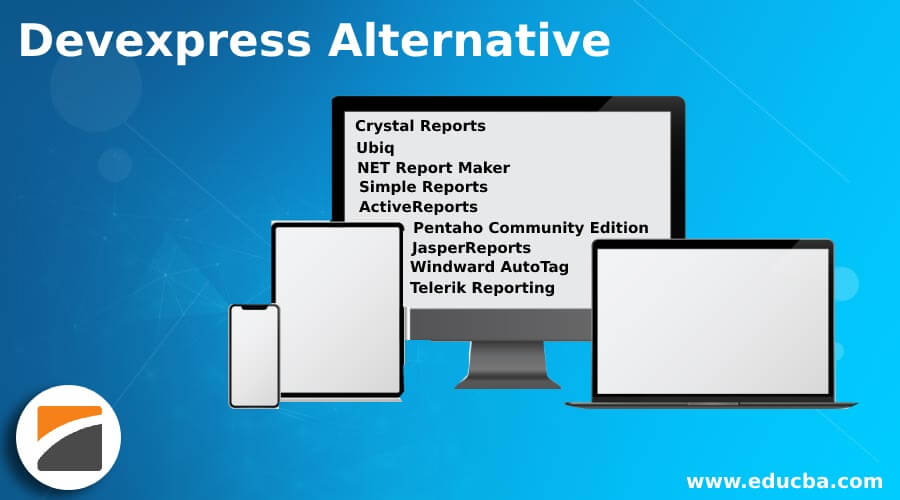 Introduction to Devexpress
DevExpress is a reporting platform to transmit critical information via the company environment in the .NET Framework. It is an easy and simple way to show complex information in order to make the best choices and offer the organization an intuitive reporting solution. DevExpress delivers outstanding performance for users with highly customized features. Through this personalization feature, users will then be able to create reports and presentations with unmatched information clarity through enhanced report controls along with multi-dimensional pivot tables and charts. In this topic, we are going to learn about Devexpress Alternative.
Alternatives of Devexpress
Let's have a look at DevExpress alternatives.
1. Crystal Reports
Crystal Reports is a dynamic presentation and reporting tool. The most important thing, in this case, is that it almost makes all data a report interactive, accessible online offline from applications, websites, and mobile devices. Their reports can be produced in up to 24 international languages.
Powerful reporting options, Flexible & customizable, support for MS Excel, mobile, broad-based information connections, etc. Are other features of Crystal's reports. Crystal Reports is a comprehensive business intelligence software designed to produce reports using robust, professional reporting tools supported by a range of data sources.
2. Ubiq
Ubiq is an online business intelligence platform mainly used for data and reports visualization. Ubiq is a PostgreSQL and MySQL reporting and analysis platform. Ubiq offers a convenient dashboard, easy reporting and even dashboard creation, data analysis system and the drag & drop function, availability of the filter system and functionality, team building for sharing purpose and support of every type of data source – locally, remotely, and cloud – the main advantages and advantages of Ubiq.
3. NET Report Maker
ASP.NET Report Maker is a professional reporting tool that designs and supports the creation of dynamic levels web pages, such as MS Access or any other database. It provides users with tools to report and generate information on an industry level that allows users to create detailed, summary reports or even crosstab reports for their websites immediately. ASP.NET Report Maker offers the solution for everyone, from JavaScript charts to Flash charts. There is no more client-side control requirements as all of these formalities are exempted from scripts generated by ASP.NET Report Maker and finally available.
4. Simple Reports
A simple report generator for a variety of professional reports is a simple report. It provides a standalone dashboard for developers and designers to create reports and queries of data. It is a powerful platform for managing the various data sources and mix them simultaneously. Simple reports are very easy and easy to create ad-hoc reports. Simple reports are not just about simple report creation, but also about professional and attractive report creation and design.
5. ActiveReports
ActiveReports is a.NET reporting platform for the visualization of modern business needs. It allows users to create all kinds of reports with Visual Studio, which also has a wide range of API features and components of ActiveReports. What is best is that to provide users with the reporting system, they also receive the various forms and reports that are free of charge. This is based on WinForms, ASP.NET, and HTML. The report server is also available free of charge.
6. Pentaho Community Edition
Pentaho Community Edition is the solution for small to large companies that include the fundamental reporting solution, data representation, analysis, and a variety of other features to save the business time and money. Besides the use of all these functions, BA server and PDI marketplace entries may be accessed by users of the Pentaho Community Edition from the official website.
7. JasperReports
JasperReports is a platform for developers, designers, and Webmasters to report on Java and to analyze it from where you can access the JasperReports graphic design tool. JasperReports is one of Java's best open-source reporters. Data from any source of data can be used to produce pixel documentation that can be viewed, printed, or exported in a variety of document formats, Excel, including PDF, OpenOffice, HTML, and MS Word.
8. Windward AutoTag
For personal reporting and design tools for individual and commercial purposes, Windward AutoTag is free. It has also been called AutoTag Report Builder, which allows developers and programmers to design, format, and edit all types of MS Office reports with AutoTag for Word and AutoTag for Excel. It adds to MS Word and Excel automatically and allows users to connect their documents and tablets to any source of details. Windward AutoTag is also best for business professionals, and more sources are available to companies requiring a single report.
9. Telerik Reporting
Telerik reporting is a reporting engine that provides reporting viewers for all HTML5, WinForms, NET, Ajax, ASP, Mobile, Touch, etc. It's a mobile, Web, and desktop interactive ad-hoc reporting application. Telerik reports offer reports, data engines, and information binding from OLAP, username style reports, and interactive ad-hoc reports. Telerik reports providing key features for any application. The main advantages are that almost all features and tools are integrated to help users produce intuitive reports for individual or commercial purposes.
Recommended Articles
This is a guide to Devexpress Alternative. Here we discuss the various DevExpress alternatives. You can choose any of them based on your requirements. You may also have a look at the following articles to learn more –