Updated April 1, 2023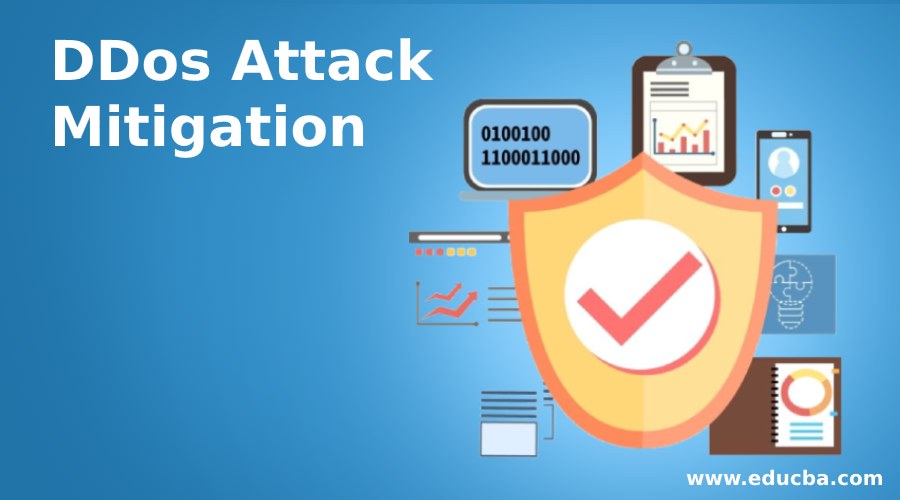 Introduction to DDos Attack Mitigation
DDos Attack Mitigation is a process of protecting a computer network or a server from DDoS, also known as Distributed denial of service is one of the most powerful attacks that are there on the internet. The objective of DDoS is to increase the incoming traffic (connections) of a server from various compromised systems to an extent that the server cannot handle the connections and eventually breaks down. DDos Attack Mitigation is essential to anyone be it an individual or an organization that works with a computer network because if required care is not taken, valuable information is compromised and could be a huge loss.
What is a DDoS Attack Mitigation?
DDos Attack Mitigation as said earlier is a process adapted to protect a network or server from DDoS. This is achieved by various means like configuring a network equipment which is specially equipped or a cloud based service etc. There are many types of DDos Attack Mitigation from which the attacks are supposed to be mitigated, Traffic attacks which primarily focuses on the traffic. Bandwidth attacks which primarily focus on the data that is sent and Application attacks that depletes and engages  the resources in the app layer.
DDoS attack mitigation strategies should accommodate some features that help in making the system potent.
Some of the features are :
Scalability
The solution is expected to be scalable to cater the needs of growing businesses.
Network size
Network size and its band width should be high as in the cases of DDoS, huge data is to be processed and evaluated whether or not it's legitimate. This requires a lot of processing power and to get quick responses from the system , it is advised to have higher Network size
Flexibility
The strategies should be flexible to accommodate against multiple threats. As the number of types of threats keep increasing, the strategies should be flexible enough to tackle all kinds of situations.
Stages of DDoS Attack Mitigation
Typically, DDos Attack Mitigation has 4 stages .
Detection – Identifying the problem is very crucial in these cases. The server should not get confused with normal high traffic at high volumes. False assumptions in this stage leads in restricting the content to users, which is not often profitable to the organizations. The effectiveness of any employed method is measured by the ability to detect the attack almost instantaneously(This being the ideal situation and as early as possible being the practical one).
Diversion/Routing – this stage involves in designing a smart routing logic in which majority of the suspected data is routed away from the server and the remaining data is easily managed in chunks, preventing Denial of service.
Filtering – As the name suggests, this stage consists of filtering the incoming data and intelligently dropping out packets or connections that are most likely to be traffic from bots. This can be identified by finding patterns that help in differentiating between legitimate and machine traffic.
Analysis – Analysis plays an important role in avoiding future attacks by learning from the current mistakes. Analysis is done on the security logs produced during the attack. These logs give information on the environment and the type of data offenders use. This can be used to make the system more robust and less vulnerable to such attacks.
DDoS Attack Mitigation Services
The best and efficient way to avoid DDos Attack Mitigation is to have a network with huge bandwidth so that the network is not flooded with traffic. Unfortunately, a single server alone is not sufficient to accomplish this. Therefore talking help from external sources that can do the job is recommended and most of the people follow this. A famous example for this is cloudflare. They distribute the incoming traffic geographically and to make sure there is no attack , the network capacity should be always greater than DDoS.
Few DDoS attack mitigation services that are available in the market are:
Cloudflare
Cloudflare is a very popular web-security and web-infrastructure company that offers DDoS mitigation services. This is licensed and hence users have to pay to use their services. They also provide Internet security , DNS servers etc…
Alibaba
DDoS mitigation service is a security service which is cloud based. It is provided by Alibaba cloud and increases the control and visibility of the security measures taken. It interacts with Alibaba cloud ECS (Elastic compute service) instances to guard the user data. It is less complex and easy to maintain/manage. Alibaba Anti-DDoS (basic) is free of charge for users to get a hands on experience. There is a premium version available for customization and increased requirements.
AWS Shield
AWS shield is basically designed to safeguard the applications that run on AWS. AWS Shield actively detects potential threats all the time. AWS shield comes in two different packages. Standard and Advance. By default all the AWS applications are protected by AWS shield standard. It is free of cost and defends the system against the basic security threats in both network and transport layers. Advanced is used for higher levels of protection. Along with the features of standard, it offers real-time analysis and a web based firewall to allow only legitimate traffic.
Akamai
Akamai is an America based cloud service provider. They also provide cybersecurity. They have servers distributed all over the globe and the traffic is distributed. It is situated between the users and the web applications. Akamai decides if a request is legitimate or not and redirects the requests to the application.
Conclusion
Overall it is very important to employ DDos Attack Mitigation because of the following reasons
Risks associated with data theft are reduced as security is increased.
Maintenance of the servers and network becomes easier.
Costs that associate with web security can be reduced and maintain the performance of the system at the same time.
Data is much safer than it is without the mitigation services.
Recommended Articles
This is a guide to DDos Attack Mitigation. Here we discuss an introduction to DDos Attack Mitigation with it's 4  stages and services. You can also go through our other related articles to learn more –