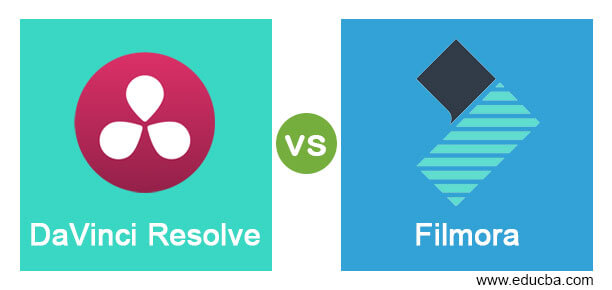 Difference Between DaVinci Resolve vs Filmora
DaVinci is that type of application that works for color correction as well as non-linear video editing and it was known as Da Vinci Resolve originally. Its developer offers a free version of it also with few reduced features in comparison with commercial version and it has compatibility with different operating systems.  Filmora is also powerful video editing software that creates a high-quality video with our desired editing. Both software has a number of good features as well as standard tools for fulfilling the requirements of its user. So let us today discuss both of the software. DaVinci Resolve and Filmora have a number of facts which can explain them thoroughly and for that, you will be with me in this article from start to end. In this topic, we are going to learn about DaVinci Resolve vs Filmora.
Head to Head Comparison Between DaVinci Resolve vs Filmora (Infographics)
Below are the top differences between DaVinci Resolve and Filmora

The key difference between DaVinci Resolve and Filmora
Let me tell you the supported file format of both software which is a very necessary thing to know before start working with them and video formats that are compatible with DaVinci Resolve are AVI, QuickTime, MP4, DNxHD, XAVC, data exchanging formats for example XML, EDL, DCP, AAF, MXF, and CinemaDNG as well. It also has accessibility for audio format and that format includes AAC, WAVE, and AIFF. It also has supported file formats for images which is RAW, TIFF, DPX, R3D, OpenEXR, JPEG, and JPED2000.
If I tell you about Filmora then the video file format supported by it is AVCHD (MTS, M2T, M2TS), AVI (10-bit and 12 bit GoPro Cineform is included with it and only for Windows), DV as well as HDV, MP4 (AVC/H264 and AAC), MPEG-1 and MPEG-2 (PS, TS, MPE, MPG, MPEG, M2V), Mov (10-bit and 12 – bit pro-Res and Cineform) WMV and MXF (DVCPro HD). This number of file formats makes its work smooth and accessible with other required software. Now let us see the audio file format of it also and that is are AAC, M4V, MP3, MPA, WMA, WAV and .bmp, .gif, .jpg, .png, .tiff and Open EXR are its image file format with which it can easily deal not only this but some other file format are supported by it.
Now the turn is about how much you have to pay for having this software in your pocket? Let us discuss DeVinci Resolve first and you can start your work with DaVinci Resolve by paying $357.01 as a one-time payment and no additional charges required with it. You will have all the advanced features of it in this version. It offers a free version but not a free trial. In the free version, you will have limited features that mean you can get interlace with the working environment as well as tools of this software.
Now if you go with Filmora then it offers three types of package to its users according to their demand and requirement where the first one is for Individual second is for Business purpose and the third one is for Educational purpose. For having its individual plan of it you have to $7.99 for monthly and can have all good features in it also, pay $ 15.99 as a quarterly plan and for Annual plan, you have to pay $39.99. The business plan can purchase on yearly basis by paying $155.88 whereas for the Education package you will have a 28% discount (may vary according to the company's norms) and its pricing starts from $7.99.
These were some specific points through which you can decide which software will be good for you and how you can work with any one of them.
Comparison between DaVinci Resolve vs Filmora
You can easily analyze this two software after going through this section because we are going to discuss system requirements, compatibility, and many more thing about them.
| | | |
| --- | --- | --- |
| | DaVinci Resolve | Filmora |
| Definition | DaVinci Resolve is full of a number of good features which help it in editing different parameters of any video footage for making it more realistic. | Filmora works in the same way as DaVinci resolve does and offers you lots of good tools for doing complex editing in different elements of video footage. |
| Developer | It was originally developed by Da Vinci Systems but later on, it started developing by Blackmagic Design. Da Vinci Systems introduce it in 2004 and work up to 2009 and after 2009 Blackmagic taken over it. | It is a product of Wondershare and developed by them in February 2020 for creation as well as editing of the video. |
| Latest Version | Its stable version was released on March 10, 2021, named 17.1.0 which is its latest version. | It developer released its stable release or latest version of it on March 10, 2021, and names Filmora 10. |
| Operating system | It has compatibility with a number of operating systems that are Microsoft Windows, Mac OS, and Linux as well. | It can run on Microsoft Windows 8 and 10 (64-bit), Mac OS 10.15 Catalina, Mac OS 10.14 Mojave, Mac OS 10.13 High Sierra. |
| Supported Languages | It is available in 7 languages such as English, Japanese, Spanish, Chinese, French, Russian, and Portuguese. | You will have it in different languages that are English (the United States and the United Kingdom), German, Spanish, Italian, Portuguese, Russian, Japanese, Dutch, and French, |
| Availability | You can visit www.blackmagicdesing.com/products/davinciresolve for downloading this software or also for having more details related to different facts of it from here. | www.filmora.wondershare.com is its official website and you can visit here for having updates on it and can also download it from here to start your working with it. |
Above I told you some of the necessary points for making you familiar with DaVinci Resolve and Filmora. Now let us discuss some other aspects and facts of this software so that you have enough information to make your decision about choosing one of them.
Conclusion
You are now free to choose DaVinci Resolve or Filmora for creating a video as well as editing of it because you have enough knowledge about them after this article and these two are no more new word for you. You can try the free version of both software for doing deep analysis about them.
Recommended Articles
This is a guide to DaVinci Resolve vs Filmora. Here we discuss the DaVinci Resolve vs Filmora key differences with infographics and comparison table. You may also have a look at the following articles to learn more –