Updated July 1, 2023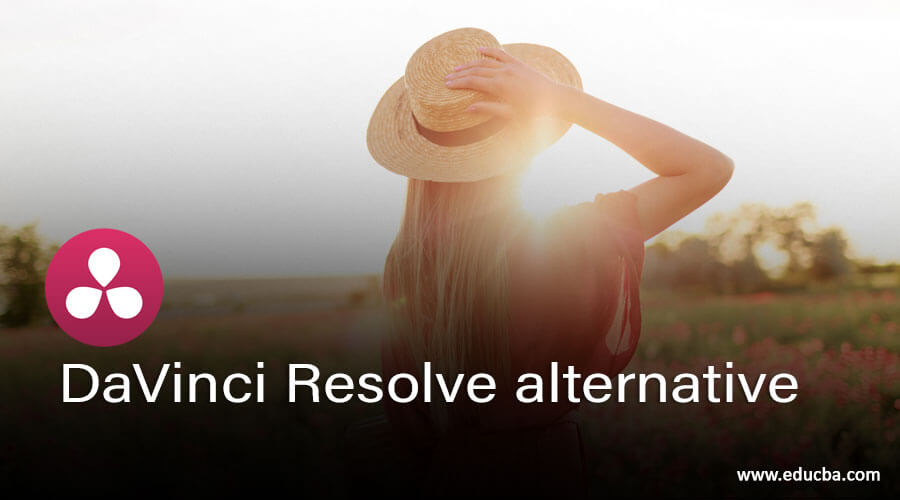 Introduction to DaVinci Resolve
DaVinci Resolve is an innovative 64-bit video finishing platform that offers a collaborative workflow with a multipurpose editor and color correction tools. The 32-bit floating-point image processing system uses a special YRGB grading color space. Resolve uses node-based processing to apply color corrections, power windows and impacts to each node.
Context-responsive editing software and several individuals can work together in the same timeframe. It is highly scalable, supports up to 8 GPUs, and provides efficient versioning, finishing, and distribution options for all resolutions. You cannot easily operate any software as a photo editor that offers good options for beginning pictures, such as a photo organizer and some advanced tools. In this topic, we will learn about the DaVinci Resolve alternative.
Alternatives of DaVinci Resolve
Let's have a look at Davinci Resolve:
1. Crow drawx6
There are standard vector editing tools, an intuitive color palette system, and a fun collection of vector shaping tools that allow basic vectors to be distorted to be organically more formed. Object styles may also be applied to any feature, including text, on your linen. Other attractions include drawing page layout placeholder material, built-in application scripting support, and advanced fill options to fill out an object using bitmap artwork. Corel Draw happily opens Microsoft Publisher files, which can be the biggest time saver for artists who need to submit artwork to their clients.
2. SVG-Edit
A few online editors do that, like Atobe Illustrator, for you to quickly output SVG or edit a current SVG file. Scalable Vector Graphics (SVG) is an open format enabling you to replicate Vector drawings programmatically. It's completely based on HTML5, CSS3, and JavaScript without any processing on the server.
3. Affinity Designer
Affinity Designer provides a sleek, intuitive user interface for new designers and old businesspeople, allowing users to switch between them and Illustrator seamlessly. Budding designers find structured and accessible tools, while Adobe users can feel comfortable with the default toolbar and keyboard shortcuts. The learning curve is a gentle path for Illustrator or Photoshop designers. Affinity Designer comes with all the basic tools for the design and form of vectors and pixels.
4. Macaw
Macaw is a professional web development platform designed by designers and developers alike, which has become the first web designer to combine an image editor with a powerful design-to-code engine. The interface is fluid and intuitive. You can build responsive web designs using the web as your media from the development team, which funded Macaw through Kickstarter. This is designed to easily build wireframes, prototypes, and mock-ups and provide your web designs quickly through static CSS, HTML, and JavaScript.
5. Tumult Hype 2.5
Responsive Web Design is now a trend in the growth of the web that allows designers to create one page that scales across a range of devices and screen dimensions properly. Until now, no good solutions have been found for responsive designs which include animated content. The flexible layout options of Tumult Hype 2.5 allow users to monitor the location and scaling of animated elements while the paper is being resized.
6. Pixelmator
You cannot easily operate any software as a photo editor that offers good options for beginning pictures, such as a photo organizer and some advanced tools. Mac Pixelmator photo editing software is full-scale, affordable software. The software includes a broad range of simple and advanced editing tools, sharing, and file compatibility. A wide range of editing tools, all accessible on the clean interface of the software, is available. Pixelmator You can configure the application with a black workspace by shifting through fluid screens.
7. Corel's AfterShot Pro 2
Corel's AfterShot Pro 2 allows you to improve and maintain your images professionally. The app uses 64-bit output, up to 4x faster than other RAW picture manipulation applications. The best way to release RAW picture shooting flexibilities is afterShot Pro 2. AfterShot Pro 2 is a RAW converter, photo editor, and full photo management application with unrivaled speed and power and a brand-new GUI. The latest version of this high-speed camera manager and non-destructive photo editor provides advanced image adaptation and quick conversion to and management of RAWs.
8. Blackmagic fusion
Fusion 7 is a 64-bit visual effect and moving graphics suite that new owner Blackmagic Design recently launched as free software. Eyeon created the software, which has been a pillar of VFX studios worldwide for years. Fusion 7 has an infinite 3D workspace and a node-based processing process to rapidly develop limitless effects and advanced 3D composition, painting, rotoscope, retiming, stabilization, and titling tools.
Recommended Articles
We hope that this EDUCBA information on "DaVinci Resolve Alternative" was beneficial to you. You can view EDUCBA's recommended articles for more information.