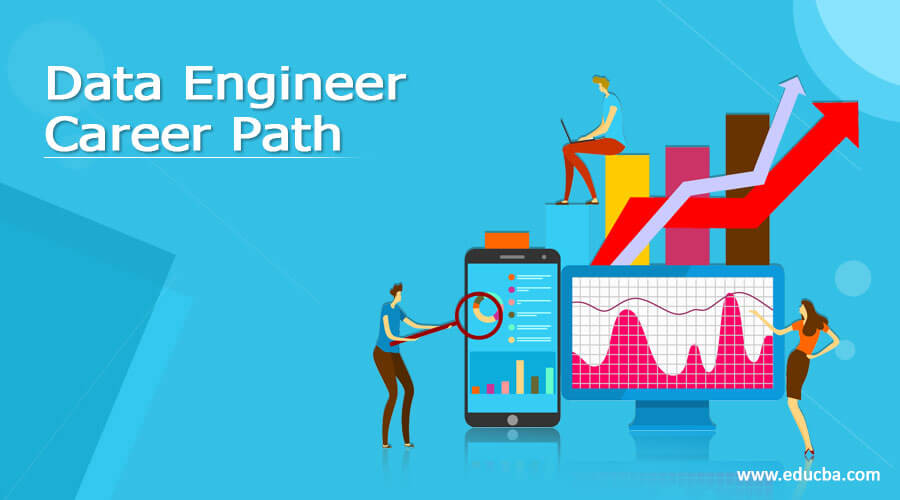 Introduction to Data Engineer Career Path
The data engineer is not a start-up role, mostly the individual becomes a data engineer by starting his career as a business intelligence analyst or software engineer. As he grows up in his career, he moves into different flavours of data engineer like solution architect, data architect, machine learning engineer. The companies like HP, Facebook, and Amazon hire data engineers to structure and optimize their business by using data management. As per the increase in demand of data engineers, the posting becomes a profitable one with a six-digit salary. The roadmap, roles, and responsibilities of data engineers are briefly discussed in this article.
What is a data engineer career path?
Data engineering is a wide discipline that incorporates multiple labels with a key focus on developing informative trusty infrastructures to check the consistent flow of data in a data-driven environment. It is a person who acts as an architect to clean the raw data gathered from various resources so that people can utilize it within his enterprise to make reliable decisions. He used to install, test, and maintain high-quality and confidential data to achieve organizational goals.
Step by Step Complete Roadmap in 2021
To become an effective data engineer in 2021 he must have a clear road map with well-defined knowledge and affirmative decision skills.
Pursue a bachelor's degree in the related field where you want to become an expert data engineer.
The data engineers can do their bachelor's degree in mathematics, science, information technology, or data-oriented field to have strong basic understanding skills. By pursuing software engineering, he can understand the basic programming language and so he can get an entry-level job
Become a master in the related skills
After pursuing the bachelor's degree, he should fine-tune his skills in big data, database, and programming languages. He can learn the basics of SQL work on data queries. He can get knowledge in how to model the data, imply database architectures, practice with minimal data, build data pipelines, and work in data mining. After this, he can start to process the data in streams or batches. He can learn different big data tools like Hadoop, Kafka, etc to list the workflows in the data ecosystem.
Go for additional courses and certifications:
It is good to keep an added professional certificate to boost up his career in data engineering. He can opt for either Master's degree in data engineering or can choose relevant technical skills in scripting, Kafka, Tableau, Java, automation, etc.
Become an expert programmer
The industry requires two main technologies, one is Python, and the other is Scala. To develop a standard software, he might go through concepts in these programming languages and should have hands-on experience. It can be done via online certifications which are tool-oriented. So this can be added advantage and can be easily recognized at the time of the interview. People with strong knowledge of programming skills like Python, Java, C, C++ are most welcomed by the companies.
It is a mandate and critical to work in and around cloud computing in this modern era. He must be skilled in any of the cloud computing skills like cluster management, cloud storage, data management, computation, and so on. He can choose any popular cloud platform from AWS, Azure, and GCP.
Time to upgrade professionally
The standard way to advance professionally is by coping up with recent trends and innovations in the field of data science. Ensure that the professional is updated with new tools in data engineering and software launches. Work on multiple projects and develop a portfolio to display your technical knowledge to place yourself in a good position in the standard data engineering enterprise.
To excel and sustain your company apart from technical skills, there must be some added soft skills like collaboration skills, presentation skills, communications skills, and basic managerial skills.
Roles and Responsibilities
The major responsibilities and roles are an exploration of data analysis, extraction of data from a large pool of unfiltered raw content, cleaning and evaluation of data set, writing and preparing ETL logic, query and mining data, bind data together, develop data stores, optimize data delivery, build a data pipeline to delegate to multiple servers, optimize data delivery, modelling and normalization of data, use the framework completely to serve the data.
Job Trend and Salary
The salary of data engineering is the one that drives people crazy in choosing it. The average salary of a data engineer falls from $65,000 to $135,000 and it varies according to professional certification, educational qualification, years of relevant experience, additive skills. According to Glassdoor, the quoted annual salary for a data engineer is $102,864. From the report of Indeed, it is found that data engineers earn $129,415 per year. According to a recent survey, the average salary of a data engineer in the US ranges from ninety thousand dollars to one lakh twenty-six thousand one thirty-three dollars.
What qualification is required?
The basic qualification of a data engineer should have a bachelor's degree, then he should hold any additional certification and relevant experience in flavours of data engineering. Have strong programming skills, and learn cloud computing. He should work on real-time projects to gain experience in various portfolios which benefits his future employment.
What skills are required?
The key skills data engineers possess are programming languages like SQL, Java, Python. Database skills, ETL tools like airflow, Hadoop and Apache, cloud computing, and streaming that include Apache Beam. He should know coding, relational and non-relational databases, ETL, data storage, scripting, automation, and big data tools, and data security. Go for certification like IBM certified data engineer, Associate Big data engineer, Google cloud certified professional, and Cloudera certified professional.
Conclusion
The path of the data engineer was to construct the raw data given to him, sort it, process it, and find the true part behind it. Only with that processed reliable data, he discusses with his organization to take any important decision which can make himself and his company grow.
Recommended Articles
This is a guide to Data Engineer Career Path. Here we discuss the definition, What is a data engineer career path, Step by Step Complete Roadmap in 2021. You may also have a look at the following articles to learn more –