Updated July 1, 2023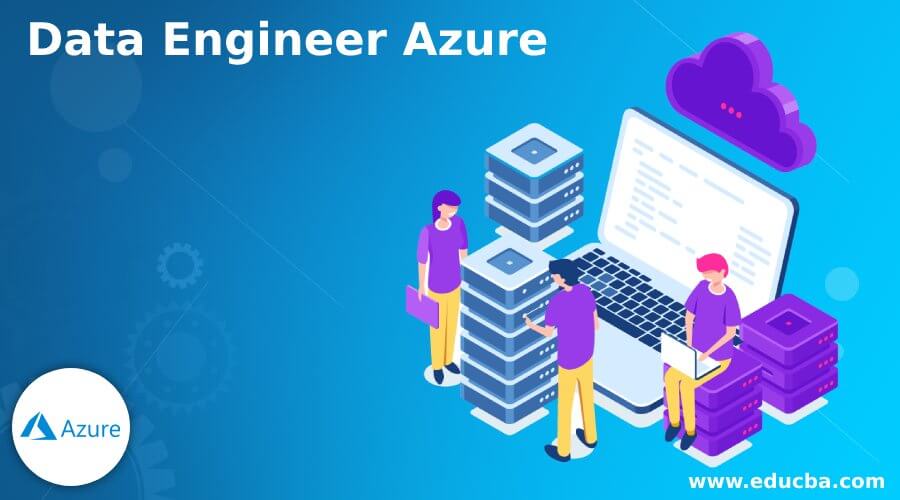 Introduction to Data Engineer Azure
The following article provides an outline for Data Engineer Azure. Nowadays, data is the biggest source of superpower. Gathering relevant and appropriate data drives the business to make better decisions. Further, the correct use of data supports the enhancement of customer service. Data engineers perform such crucial tasks, and he is responsible for building, implementing, and supporting the Microsoft BI solution to achieve the standard client and market requirements. They imply their knowledge of technologies, processes, applications, methods, and tools to support project and client entities.
What is Data Engineer Azure?
Azure data engineers are accountable for data-oriented implementation tasks and manage to ingest batch and streaming data, offer provisioning data storage, transform the data that implement security requirements, imply data retention policies, find obstacles in performance, solve bottleneck issues, and also have access to external data. Recently, the number of Azure data engineers has been increasing gradually. So it is mandatory to know the perquisites to become an effective Azure data engineer.
For all flavors of data engineers, basic skills like coding, programming language, analytic skills, and database management are common. The prominent skills in Azure data engineering should have a basic understanding of the evolution of the data landscape and its impact on data engineers. He should know the basic difference between cloud data solutions and on-premises. He should have strong knowledge of Azure services.
Azure data engineers should have skills in solutions to data warehousing, ETL tools, Database systems like NoSQL and SQL, Machine learning, Python, Scala, and Java programming languages, Data APIs, understanding the basic concept of distributed systems, should have strong knowledge on data structures and algorithm.
How to Become an Azure Data Engineer?
To become a successful data engineer in Microsoft Azure, which fits the Azure data engineer associate role, he must be skilled in Azure fundamentals. Also, he should be ready to clear two major exams to achieve the data engineer job role. Surprisingly, role-based certification is also available to become a data engineer in the Azure platform.
The two major exams to become an Azure data engineer associate are DP-201 and DP-200. To clear the certification, he should have relevant one year of experience in the data engineering field, and he should also have strong hands-on experience in Azure.
The IT professional who wishes to upscale and upgrade his career as an Azure data engineer associate can prepare well for these exams and clear them to achieve his role. But the pay for this role is maximum and worth his effort and hard work.
Get Certified Azure Data Engineer
According to the latest survey, data engineering has rapid growth. In this, the Microsoft certification offered more benefits to IT professionals. It provided validation, opportunities, digital badges, and salary hike. Organizations and employers trust Microsoft certification, and it makes a standard for professionals in the IT industry.
Because the certification helps the hiring team to judge the professional easily as he has cleared the certification successfully, which is possible by only means of expertise and knowledge. After pursuing the certification, a quarter of the people gained a 20% increase in their salary at Microsoft.
So considering this, salary growth is the important reason to go for certification. The digital badge can be obtained from a certification highlighting your resume or LinkedIn profile, attracting recruiting resources' attention. The certificate unlocks the door for better opportunities in many enterprises as the world is moving so fast, and it is better to keep a key to show us the separation among common people.
3 Tips for Exam Preparation
We have some methods to help people prepare to clear the certification with flying colors. There are two exams, DP-200 and DP-201. DP-200 covers all the topics under the implementation of the Azure data solution, and DP-201 covers the design of the Azure data solution. But, not these two exams are replaced by one exam DP-203, which costs Rs.4, 800 in India and $165 in the US. He can be certified as Microsoft Azure Data Engineer Associate if the exam is cleared. The required skills for this exam are broad, and the Microsoft website gives the outline. It explains different domains and the allotted weightage.
The simple trick to clear the certification is training on Microsoft Azure data engineering, as industries recognize it and cover all the necessary domains. Go for a mock test and take multiple mock tests to become strong on every question. Because, at times, the mock test can effectively allot time for every topic, showing us in which part we should be well-trained. Before that, you should have strong knowledge of every topic. There are many videos on YouTube with different people explaining different topics. So it is up to you to choose a good mentor and follows his channel. The Azure data factory video and Azure tutorial can help you understand the Azure concepts.
EduCba offers the standard tutorial in Azure data engineering fields and helps you clear the exams by conducting mock tests and in-person coaching. The conducted training program is led and designed by industry professionals. The team covers all the important topics required for the exam and can also aid you in achieving a good package in reputed data engineering companies.
Conclusion
Promising Azure data engineers should have essential capabilities to understand the data structure and algorithm. He should know SQL to understand the underlying database. He should be aware of storage and processing tools and skilled in Scala, Python, and Java, which is mandatory. He should have an understanding of big data tools like ETL and Hadoop. Apart from all the technical skills, he should also have reliable soft skills to interact with the business to take a firm decision for the betterment of the company and himself.
Recommended Articles
We hope that this EDUCBA information on "Data Engineer Azure" was beneficial to you. You can view EDUCBA's recommended articles for more information.