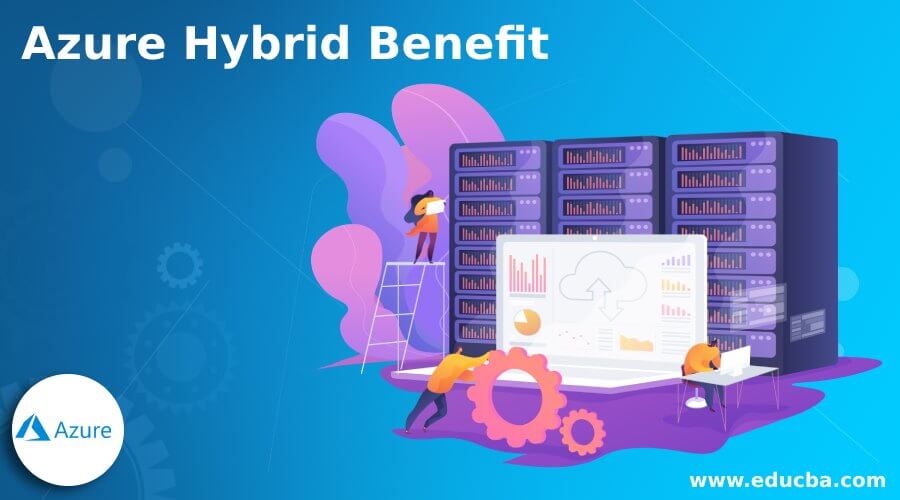 Introduction to Azure Hybrid Benefit
Merging the existing Windows Server and SQL Server with active Azure subscriptions to enable cost savings at a higher level is called Azure Hybrid Benefit. The cost savings depends upon the region and the usage, but the user can save up to 85 percent money when compared with pay-as-you-go subscriptions. Users can combine network security and reservation updates along with Azure subscriptions that help to reduce the cost further. SQL and dedicated Azure host can also be used as Azure Hybrid benefits. Users can manage rights in both applications for up to 6 months using the Azure Hybrid Benefit.
Why do we need Azure Hybrid Benefit?
Licenses: SQL Server licenses can be used with software assurance with a reduced base rate in the Azure portal. Azure SQL managed instance, SQL Server in Azure Virtual Machines, SQL Server Integration Services, and vCPU-based SQL databases of Azure enjoy the privilege of Azure Hybrid Benefit. Users also can move all licenses to Platform as a Service of Azure, where it is fully managed. This facility is specific to Azure. Dual rights help users to manage the migration from one service to another. But the licenses must be used on-premises or on the cloud but not simultaneously.
Virtualization: Users can apply virtualization benefits to it that help to manage on-premise workloads. One core of SQL Server edition can be converted to four vCores of SQL Database general-purpose edition. This benefit applies only to Azure-supported SQL databases. The license of Azure Hybrid Benefits cannot be applied from the past. Software Assurance license must be in active mode while using Azure Hybrid Benefits. Unlimited virtualization rights are offered to the user if they have it, along with a dedicated Azure host.
Windows Server: More value is offered to the windows server by Azure Hybrid Benefit, which helps users to save 40 percent of server costs. Datacenter edition licenses can also be used in the system that allows for simultaneous usage of on-premise and cloud systems.
How does Azure Hybrid Benefit work?
Azure Portal: Azure portal has a Power shell option at the top right-hand side where we can check whether licenses are available to use for the Windows server. The command-line interface also can be used to create assignments based on user needs. Arm template allows adding permits on the same page where the 'LicenseType' keyword is used.
Existing VM: Existing VM can be converted to Windows Server and used as Azure Hybrid Benefit. The license type can be updated in the portal via the configuration settings or power shell code. It can be done either as a Windows server or a pay-as-you-go option from which it can be made to Azure Hybrid Benefit. 'Az vm update' code helps the user to update VM via Command Line Interface.
To check whether we have Azure Hybrid benefit, we can do the checking via the Azure portal or CLI. This helps the user to identify the Windows server license and upgrade to Azure Hybrid Benefit. Or we can deploy Virtual Machine with Windows Server to get all the options of Azure Hybrid Benefit.
Continuous user interface integration can be done with Azure Portal and CLI, which helps the user manage and maintain any Azure-related services. It is also easy to do batch conversions in the system that is scalable and allows users in many ways related to the workload of the user.
Advantages and Disadvantages
1. Any SQL subscription will cost more while using Azure Portal. Azure is giving the option of Azure Hybrid Benefit to reduce the cost significantly for high workloads and thus save the costs of using SQL server. This is done with the help of any on-premises software assurance SQL Server databases. RedHat and SUSE Linux subscriptions also have the advantage of Azure Hybrid Benefits. Any existing SQL server can be used in the PaaS environment and made as Azure Hybrid Benefit.
2. Only the initial setup of VM infrastructure needs to be paid by the user for Azure Hybrid Benefits. Post-deployment costs can be reduced drastically as post-deployment is not required in Azure Hybrid Benefits. Also, automatic maintenance and software patches are done, which helps in reducing the maintenance costs of Azure Virtual Machines and SQL servers.
3. We can do self-installation or a pay-as-you-go option for Azure Hybrid Benefit that makes the user switch the opportunity if they do not find it relevant. Windows Server and Azure Virtual Machines can be used as Azure Hybrid Benefit as Azure dedicated host helps to set up the entire infrastructure with technical support. It is not always necessary for a subscription to use Azure Hybrid Benefits, but it is helpful to get security updates for a lifetime with an Azure subscription.
4. If the existing server is Windows Server, the user can convert this to Azure Hybrid Benefits without extra cost. Users need not purchase separate licenses always as all the licenses are incorporated in Azure Hybrid Benefits. We can call AHB a Bring-Your-Own-License model where users can integrate all the licenses and save money from the same. Anyone can use this service where users need to pay only for the virtual machine and not for any SQL servers.
5. No downtime happens while migrating from Azure Windows Server to Azure Hybrid Benefits. The user needs to select any license model and, if satisfied, deploy the same with the existing SQL servers, and the process is completed. Using existing licenses is an advantage; users need not worry about configuration issues. New VMs can also be deployed using AHB.
It is difficult to calculate how much money one can save from it as it always depends on the VMs used, SQL server capacity, and workload. But in the long run, a significant amount of money can be saved from AHB. An added advantage of security patches and updates makes AHB a chosen licensed server model among Azure users.
Recommended Articles
This is a guide to Azure Hybrid Benefit. Here we discuss the Introduction, why we need it, and how Azure Hybrid Benefits work. You may also have a look at the following articles to learn more –