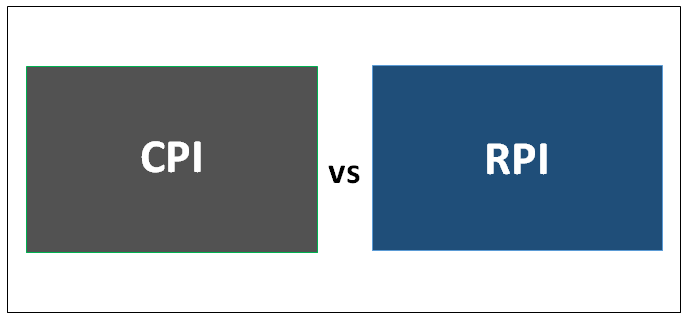 Difference Between CPI vs RPI
CPI vs RPI debate has been going on forever, to know forecast or compare or to know what has been going on with retail and consumer prices. Consumer Price Index (CPI) has been the one more usually heard and used around the globe. RPI on the other is more UK-specific and is more outdated for use. Let's look at some better explanations for CPI vs RPI so that we get to know what effects when we put them to use.
Consumer Price Index (CPI)
It forms a basis of inflation targets around the globe of various governments and central banks to control and monitor inflation.
The use of the formula here is Geometric Mean (GM).
It is always less than RPI as RPI use Arithmetic Mean
It is having a more robust way of calculation and uses "Jevons" which is more indicative of the economy, it accounts for the elastic use of items by consumers which will shift to other alternatives or use the item less as costs rise.
The basket of food, clothes, and petrol, other broad items but uses Rent for housing cost, year to year comparisons on how have they increased or decreased proportionately.
Retail Price index (RPI)
The older of the lot has been in practiced and reformed many times since it was measured in 1914 during the first world war when prices of the food were measured as an index which was then increased to more items like clothing and fuel.
The formula base it uses is Arithmetic Mean (AM).
RPI is always greater than CPI in practice usually by 0.8 to 1 percent. RPI does provide more continuity which is important as to increase the pension and other incomes used it before and would now have disproportionate growth which might affect the economy as projections and planning, methods have used RPI reference when calculating income and inflation so they would align better by sticking with it.
It uses a more primitive way of calculation "Carli'' which doesn't take into factor that the consumer behavior with respect to price rise, that is the consumer will no matter what the price will continue to use the goods the same way.
RPI overstates inflation and no developed economies use it or use it as a basis. It uses more of a perspective of the homeowner as it includes the council tax or insurance will another inflation index around the world use the conventional "Rent" as it is more realistic and practical of a majority of the people.
Head to Head Comparison Between CPI vs RPI (Infographics)
Below is the top 5 difference between CPI and RPI:

Key Differences between CPI vs RPI
CPI vs RPI inflation indexes are one of the most common and used by many big departments and industries so they do affect us but in different ways. Let us take a look at some key differences between CPI and RPI:
RPI has been put in use since 1916 when it was broadened to include items other than food like clothing, fuel, etc. then again in 1947 after that final reform in 1956 which is like the current version of what we see and use today, whereas the CPI was formally introduced to be used and measured in 2003 after 1996 when it was formed. So, while doing various studies for how economy/income/ lifestyle fared in comparison to inflation then RPI is better to be used.
RPI vs CPI has different ways to be calculated. RPI uses a more basic way to calculate which is Arithmetic Mean (AM) while CPI uses Geometric Mean (GM).
RPI has been always greater than CPI in almost all the scenarios.
RPI uses "Carli" which doesn't consider the consumer behavior and assumes that they will use the products irrespective of the price rise. CPI uses more advance "Jevons" which considers the consumer behavior which uses the items less than they used to when the prices rise.
The inclusion of "Rent" as the housing in CPI makes its basket of goods different than RPI which uses mortgage interest rate costs, insurance or council tax, etc. while considering the housing cost in the inflation.
CPI vs RPI Comparison Table
Let's have a look at the Comparison between CPI vs RPI:
| | | |
| --- | --- | --- |
| The basis of comparison  | RPI | CPI |
| Origin of the index | Started in 1914, reformed in 1916 then 1947 with final in 1956 | Formed in 1996 and introduced in 2003 to formally put to use |
| Basis of calculation | The mode of calculation used is Arithmetic mean (AM) |  The mode of calculation used is Geometric Mean (GM) |
| Consumer behavior | Consumer behavior with respect to price is not factored in | Consumer behavior with respect to price is factored in |
| A difference in the consumer basket | To factor accommodation – mortgage cost, insurance or council tax is used. | To factor in accommodation, just the rent is used |
| Used by | Used by railways to increase consumer prices | Used internationally to compare and all departments to factor inflation |
Conclusion
Now to understand in a more practical way let's touch on a few points to understand better. Since RPI always overstates inflation and CPI always understates inflation so if the cost of services you use by paying is increased by the use of RPI instead of CPI then you will have to pay more and it will affect your budget badly. Railways use RPI to increase the cost of the service which is a bad increase.
If your payment is being increased with respect to RPI then you will be paid more than if it is increased with respect to CPI. Unfortunately, most inflation-related pay allowances use CPI so you get paid less than what you would have made using RPI.
The question about who actually captures is right is wide open but certainly, CPI does a far better job than RPI as it uses geometric mean instead of the arithmetic mean, involves the consumer behavior to know the consumption with respect to price as in the real world we tend to use items less when their prices increases. So CPI is a better measure of inflation when used alone or for comparison around the globe.
Recommended Articles
This has been a guide to the top difference between CPI vs RPI. Here we also discuss the CPI vs RPI key differences with infographics and comparison table. You may also have a look at the following articles to learn more –