Updated April 7, 2023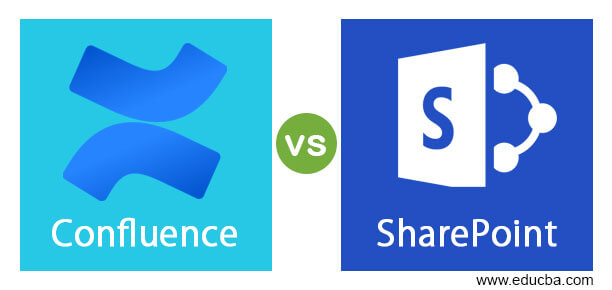 Difference Between Confluence vs SharePoint
The following article provides an outline for Confluence vs SharePoint. Confluence is Atlassian web-based collaboration software with an in-built tomcat server and hsql database that primarily makes confluence a wiki tool for creating and navigating internal wikis, web pages, etc., which makes it easier for the developers to upload documents with integrated JIRA and Hipchat.
SharePoint is Microsoft's web-based content management system tool used for collaboration, organization, sharing, and access data, which is primarily used for document management and storage system tool, which is integrated with MS Office applications for editing the Office files. Both Confluence and SharePoint are collaboration software for creating and managing the web-based internal web pages, document management, etc.
Head to Head Comparison Between Confluence vs SharePoint (Infographics)
Below are the top 10 differences between Confluence vs SharePoint:

Key Difference Between Confluence vs SharePoint
Let us discuss some of the major key differences between Confluence vs SharePoint:
Complexity to learn the software: As Confluence has no many features, this software is easy to understand and use confluence, and Atlassian's are working on adding more features. On the other hand, SharePoint is more robust than confluence; therefore, it is required to learn all the features in this software, resulting in difficulty in learning this software. It is a must to take the training before using this software.
Compatibility and supporting platforms: Confluence has both mobile browser and apps (Apple and Android) compatibility, which also supports platforms like Windows, Mac, Linux, etc., along with a rich class text editor feature. SharePoint is compatible with only mobile apps and not with mobile browsers, which also supports platforms for clients such as Windows, Linux, Mac, etc., and there is no text editor feature in SharePoint.
Pricing: Confluence provides a free trial for up to 10 users along with unlimited wiki pages, access to add-ons with 2 GB storage and standard pricing starts from 10$ per month, and the pricing jumps as we go with more number of users and hence it is cheaper for the smaller companies and freelancers. SharePoint does not have any free versions as it has no free trials available and has 5$ per month per user with only basic feature support. Hence, SharePoint costing is expensive, but the added pricing is for adding more features to the software, which can help for bigger business.
Integration: Confluence is integrated with JIRA software, Google Drive, Google docs, Gliffy, etc. Whereas SharePoint has close integration with all Microsoft tools such as ERP, CRM, business intelligent platforms, enterprise applications, etc.
Knowledge management: Confluence is mainly focused on document management which makes users easy to share PDFs, Office docs, images, etc., and can use 700 add-ons only. SharePoint is also a document management tool, but it is a week in knowledge management as it uses a document-centric approach, and this provides 1000 add-ons which make it easier to work with.
Confluence vs SharePoint Comparison Table
Let's discuss the top comparison between Confluence vs SharePoint:
| | | |
| --- | --- | --- |
| Sr. No | Confluence | SharePoint |
| 1 | It is web-based collaboration software by Atlassian with an in-built tomcat server for creating and managing web pages. | It is also web-based collaboration software provided by Microsoft for creating and managing web pages which are mainly sold as a content management system for document and storage management system. |
| 2 | It is a wiki tool for uploading documents with integrated JIRA (Jira software and Jira service desk) and HipChat, along with easy to use collaboration tool for document version control. | It is a document management tool for managing, organizing, and storing data with integrated Microsoft Office or any Microsoft tools such as ERP, CRM, and many more. This is intuitive and easy to use for document management and easy to navigate, provided with good designs. |
| 3 | High standardization setups are available for minimal dependencies on any professional service company. | In this, there are no such setups available for dependencies, and hence it needs to be customized. |
| 4 | Confluence can restore the deleted history with built-in document version management where we can restore it using version number which is updated each time the document is updated or altered, which will have version number tagged to the document. | SharePoint can also restore the deleted history or document or file modifications by enabling the versioning so that it can track the history and check for which document or item has been altered where it can also be used for restoring old versions of libraries or lists provided by SharePoint. |
| 5 | This has no such feature for publishing public-facing sites and also has no chat feature, where Atlassians are working on it. | This is provided with added features such as provide intranet sites for publishing public-facing sites along with chat features and a robust data warehouse to store huge data. |
| 6 | Collaborating editing is enabled by default to edit documents that are saved automatically and also can be edited by multiple users simultaneously. This is available for both server and cloud-based solutions. | Collaborating editing is done directly by document library in both browser and apps where in this also multiple users can edit simultaneously which is known as co-authoring in SharePoint. This is also available for both server and cloud-based solutions. |
| 7 | This works well as it is easy to use even when there is a team that makes it easy to share files, PDFs, images, etc., with inline commenting where there is no any mess while working. | This is a bit harder to use than Confluence as there are more people in the team; this software will be difficult to work with as it gets complex to work. |
| 8 | This is used in project management which is basically works well in small businesses using document management tools and hence is used widely by the developer community for project management. | This is also more practical and popular for project management which gets all the project data at one central place, which can help the users make standardize their delivery and also can improve visibility. |
| 9 | Confluence works well for small to mid-size business and not suitable for the organization level. | SharePoint works well for all size business that is from mid-size business to organization enterprise level. |
| 10 | Few customers of Confluence are Skype, Netflix, Facebook, LinkedIn, Adobe, NASA, etc. | Few customers of SharePoint are Toyota, D & M group, NPL construction company, etc. |
Conclusion
In this article, we conclude that both are good collaboration software, making it a bit tough to choose between this software where it all depends on the company requirements and the users. Therefore for small businesses and easy-to-use software, it is better to use confluence over SharePoint.
Recommended Articles
This is a guide to Confluence vs SharePoint. Here we discuss the Confluence vs SharePoint key differences with infographics and comparison table, respectively. You may also have a look at the following articles to learn more –