Updated March 14, 2023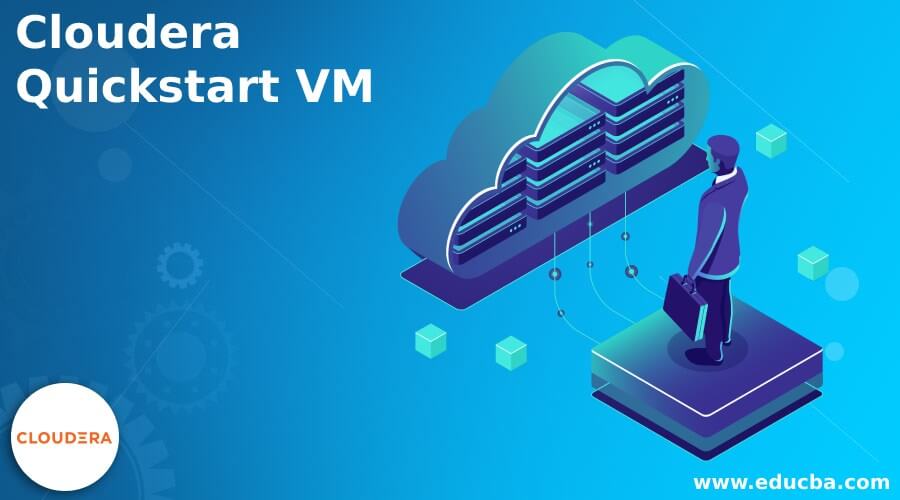 Introduction to Cloudera Quickstart VM
Cloudera QuickStart VM includes all that a user needs for using Impala, CDH, Cloudera Manager, and Cloudera Search. Cloudera QuickStart VM uses a package-based installer that allows users to work with or without Cloudera Manager. Cloudera software provides a platform for data analytics, machine learning, and data warehousing. Cloudera started as an open-source Apache Hadoop distribution project in an initial phase, known as Cloud Distribution for Hadoop or CDH, containing Hadoop and related projects where components are all 100% open source with Apache License. Cloudera provides VM images of Apache Hadoop clusters, making it easier to start with Cloudera CDH. Now that we understand Cloudera software and Cloudera QuickStart VM let us look into the prerequisites and the installation process.
Cloudera QuickStart VM Installation
Step 1: Prerequisites of Cloudera QuickStart VM installation are:
Virtual Machine: VMWare or Oracle Virtual Box
12+ GB RAM which includes 4 + GB for Operating system and 8 + GB for Cloudera
And 80 GB Hard disk
Step 2: To download the Cloudera QuickStart VM, click on https://www.cloudera.com/downloads/cdh.html.
Below is the screenshot of how the page would look like,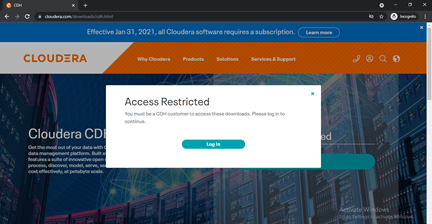 Before downloading, the user needs access and hence needs to login. To login, the user will be redirected to https://sso.cloudera.com/
Step 3: If you are an old user, can directly login; else needs to register at https://sso.cloudera.com/register.html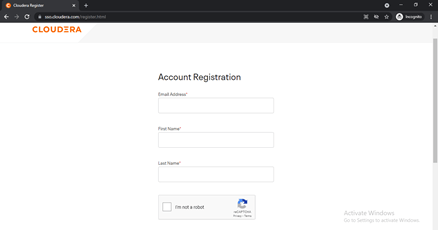 On providing the required credentials here, the user will receive an activation mail with the link, which can be used to activate the account and Set a password for Cloudera Account.
On submitting the password, Complete the Cloudera profile, and then the user will be redirected back to the Home page, as below.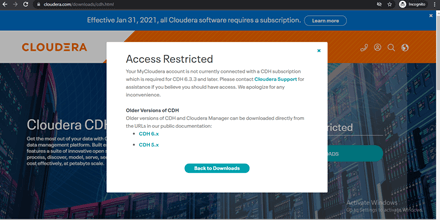 Step 4: Select the CDH version required, download the CDH 5.13.0 version,
Step 5: Based on the Operating System available,
Installation syntax will change accordingly.
Users can check all the required Syntax for downloading the repository in https://docs.cloudera.com/documentation/enterprise/release-notes/topics/cdh_vd_cdh_download_513.html#download_5121.
Step 6: Once the file gets downloaded, unzip it and can be used to create a single node Cloudera Cluster. You can find two Virtual images of the Cloudera QuickStart VM.
Once Cloudera QuickStart VM has been downloaded, the user needs to install it.
Step 7: Even before setting the Cloudera VM, the user needs to have Virtual Machines like Oracle Virtual Box or VMWare on the system.
Step 8: Accordingly, the user needs to install the Virtual Machine on to the system. For Oracle Virtual Box, click on https://www.virtualbox.org/wiki/Downloads.
Step 9: To set up Cloudera QuickStart VM in Virtual Machine, select "Import Appliance" and choose the QuickStart VM image. It will import the .vmdk file, i.e., Virtual Disk Image, into Virtual Machine.
Step 10: Then need to change the machines' specifications and set up the Cloudera QuickStart VM. Under Setting, select RAM, increase it to 5 GB, and assign 2 CPU cores.
Step 11: Now, you need to start the machine, such that it uses 5 GB and 2 CPU cores and brings up the Cloudera QuickStart VM.
Step 12: Need to get Admin console access. Next, the user needs to click on the terminal that is present on top of the Cloudera screen.
Below are the commands that need to be entered in the console,
hostname: Shows hostname, i.e., quickstart.cloudera
hdfs dfs -ls /: Checks if the user has access and cluster working condition
service cloudera-scm-server status: command required to use cloudera express free
su – : root login
service cloudera-scm-server status: root password is cloudera
Step 13: Once everything is working fine, close the terminal. Then launch "Cloudera Express," below is the terminal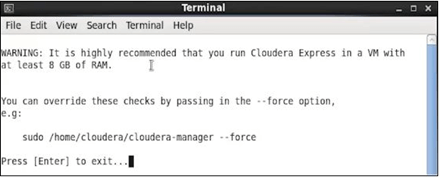 Step 14: Take the command in the above terminal and copy it to the new terminal that will restart the services, and hence the user has access to the admin console.
Step 15: Hence deployment has been configured, and the client configurations are deployed. Cloudera Management service has been restarted, and access has been given to the Cloudera QuickStart admin console.
Step 16: Based on the port displayed on the console, open the URL in the browser and login by providing the credentials. The username and password will be cloudera.
QuickStart VM Administrative Information
In most of the cases, QuickStart VM does not require administration rather than managing the installed services and products. However, if any additional administration is required or if a problem occurs, it provides information on accounts and possible explanations for solutions to common problems.
Accounts: Once Virtual Machine has been launched, the user is automatically logged in as a Cloudera user.
QuickStart VM image: To launch the image, the user needs to have a VMware Player for Linux and Windows and VMware fusion for Mac.
QuickStart Virtual Box Image: If there is a kernel panic attack when Virtual Box VM starts, the user can try a work around by going through Settings àSystem àMotherboard àSelect ICH9 instead of PIIX3 for a chipset.
QuickStart KVM Image: KVM image provides raw disk image used by many hypervisors. Hence such machines should be configured with sufficient RAM.
Conclusion
With this, we shall conclude the topic "QuickStart VM." I have seen what QuickStart VM is and how it is to be installed. We have gone through the steps required to download the Cloudera CDH version and the Virtual Machine/s needed for having QuickStart VM. I looked into the Administrative Information of Cloudera QuickStart VM, which manages the installed products and services. Thanks! Happy Learning!!
Recommended Articles
This is a guide to Cloudera Quickstart VM. Here we discuss the steps required for downloading the Cloudera CDH version and the Virtual Machine/s needed for having QuickStart VM. You may also have a look at the following articles to learn more –