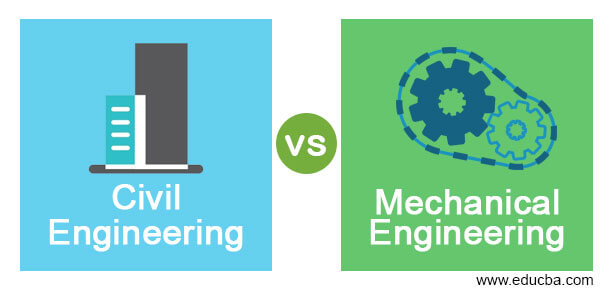 Difference Between Civil Engineering vs Mechanical Engineering
The following article provides an outline for Civil Engineering vs Mechanical Engineering. Civil engineering is the study of design and construction of buildings, bridges, highways, and any physically constructed structures so that they are properly maintained at periodic intervals. Civil engineering is the branch of engineering that helps people to improve their living standards in the form of houses, new roads, and any construction. Mechanical engineering deals with the study of machines where it is designed, constructed, and maintained by mechanical engineers. Any objects that are in motion can be studied in mechanical engineering where the human body itself is considered as a machine. This combines physics and mathematics to form mechanical formulae to do any problems.
Head to Head Comparison Between Civil Engineering vs Mechanical Engineering (Infographics)
Below are the top 7 differences between Civil Engineering vs Mechanical Engineering:

Key Difference Between Civil Engineering vs Mechanical Engineering
Let us discuss some of the major key differences between Civil Engineering vs Mechanical Engineering:
The work of civil engineers helps a group of people improve their lifestyles and lead a better life. But then, it is important to check the quality of materials used and test the structure for the weight it can afford. If any accident occurs, it affects the group of people and the casualties will not be a small number. It is very important to do all the checks before opening the same to the public. Mechanical engineers, on the other hand, need not worry about the bigger community while designing a machine. It will be either to an individual such as a motor vehicle or a company where the machine to be used. If the machine has any issues, it can be taken for maintenance but will not cause bigger casualties like civil construction.
Mechanical engineering combines with electrical and robotics streams and makes mechanical works more interesting and improves the number of people involved in the same category. This makes the mechanical stream look more modern for people and they are attracted to work in the same stream. Electrical and robotics engineers can also work in mechanical by making electrical add-ons to machines or creating the automated design for machines. Civil engineers do not work with any other stream of engineers and hence other stream people cannot work with them to improve their construction. The entire responsibility of making the construction a better one depends on civil engineers alone.
Construction of bridges, highways, buildings, involves civil engineering where there are categories such as architect aspects, environmental factors, design, soil mechanics, and water resources. All these are important to make the construction a successful venture. The design of buildings is important to make them look good for the public. Mechanical engineering involves the study of mechanics, kinematics, hydraulics, and analytical skills, and materials study. Once the machine is designed, it is important to know how mechanical power is used in the machine to make it work. Thermodynamics is another field that is very important for a mechanical engineer to know the pulse of a machine.
Civil and mechanical streams are unique in themselves. When civil projects take a longer time to complete, mechanical projects are mostly short. Mathematics and physics become the core of mechanical engineering while civil engineers should know math, design, and infrastructure to complete the construction. The fields are broad in nature where one stream can benefit the other. A motor vehicle designed by a mechanical engineer can be driven only on the road constructed by a civil engineer.
Civil Engineering vs Mechanical Engineering Comparison Table
Let's discuss the top comparison between Civil Engineering vs Mechanical Engineering:
| | |
| --- | --- |
| Civil Engineering | Mechanical Engineering |
| The infrastructure, private and public is taken care of by civil engineers where they build new forms, design based on their ideas or any old designs, or maintain existing structures. | Any kind of mechanical machine is worked upon by mechanical engineers. The oldest branch in engineering is where engineers add value to the machine or repair an existing machine. |
| Building materials like wood and cement are used for structural integrity. Soil is tested to check the foundational base so that the construction can be tested and maintained. | Prototypes must be developed and tested to check their performance in mechanical engineering. Also, engineers can test the material used in devices to check their integrity. |
| The work if public, fully depends on the approval of states and local governments. Hence, the work does not flow continuously as it always depends on the governments' funds to do the construction and related works. | The work, even if public or private does not depend on any approvals from states or local governments. There are comparatively less obstacles like civil engineering to continue the work with machines. |
| Civil engineers also have a dependency on architects and planners to complete the work on time. They depend on each other to make the work a success. | An idea developed in a mechanical engineer's mind need not be shared with anyone as it can be made to reality with his/her hard work alone. This is more of a creative aspect where any parts can be changed and tested from a machine. |
| The construction of civil engineers is directly on the environment. Either the environment is changed or modified so that group of people is benefitted from the change. | The design and development of a machine do not affect the environmental infrastructure. It is basically benefiting the individual as individuals use the machine or ride vehicles for their own self-goal. |
| Civil engineers do not collaborate with any other engineers other than people from their own stream. This makes them more involved in construction work than looking into other aspects of the electrical or mechanical mode of work. | Mechanical engineers can be integrated with electrical and robotics engineers to make their machines automated and more useful to individuals using the same. This makes the stream more interesting to people who learned electrical or robotics. |
| It is not easy to find jobs for civil engineers. They should prove their worth by designing a model and making it into success initially. | Placements for mechanical engineers can be found in any small companies and it is not much difficult to become a good engineer. |
Conclusion
Both streams of engineering are important and both are similar in some ways. Civil and mechanical engineers can build their designs into a real form and make use of the same. Also, both streams are making use of analytical and math skills to design and build structures and machines.
Recommended Articles
This is a guide to Civil Engineering vs Mechanical Engineering. Here we discuss key differences with infographics and comparison table respectively. You may also have a look at the following articles to learn more –