Updated April 4, 2023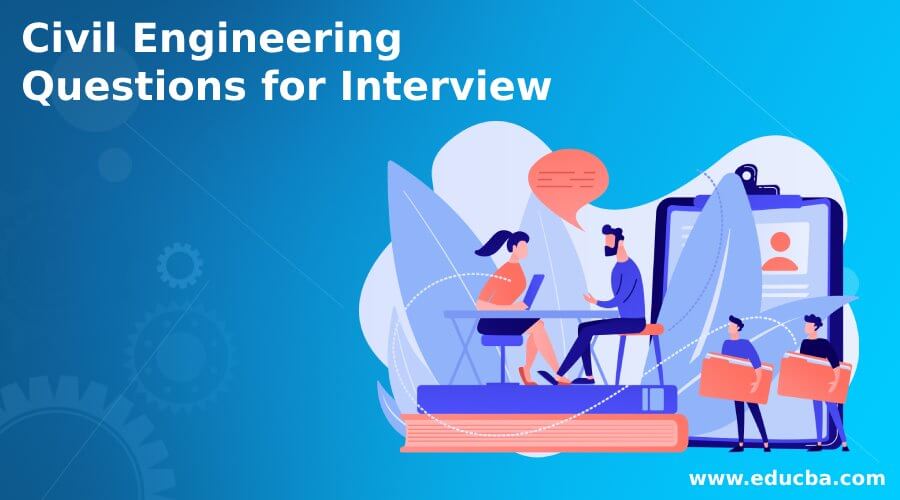 Introduction to Civil Engineering Questions for Interview
Civil Engineering questions for Interview will consist of Interview questions that are quite important for grabbing any Job opportunity. Civil Engineering is a branch that deals with designing, construction, and maintenance of a physical and nature-built environment which includes roads, dams, canals, airports, stations, pipelines, buildings, etc. Civil engineering is one of the oldest built engineering disciplines. It is one of the exciting professions to take over as at the end of the day, you will be able to see the result of work done. Let us see some of the Top 20 important questions to have a quick understanding of the Civil Engineering discipline.
Part 1 – Civil Engineering Questions for Interview (Basic)
This first part covers basic Interview Questions and Answers.
Q1. What is the difference between a flat slab, a one-way slab, and a two-way slab?
Answer:
A flat slab is supported on columns i.e., it does not have beams.
One way slab has Ratio(Longer Span/ Shorter Span) > 2.
Two-way slab has Ratio(Longer Span/ Shorter Span) <=2.
Q2. List out types of Slump
Answer:
There are 4 types of Slump:
True Slump: The concrete mass that is slumped evenly around without any disintegration is a true slump.
Collapse Slump: When a sample collapses due to the addition of excess water is known as a collapse slump.
Shear Slump: This type of slump is found in the lean concrete mix. When half of the concrete mass slides down on the other, that is called a Shear slump.
Zero Slump: For dry or stiff mixes, this slump does not allow any changes after removing the slump cone.
Q3. What is Flashing?
Answer:
It is an extended construction that seals and protects joints in the building for water penetration. Flashing is installed at walls, intersection roofs, and parapets.
Q4. Define demising walls?
Answer:
It is used for the boundary that separates your land with neighbor's land.
Q5. What are wooden shingles?
Answer:
These wooden shingles are rectangular in shape, similar to slats that are nailed to the exterior surface. Shingling is a traditional method for weatherproofing.
Part 2 – Civil engineering questions for interview (Advanced)
Let us now have a look at the advanced Interview Questions and Answers.
Q6. What are all the reinforcements used in process of prestressing?
Answer:
We have 3 primary reinforcements used in prestressing process.
Spalling Reinforcements
Bursting Reinforcements
Equilibrium Reinforcements
Q7. What does Honeycomb mean in concrete?
Answer:
Honeycomb is also known as Air Pocket. It is the air voids found in concrete that are usually formed during concrete casting.
Q8. What are the uses of Groynes?
Answer:
Groynes prevent or slow down erosion and stop the longshore drift. It can cause bad knock-on effects somewhere nearby areas.
Q9. What is the purpose of having gaps in the road on the bridge?
Answer:
Gaps in the road allow concrete to expand and contract with changes in temperature without causing any damages or deformation on roads.
Q10. How is the quality of cement checked on-site?
Answer:
Various quality checks are done, but the main checks include,
Date of Manufacturing: As the cement, strength decreases with age.
Float Test: Good cement is considered not to float if thrown in water.
Color: It should of Grey color with a light greenish shade included.
On touching or placing your hand inside cement, it needs to be cold.
Q11. What is the Slope of the Staircase and crack length in the Slab?
Answer:
With respect to IS 456, the slope of stairs should be between 25 degrees to 40 degrees.
The crack length of the Slab is 0.42D where D refers to the depth of the Slab Top Cover Bottom Cover.
Q12. Which is the World's Largest Concrete Dam?
Answer:
World Largest Concrete Dam is The Grand Coulee Dam.
Q13. What are the Types of Roofs present?
Answer:
Types of Roofs are,
Bell Cast Roof
Dutch Gable Roof
Half Hipped Roof
Gambrel Roof
Gull Wind Roof
Monitor Roof
Skillion Roof
Sawtooth Roof
Mansard Roof, etc.
Q14. What are the different dimensions available in CAD?
Answer:
There are a wide range of dimensions available in CAD, listed below,
Auto Interior Dimensions
Auto Exterior Dimensions
Angular Dimensions
Interior Dimensions
End to End Dimensions
Manual Dimensions
Point to Point Dimensions
Moving Objects with Dimensions
Display Temporary Dimensions
Q15. What is the Critical Path Method?
Answer:
CPM, Critical Path Method is the method of representing respective tasks and activities involved in construction through symbolic diagrams.
Q16. List out different types of Foundations?
Answer:
We have three main Foundations,
Basement: It is the one constructed at first, and then the building is constructed on top of it
Crawl Space: It is a raised foundation and is built above ground, to allow enough space to crawl underneath it.
Slab: Here, concrete is directly poured into a pit made in the ground.
Q17. What are all the software used in the Construction sector that help is estimation and monitoring costs?
Answer:
Below are the software's used in the construction sector,
eTakeoff,
Construction Partner,
Sage,
Tally,
Maxwell System,
Premier Construction Software, etc.
Q18. What are the compositions of Landfill?
Answer:
There are four critical elements for secure landfill,
Bottom liner,
Leachate collection system,
Cover, and
Natural Hydrogeologic system.
Q19. List out the responsibilities of the Construction Manager?
Answer:
Construction Manager has to,
Estimate Cost of Construction,
Pre-purchase selected Materials,
Select bidders for bidding purposes,
Proposal Analysis,
Contract negotiations,
Scheduling and Monitoring,
Cost control for Construction, and
Supervision.
Q20. List out a common way of Demolition?
Answer:
There are 3 common ways of Demolition of constructions,
Hydro Demolition,
Pressure bursting, and
Dismantling.
Conclusion
With this, we shall conclude Question and Answers for Civil Engineering. We have seen some of the topmost asked questions in Job Interviews, which will help you prepare and face Interviews with confidence. Thanks! Happy Learning!!
Recommended Articles
This has been a guide to the list of Civil Engineering Questions for Interview so that the candidate can crackdown these Interview Questions easily. Here in this post, we have studied top Civil Engineering Questions for Interviews, which are often asked in interviews. You may also look at the following articles to learn more –