Updated April 12, 2023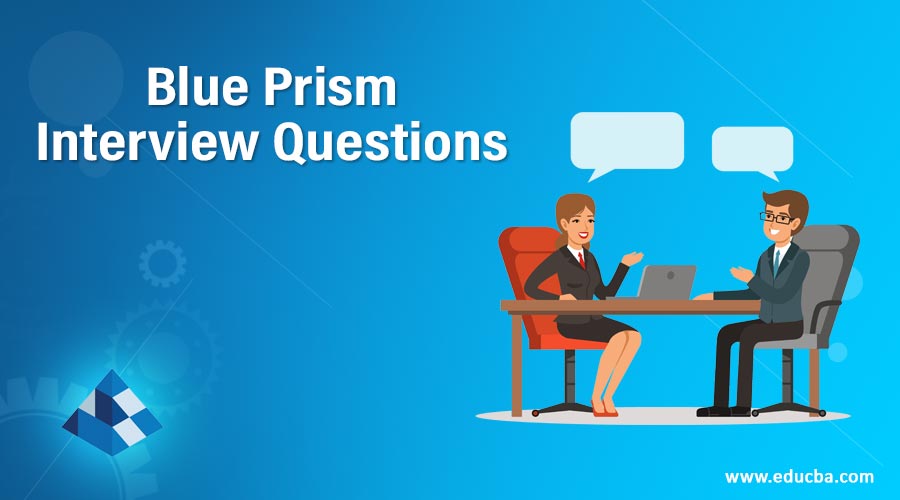 Introduction to Blue Prism Interview Questions
Robotic Automation has long been on the market but has only recently gained prominence. With RPA, which helps users accomplish mundane tasks through RPA tools, an RPA developer's job opportunities are increased. Blue Prism is used by multinational corporations such as Accenture, IBM, Cognizant, Deloitte, Genpact, Ernst, and Young. There are; however, a number of RPA accredited experts in the sector. I think you already know those things which have brought you to this article about the Blue Prism Interview Questions.
Below are the top 10 interview questions in a blue prism which are divided into two parts:
Part 1 – Blue Prim Basic Interview Question(Basic)
Below are the basic interview questions:
1. What is Robotic Process Automation?
Robotic Process Automation is a method of automating tasks using software/tools to deploy bots that reduce human intervention in performing any function. You need to consider three concepts: robotics, method, and automation. There are three definitions which are as follows.
Automation: Any method conducted without human intervention by a robot.
Process: A collection of actions leading to productive work. For instance, the coffee or your favourite dish, etc.
Robotic: Entities that imitate human activities are called robots.
2. What is Blue Prism's Robotic Automation?
Robotic Automation is a mechanism where computer software moves current company application applications like a consumer does. Automation is a tool or framework that uses the current application user interface to run other computer software.
3. What is a process Studio?
As a summary diagram, a blue prism cycle looks very close to a rising corporate flow map. Processes are produced in a Blue Prism area called Process Studio, which is similar to other application models, and that uses standard flow diagram and notation symbols.
4. How do I begin the delivery of Blue Prism processes?
Blue Prism recommends a phased approach to starting with an extremely scalable operational agility framework. Commonly, a rolling process system is initially implemented when the framework is developed to configure between 1 and 10 processes.
5. Does it require to include any Robotic Automation System in Blue Prism?
Based on past years of experience, Blue Prism incorporated different technology into its program. Those are reliable, stable, and safe technologies. Blue Prism has built technology adapters for all the technologies used in the presentation layer, including Green Screen / Mainframe, Network, and Citrix, Java, WindoW.
Part 2 – Blue Prim Advanced Interview Question(Advanced)
Below are the advanced interview questions mentioned:
6. What is Web Service in Blue Prism?
Web service is an application feature or client-server framework for communication, a software system for mission communication interoperability, a method of communication between two devices over a network, and a set of information exchange protocols or standards between two applications or devices.
7. What do you think about the Blue Prism Mark Exception and Undisposable Device Exceptions?
As a developer, you might consider this question of the blue prism interview. This question can be answered directly. Label Exception action includes two flag inputs that can be used to monitor the features 'Keep locked' and 'Retry.' When you create a new item, you must return your ID to your New Item Output parameter. Once Locked has been set to Real, a new object manages the process.
8. Why the exclusion happens when an application is launched and What is attached during launching?
If you add the business item to the device, then seek again to add the document, that will be an exception. When an application is launched, a business object is automatically attached.
One of the frequently asked questions about blue prism is for a developer of the blue prism. The interviewer asks these questions in order to test the applicant's exceptions.
9. What do you think by checkbox "Reserve" and say the right time?
The "Preserve" control box and the correct time to use it must be understood during the exception stage. You will see the exception information, and when you check the checkbox, the exception form fields have been deactivated.
Checkbox check indicates that the current exemption is either reissued or reissued, and no new information is needed. And this "Preserve" checkBox only uses Recovery Mode, which is between Recovery Stage and Recovery Stage somewhere.
10. What do you think the uses of the Recover stage are?
Recover the stage that attracts or catches exceptions and allows you or the designer to build a recovery sequence. When the exception has been issued, the business entity or the business process is in recovery mode. When the Resume step is reached, the diagram allows the recovery mode to start with the normal flow. Since the Resume phase has nothing to fix and is the responsibility of the designer. No quote, but the expression is required for the Exemption Information meaning.
Conclusion
In this article, we have seen Various questions and answers related to Blue Prism. I hope you will find this article helpful and brush up on your Blue Prism skills.
Recommended Articles
This has been a guide to Blue Prism Interview Questions. Here we discuss the introduction to Blue Prism and the top 10 Interview Questions and Answer in detail. You can also go through our other suggested articles to learn more –